Why Do You Need to Bake Sweet Potatoes Right?
Sweet potatoes, while similar to yams, are less starchy and have a sweeter taste. They may have similar cooking methods to yams and other potatoes, but it's important to know how to bake a sweet potato just right so that you can take advantage not only of its amazing flavor, but also its nutrients.
They are high in beta carotene, vitamins E and C, iron, potassium and vitamin B6. You want all that goodness for yourself and your family, don't you? Well, then let's get baking!
How to Bake a Sweet Potato
1. Preheat the oven to 400˚ F.
2. Hey lady! Wash those sweet tatas!
Your sweet potatoes are still covered in the dirt and grime of the farm, even if they look clean.
Give them a good rinse under running water and use your palm and finger pads to lightly scrub the skin.
Once finished, set them aside on a paper towel or kitchen towel to dry before applying oil in Step 4.
3. Poke them.
Pricking your potatoes with a fork or toothpick is a technique that's been around for—oh, forever!
It reduces baking time and also ensures the potato won't burst. You want more than just yummy sweet potatoes, you want tasty-looking ones, too!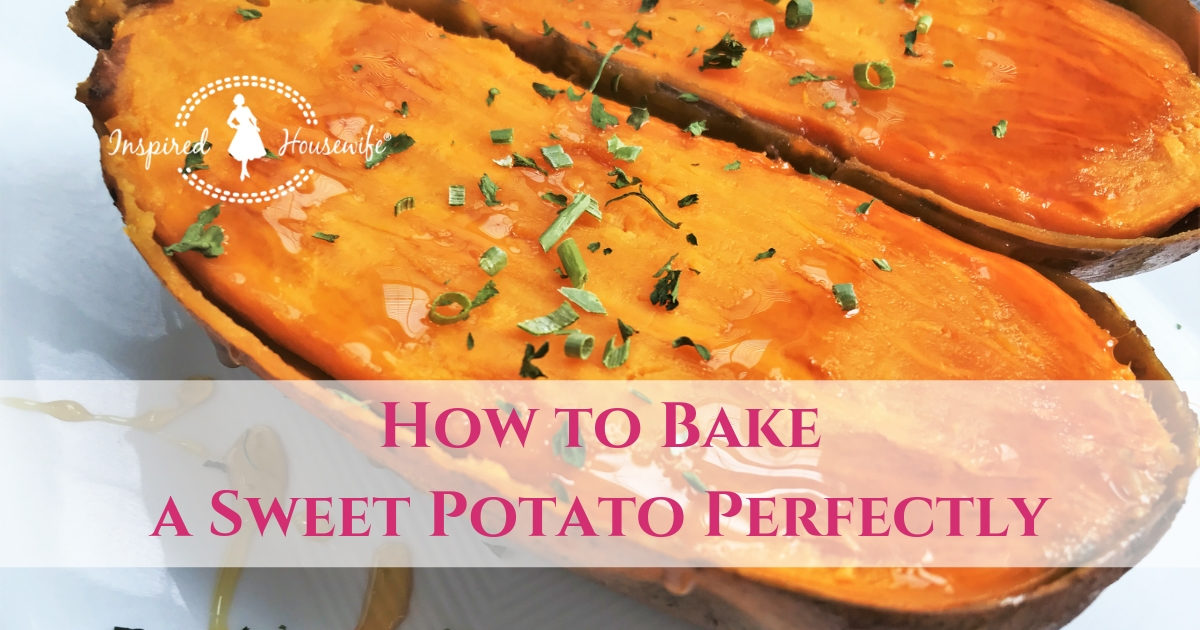 4. Slather those babies in olive oil!
Many will say this is an unnecessary step, but you don't want to just eat the fleshy innards of a sweet potato because a lot of the amazing nutrients and fiber are actually in the skin itself.
So, you want to make the skin as appetizing as possible and one way to do that is to avoid drying out the skin during baking.
Rub a small amount of olive oil all over each potato.
Note: If you're choosing to have make a baked sweet potato in a microwave, this is the step you stop at.
Last step: Place your washed, poked, and oiled sweet potato on a microwaveable plate and microwave for 5–8 minutes, rotating halfway through.
5. Line your baking sheet or wrap each potato in foil.
Sweet potatoes can get really juicy while baking, so you'll want to avoid any unnecessary sticky clean up by lining your baking sheet or wrapping them in foil.
I personally suggest you wrap them in foil because that helps to retain moisture during baking. If you wrap them, place a foil-lined drip pan below to catch any juices leaking out.
6. Bake until tender (around 45 – 90 minutes).
If you're wondering how long to bake a sweet potato, then just know that the average baking time is about 45 minutes. But, not every sweet potato was created equal.
The potato in the image was humongous and took over 90 minutes!
How can you tell when they're done?
Well, you can mangle them by stick a fork into the thickest part. If there's no resistance, it's ready!
Or, you can simply take the fork or a spatula and gently press down on the potato. If the potato feels soft or gives under your pressure, it's done!
Now that you know how to bake a sweet potato perfectly, how are you going to eat it?
I sometimes just use butter or a butter substitute on top of mine with a sprinkle of Himalayan salt and a bit of raw honey.
It doesn't take much to enjoy a baked sweet potato, which is why I'm curious about what toppings you use!
Let me know in the comments below if you have know how to bake a sweet potato any other ways and if you can share any simple sweet potato recipes!
I love new ideas!