A few weeks ago I ordered a tailored made autism awareness apron from Fried Green Aprons a family run business.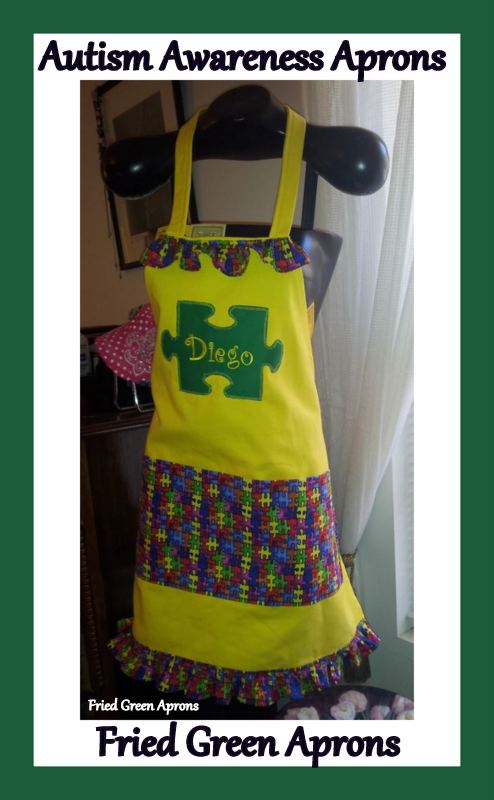 I received my apron and I LOVE the apron so much I have to share the talented Lynne, Joan, and Judy – sewers, artists, and co-owners extraordinaires of Fried Green Aprons with you.  These wonderful ladies can make you any kind of apron to fit your style, want or desire. I loved the yellow autism apron, but asked Lynne if they could create a similar look, but with purple as the main color.  She did and the colors are bright, cheery, and make me happy.  When my son saw the apron he said, "Look mama puzzles!" smiling from ear to ear.
Fried Green Aprons is more than sewing aprons.  Fried Green Aprons is a fun community to act silly, be prayed for, and come hang out for a good time.  Fried Green Aprons makes wonderful aprons and each apron sewn is a new friend to Lynne, Joan, and Judy.  This is true I bonded with the ladies right away because we all love similar things and want to share our passions and inspirations with people.  Fried Green Aprons is what Lynne calls her "God Job," because she loves to talk, offer advice, and make new friends.  The aprons are the icing on the cake, but the friendships benefit her soul.
Lynne is no stranger to autism her best friend's child has autism and the ladies create awareness by sewing aprons.   Lynne shared with me a Facebook group I did not even know about called Sensory Nanny.   An occupational therapist runs this group is also a mom "who has been there" as she puts it to help use "practical strategies for parents raising children with autism, developmental delays, and sensory issues."  The group looks like a great resource with supportive and helpful advice.
Fried Green Aprons make wonderful gifts and I know there will be more aprons in my future.  Please check Fried Green Aprons out and help them spread autism awareness one apron at a time.
Check out Fried Green Aprons on Facebook to see their fabrics, past aprons made and get to know and love the ladies like I do.
XOXO
Amee
If you enjoyed this post please share it with your friends on Pinterest by clicking the "Pin it" button below or "share" it on Facebook.