This is a gluten-free chicken curry recipe the entire family loves, and it is probably one of our favorite gluten-free recipes.  The great thing about curries is many are naturally already gluten-free, so we eat lots of different types around our house.  This is a tomato-based curry with coconut milk, and is a sweeter type of curry, but you can add as much coconut milk or sugar to your own tastes as you wish.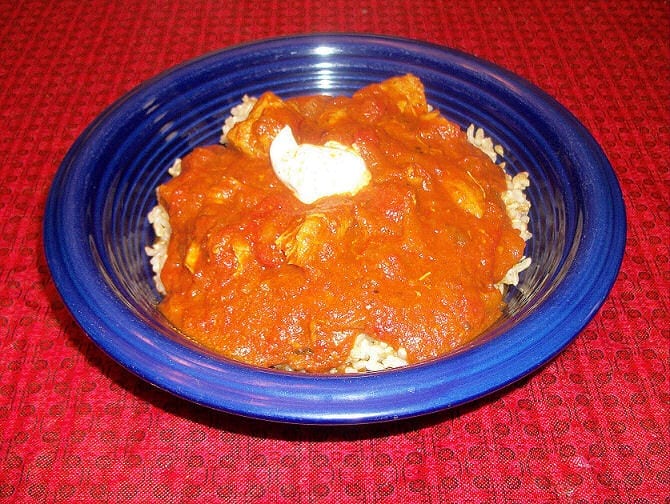 Ingredients
2 tablespoons of light oil (Vegetable, Coconut, Mustard, etc.)
1 large onion, sliced (we like the sweeter Vidalia onion for this recipe)
2 cloves garlic (crushed) – we use garlic paste
1 tablespoons of curry powder (more if desired)
About 1 to 2 pounds of chicken cut into chunks (we prefer chicken breast meat, but can also use tofu if you prefer vegetarian version)
3 tablespoons of honey
1 14 ounce can of coconut milk
1 18 ounce jar of regular tomato spaghetti sauce
2 14.5 ounce cans of stewed tomatoes (we use one jar of home-canned tomatoes)
1 teaspoon of cumin powder
1 teaspoon of coriander powder
1 teaspoon each of black pepper and salt (both are optional)
Instructions
Generally, I use a large wok for all my curry recipes, but a large skillet would work fine.
1.  Heat oil and add sliced onion under medium heat.  Sauté until caramelized.
2.  Add garlic near end of onion sauté.
3.  Add curry power and stir for about 1 minute.  Make sure you do not burn the mixture.
4.  Add chicken and cook and stir until lightly browned (about 5 minutes under medium heat).
5.  Add sugar and stir until it is melted.
6.  Add the remaining ingredients and cook on low-medium heat for 30 to 40 minutes, stirring often to prevent sticking and burning.
7.  Serve hot over or with brown or white rice.  It is also good just by itself.
Serves 5-6