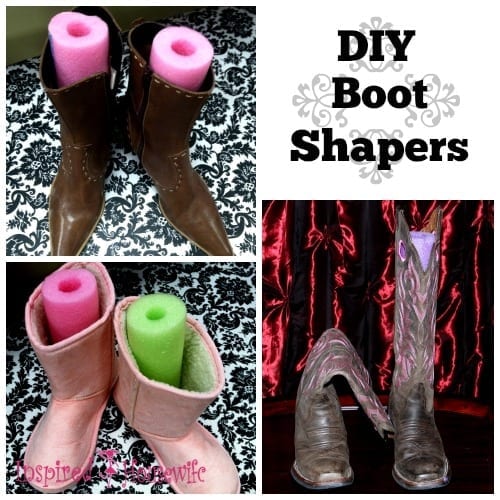 There is nothing better than a sexy pair of boots. I own several pairs of boots, but my favorite pair are pink and tan cowboy boots that my husband purchased for me this past winter. While I love boots storing them can be an issue because if you let them flop over then you get a nasty crease in the leather. Today I have an inexpensive and perfect way to keep your cute and stylish boots crease free with my DIY boot shapers.
Boot shapers or boot stands as some people refer to them can cost anywhere from $10 and up for each pair of boots. Today we are using pool noodles I bought at my local dollar store. The great thing about pool noodles is that you can cut them to any size you need. Some boots I own only come to my calf while others go several inches above my knees.
Keep your boots in tip top shape!
What you will need:
Pool noodle or if you cannot find any pool noodles then go to your local hardware store and foam pipe insulation will work too.
Knife or sharp scissors
marker
Directions:
Stick the pool noodle into your boot, then take your marker and make a mark so you know where to cut.
Next take your knife or scissors and cut the noodle where you left the mark.
Then match up the cut piece with the left over pool noodle to make the other match.
Stick in the boot and you are done!
Making DIY boot shapers are easy, inexpensive and a perfect way to keep your boots look great.
{Where I linky share}