One of my goals is to create new gluten free clean-eating recipes to share in Inspired Housewife. Now, I cannot say whether all of them will end up on the blog because I usually practice recipes a few times before they grace the webpages of Inspired Housewife, but when it came to this recipe in particular—eggplant roll ups with goat cheese—my entire family loved it and I just had to share it with you!
Okay, when I say that the whole family fell in love with this recipe, I have to fess up. My daughter Ayla is just not a fan of eggplant.
You can hardly blame her. Even some adults have to acquire a taste for it.
My friend, for instance, traveled through Italy on an art study tour in her twenties, and she'd never tasted eggplant in her life (even though she's always been a vegetarian).
Every hotel diner and university cafeteria on her trip served her and the other vegetarians eggplant Parmesan because each Italian chef thought they would attempt to impress the newcomers with a signature veggie-based dish.
My friend admitted that she hated eggplants the first week, then she started to like it the second week, but by the third week, she swore to herself they would be forever stricken from her diet.
By the fourth week, she was skipping the group meals and living off of margarita pizzas.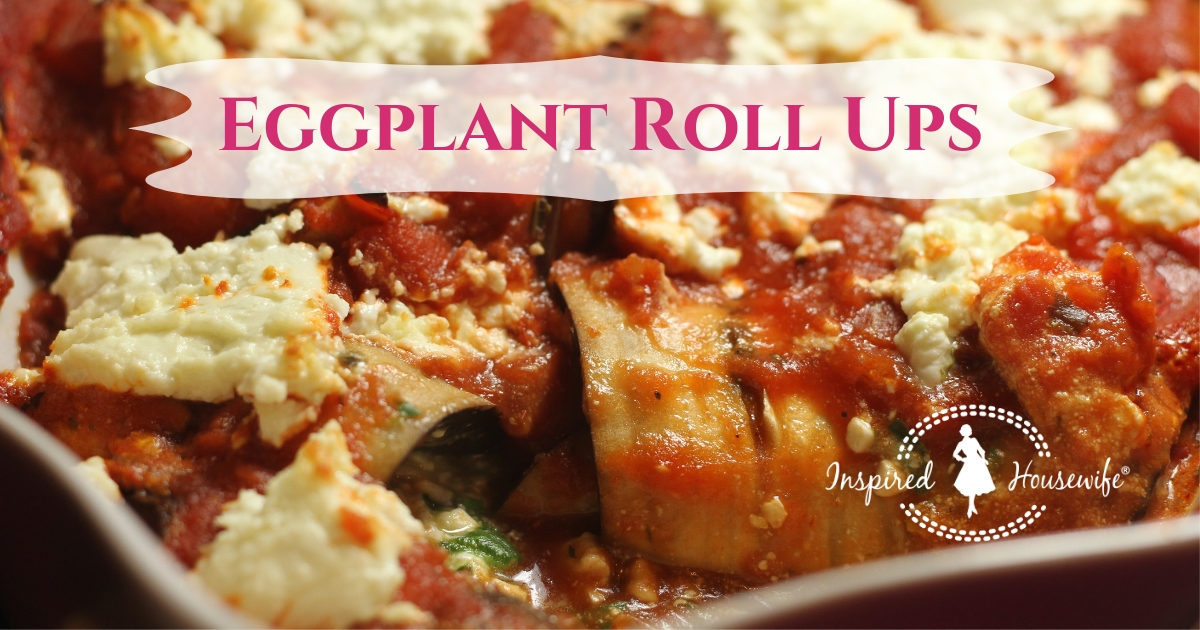 It's been 13 years. Do you think she's given eggplants in any form another try? "What?! Absolutely not!" she'll say.
As for me, I love eggplant for several reasons:
1. It is a healthy brain food.
2. It's a gorgeous purple color.
3. It's a versatile vegetable. You can use it in so many dishes—from pizzas to salads, from salads to curries, from curries to pastas, and from pastas to the more rustic "meat and potatoes" type of dishes.
Before this 21-Day Fix eggplant roll ups with goat cheese recipe, I'd never tried roll ups before with this vegetable.
Since my success with these, I've discovered that there are several great eggplant recipes out there, such as: eggplant roll-ups with meat, eggplant roll-ups with cream cheese, eggplant roll-ups with ricotta cheese, eggplant roll-ups without ricotta cheese…
Perhaps I should stop channeling my inner Bubba Gump and get straight to the recipe itself.
Eggplant Roll Ups Provide An Easy Healthy Family Meal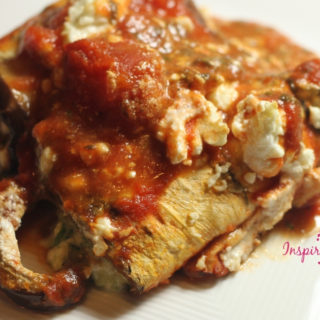 Print Recipe
21 Day Fix – Eggplant Roll Ups
Ingredients
1

medium eggplant

cut into 1/4 inch oblong pieces from end to end.

1

medium onion

chopped

3

cloves

of garlic minced

or 1 tsp garlic power

1

cup

of organic spinach

chopped

1

cup

of 2% cottage cheese

1

tsp

basil

1

tsp

oregano

1

tsp

parsley

3

cups

marinara sauce

4

tbs

of goat cheese to sprinkle on top

2

tbs

oil

salt
Instructions
Pre-heat to 450 degrees Fahrenheit and place middle rack in the oven.

Take eggplant pieces and place on a cookie sheet with parchment paper. Salt the the pieces and set aside for 30 minutes.

Roast in the oven for 12 minutes and baste with oil.

Take the chopped onion, minced garlic and olive oil and place into a skillet to saute until both the garlic and onion become translucent and soft, do this while the eggplant is roasting.

In another small mixing bowl add in the cottage cheese, chopped spinach, basil, oregano, parsley, sauteed garlic and onion to mix thoroughly.

Take a 1/2 cup of marinara sauce and using a spoon spread evenly on the bottom of the 2 qt glass Pyrex casserole dish.

Pat your eggplant strips dry and place 2 tablespoons full of the cottage cheese mixture into the top of the slices and roll up. Place the eggplant roll up into the dish with the seam facing down.

Repeat this process until you have no more slices and cottage cheese.

Take 2.5 cups left of the marinara sauce and spread over the top of the eggplant roll ups.

Sprinkle the 4 tablespoons of goat cheese over the top of the roll ups and place in the oven.

Cook for 20-25 minutes or until bubbly.

serving = 1 eggplant medium sized eggplant rollup (some are smaller due to the end of the vegetable so the largest size you make I consider 1 serving)

The 21 Day Fix containers = 1 green container, 1/2 red container, 1/2 blue container, 1/2 purple and 2 tsps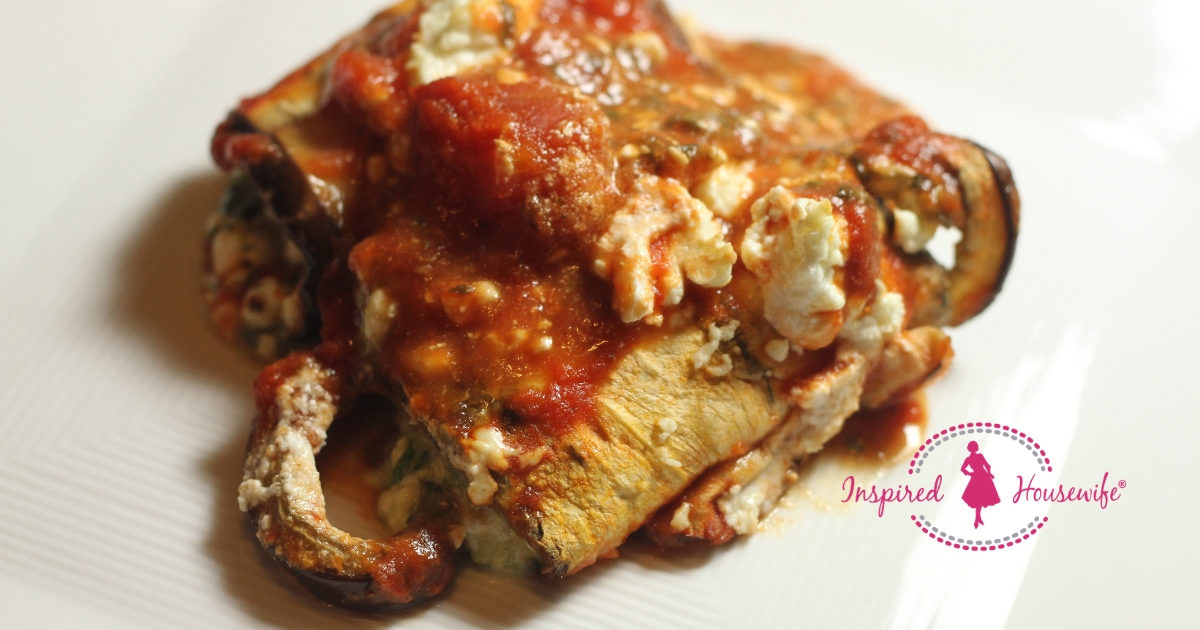 This 21-Day Fix recipe pairs nicely with a side salad and a piece of fresh fruit to give more nutritional value to your dinners.
You can make it in bulk ahead of time.
Portion some for dinner and stow the rest away in your refrigerator for lunch tomorrow since the flavors are even better the next day.
Let me know what you think of this clean-eating eggplant roll ups recipe in the comments below!
Did you love it/hate it?
What would you do differently?