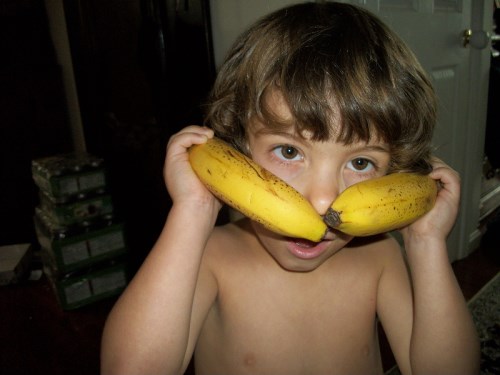 "Hello Grandma!  I saw an elevator today, we pushed buttons!" said Tristan as he held two bananas to his ears.  Yes, bananas are a hit in this household, and go fast.  Bananas are fun to eat, and can be great telephones to talk to our grandmas and grandpas with too.  One of the first foods my son Tristan fell in love with was bananas.  He loves bananas so much I buy many pounds of them a week with the record for most eaten in one day being eleven medium sized ripe yellow bananas.
Friends and family warn me Tristan should not eat that many bananas, but he loves them.  So, I let him eat as many as he wants.  I even make special frozen banana treats for him.  Sometimes though my husband and I will both buy bananas and even our little monkey cannot consume enough of them before they go too ripe.  Rather than throw out perfectly good over-ripe bananas I make banana nut bread with them, which my son affectionately calls "banana cake".  Banana bread is a favorite in our house, and when we went gluten free I thought I would never be able to have a good banana nut bread again.  After lots of different flours and baking times I finally figured out how to make a moist and yummy banana bread that even a "gluten eater" would not put down until the last bite.  I hope you enjoy this banana nut bread as much as my family does.
Gluten Free Banana Nut Bread
Ingredients
2 1/2 cups gluten free all purpose flour (you can also make this with brown or white rice flour, but the baking time will be shorter and the bread could crumble more than the all purpose flour)
1 teaspoon baking soda
1 teaspoon sea salt
1 teaspoon gluten free vanilla extract
1/2 cup of milk (I use almond milk)
2 large eggs
1 1/4 cup of sugar or use 1 cup of apple sauce
1 stick of softened butter
1 1/2 cups of ripe bananas (about 4  medium sized bananas)
1 cup of chopped nuts (I use walnuts or pecans)
Spray or shortening for your baking pan or pans, depending on size
Instructions
1. Preheat the oven to 350°F.  Make sure you put one of your oven racks to the lowest setting.
2. Grease two bread pans.
3. In a small bowl mix the sugar, eggs, vanilla, bananas, milk and softened butter until they are a smooth mixture.
4. In another larger bowl mix the flour, salt and baking soda.  Slowly add in your wet ingredients in a little bit at a time until everything is mixed well.
5. Fold in nuts if desired.
6. Depending on the flour used, my bread usually is done baking at around 45-50 minutes, but it could be shorter with rice or similar flours.
One tip for bananas, if they are over-ripe and you do not have time to make bread out of them, then put them in a freezer zip-lock bag with their peels still on, and they will be great to use for bread later on.
XOXO
Amee
If you enjoyed this post please share it with your friends on Pinterest by clicking the "Pin it" button below or "share" it on Facebook.
One Project Link Party