Mornings can be crazy around here! Two adults and four children can make the house feel like a war zone when everyone's getting ready for work or school. So, I've decided to stick with quick, simple "grab and go" breakfast recipes, such as my healthy egg muffins.
At the start of every day, the kids are slow-movers. Because of this, breakfast is often the time that's hit the hardest during the last leg of their morning routine.
While I scurry through the kitchen slapping together lunches and breakfast—while the smallest one delightfully clings to my leg—I catch myself feeling anxious and stressed.
So, I've decided to stick with quick, simple "grab and go" breakfast recipes, such as my healthy egg muffins.
When I first began meal-planning (back when I was adhering to the 21-Day Fix), I tackled breakfast first because most breakfast foods are a no-brainer and relatively easy to plan and quick to prepare.
Plus, breakfast time was obviously an area in our morning routine that needed a little more finesse—at least for my sanity.
That's why I decided to start with the 21-Day Fix-approved healthy breakfast egg cups. They were an instant hit with my family.
My slowpokes could just grab these delicious and easy egg muffins and be out the door for school in no time! It was such a relief to me!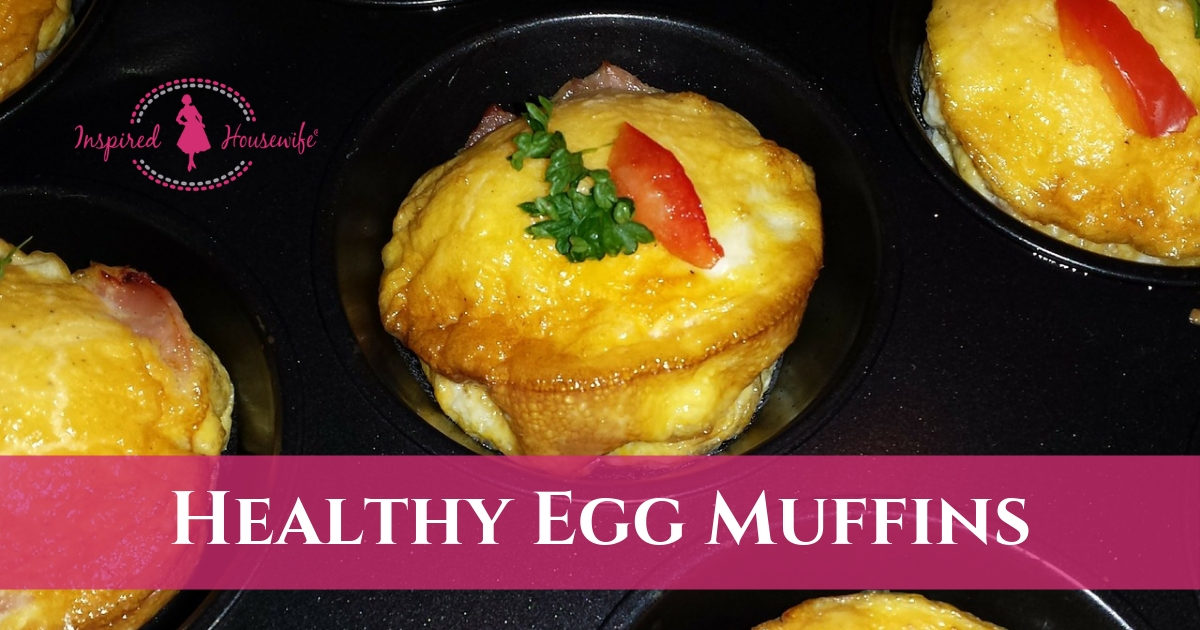 My 21-Day Fix-Approved Healthy Egg Muffins
What I love about these breakfast egg muffin cups is that they are super easy to make, you can customize them to your liking, and they are KID APPROVED!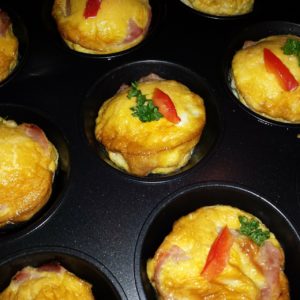 Print Recipe
Healthy Egg Muffins – 21 Day Fix
Ingredients
1

dozen eggs

1/2

cup

of milk of choice

1/2

cup

of cheese of choice

You can get creative and add in salsa

onions, peppers, meat, anything you want and the cooking time is still the same.
Instructions
Preheat oven 350 degrees. Whisk eggs, cheese and milk together until well combined.

Take a muffin baking pan and spray with oil then fill muffin baking tins 3/4 full of the eggs.

Place in oven and bake for 15-18 minutes or until done.

Day Fix Containers: 1 healthy egg muffin = 1 red container and 1/2 blue container
Don't shy away from the amounts the recipe calls for. You do not want to make a smaller batch because your husband and children are going to gobble these up—and they might even ask for more!
The good news is that, if they do, it only takes 20 minutes from start to finish. Let's just hope you have another carton of eggs!
If you aren't worried about sticking to the 21-Day Fix, then the sky is the limit when it comes to any preferences you have.
Are you unable to envision a breakfast without ham? Create your own "Baked Eggs in Muffin Tins with Ham."
Need a little roughage? Go for healthy breakfast egg muffins with spinach.
Can't live without potatoes (and don't forget a little bacon!)? Then it's time for breakfast egg muffins with hash browns!
Whether it's egg muffins keto-style or easy egg muffins with all the helpings, my healthy egg muffins recipe is the starting foundation!
Feed Your Children, Keep Your Sanity
Don't be that mom who sacrifices her sanity and a gourmet "healthy" breakfast at the feet of uninterested, sleepy children! Give yourself a much-needed break a few mornings each week.
Your kids are going to love these (and, if they don't, I know mine will eat them)!
Try these easy egg muffins out on your family and let me know what you think in the comments below!
I'd love to read about any alterations or substitutions you've made for these healthy egg muffins!
Do you have any other healthy "grab and go" breakfast suggestions? Do share! I'm in need of some new ideas, too!