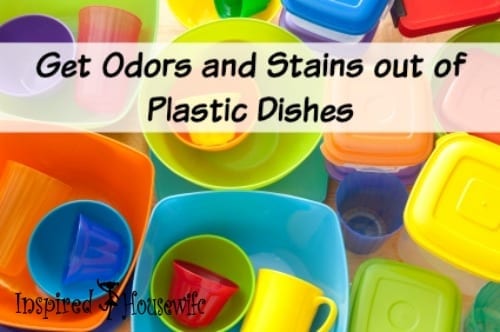 If you are like me you probably have a cabinet in your kitchen full of plastic storage containers you store your left over food in. Before I knew any better I use to warm lots of foods up in my plastic containers in my microwave leaving stains, with little holes and crevasse for food and bacteria to accumulate. I also have several containers stained by red sauces or even fruit like berries. In this post I am going to give you several tips on how you can get odors and stains out of plastic dishes and storage containers.
Odor Be Gone!
Depending on your issue there are several ways to combat this problem. My first bit of advice is to NEVER warm up food in your plastic storage containers. The plastic is not made to with stand microwave heat again and again over time and then creates little tiny holes which can trap food particles and make it very hard to keep clean and stink free.
If you have plastic storage containers that stink you can wash in very hot water and then use two tablespoons of baking soda to get rid of the smell. You can also soak your dish overnight in a 1 to 1 ratio of water and white distilled vinegar.
If your plastic containers that have those little holes I suggest using some table salt and use that to scour your dish. The salt can get into those hard to clean places and get out all the built up food debris.
Another trick is to soak your container overnight in lemon juice, the citrus will help with the smells, but it also will take away any stains that may have been left by your berries or red sauces.
Always wipe any oils and rinse your plastic food containers in very hot water before you put them in your dishwasher, allowing your plastic storage container to get as clean as possible.   If after you have tried all of this and your dish still looks gross or smells it might just be time to get new ones.
To keep your plastic storage containers looking their best do not warm them in the microwave and if you plan to put food in that has a red sauce you can lightly coat it with cooking spray.
I hope these five tips will help you keep your plastic food storage containers in tip top shape and stink free.  To read more of my cleaning tips visit HERE: