Managing a business, and a home, and having 4 kids running around the place makes it busy and interesting around here! I always feel like I'm running a business on empty.
And at the end of the day, when the kids are finally asleep, and I can get some rest too, it often doesn't result in the holy grail of 8 hours uninterrupted sleep every night (I actually can't remember the last night I slept all the way through!)
Whether it's a teething toddler, an overactive mind or just one of the other million reasons I can't sleep, there is rarely a morning I wake up and feel like I 'got my fill' of sleep that night.
But sleeping in, or not working that day are often not options available to me.
I want great things for my family and I want to grow my business this year so I have to get motivated, even when all the odds are against me.
I've been using some of these tips to make sure sleep deprivation doesn't stop my progress and I can keep running a business on empty…
Get Up Earlier
I know this might sound crazy when your head seems to be glued to the pillow, but for a few weeks now I've made a conscious daily effort to get up before the kids, do some yoga exercises, meditate and set my intentions for the day.
While this may sound counter-intuitive if you feel like you haven't slept, it's surprising how much more alert I feel by taking this time for myself; way better than an extra 20 minutes of snooze time. Give it a try for a week!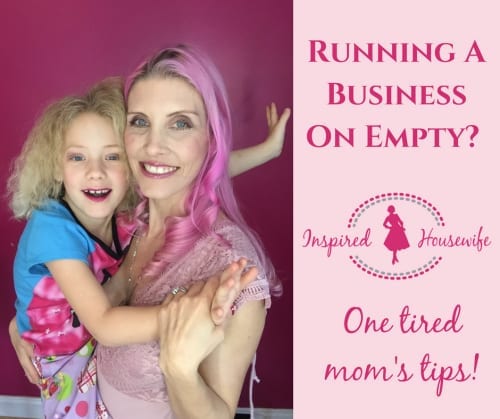 Get Some Fresh Air
Even just a ten-minute stroll around the block can give you the wake up you need. Even better if you have time to go further and really get the blood flowing. It also helps to clear the mind and set your thoughts for the day.
Be Organized
Write a list of things you absolutely must get through that day (maybe limit to 2 or 3 priorities) and just get going. Don't make the list too long or it will seem unachievable.
Keep Hydrated
Have some cold water nearby and keep sipping, it will hydrate your body and your brain and keep the creative juices flowing. Add some lemon to give you an extra zing.
Avoid Sugar
It's easy to reach for the sugary treats when you're tired, but the initial high will soon be replaced with a massive drop in energy – not what you need! Instead, snack on energy boosting food like nuts.
Dying for a Coke or energy drink? Think of it like this, if your car is running empty of gas, you wouldn't ever consider putting the wrong fuel into it, just because it's available at the pump, would you?
The same principle applies when you're running a business on empty – you have to fuel your body with the right things.
Smell The Coffee
Drinking coffee acts as a diuretic (it makes you pee more, which dehydrates you and makes you feel even sleepier). But just smelling coffee has the same effect on your brain – so brew up your strongest blend and take in the aroma!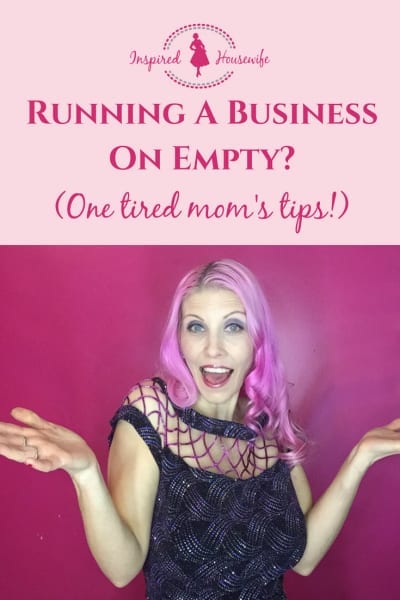 Stand Instead Of Sitting
Sitting down might seem easier when you're tired, but you're more likely to slow down. If you're working on a computer, standing can have a really dramatic effect on your productivity (and helps your posture) so give it a try, even if just in 10 minute bursts.
Have a Conversation With Someone
Whether you bump into someone you know on the street when you're getting your fresh air walk, or you pick up the phone and talk to a client, just having a conversation with someone stimulates your brain. This is especially helpful if the only other company you have that day are children with no business conversation skills!
Meditate
If you don't meditate, then you might think that sitting and closing your eyes will not help if you're already sleepy. But meditation is the most powerful tool you can master that helps with a positive mindset and productivity.
I promise you, it will help you to focus better than anything else. If you feel like you're too busy or just need to get through the to-do list, just remember this Buddha quote on meditation:
You should sit in meditation for twenty minutes everyday – unless you're too busy; then you should sit for an hour.
Sleep deprivation sucks, and often you just need to prioritize your rest over your work, so don't ever feel like you have to wear yourself out, just to be a great business owner.
Sometimes, that power nap, or day off, will have much more effect than powering through when you're truly running a business on empty.
What tips have you learned to keep your business running on empty?