St. Patrick's Day is coming soon, so why not make the day more than cladding your kids in green tights or vests from the second-hand store?  Food is a great way to celebrate any holiday and create cute and fun meals.  I made my kids a waffle, egg, and fruit "St. Patrick's Day rainbow pot o'gold kid's breakfast" and they loved it!  Tristan jumped up and down with excitement at all the fruit on the plate.  Fruit is his favorite food.  This breakfast meal is not difficult to create.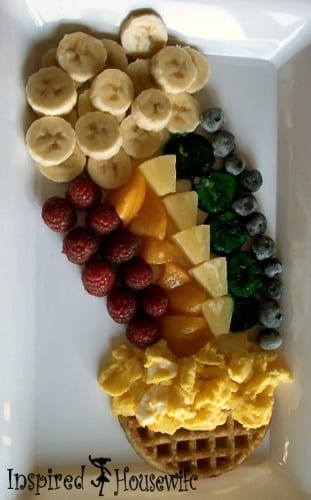 All you need to start is something brown to make your pot.  I used a Van's Wheat/Gluten Free Blueberry waffle, but you can make a Pamela's Pancake (see Pamela's product review) or even a sausage patty.  I used eggs for the gold, and then added fresh fruit in varying colors for the rainbow.  I did not have any green fruit, so for the picture I made green dyed bananas, but my kids did not eat them.  You could use green grapes or kiwi fruit for the green colored fruit.
The breakfast disappeared in no time flat, and was a healthy and special treat for them.  What special meals do you make your kids on St. Patrick's Day?
See the fun crafts we made to celebrate St. Patrick's Day and get ideas for your little ones.
{Where I linky share}