I have a busy schedule taxiing my kids to and from therapy two to three days a week. Our therapy times always tend to land around lunch time, and to save money from eating out, I pack non-messy foods that travel easily in the car. Overall, I like to feed my kids healthier meals, and so I came up with this super-good and easy recipe for homemade turkey Italian meatballs. If you use gluten-free turkey, then this is a naturally gluten-free recipe for healthy, delicious meatballs. My kids beg for me to make more of these. I use these meatballs in a number of recipes, some of which are posted in this blog.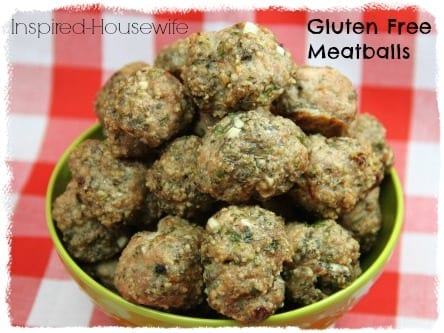 Print Recipe
Homemade Turkey Italian Meatballs
Ingredients
3

pounds

of gluten-free ground turkey

1 1/2

tablespoon

of minced garlic

3

tablespoons

of ground thyme

3

tablespoons

of ground basil

3/4

cup

of fresh chopped parsley

1 3/4

cup

of crushed Rice Chex® Cereal because we are gluten free or use Italian bread crumbs if not on a gluten free diet.

Salt and pepper to taste
Instructions
Preheat oven to 375°.

Cover baking sheets with parchment paper.

Mix ingredients thoroughly together.

Roll mixture into balls about the size of a golf ball or whatever size you prefer. They will shrink a little while they cook.

Place on baking sheet.

Bake for 20-25 minutes. Time will depend on the size of the meatballs. Near the end of the baking time, you can cut one open to check for color. They should not be pink inside and temperature should not exceed 165 degree Fahrenheit.