Next Year's Cosmetic Colors For Fashion and Beauty Have Been Announced!!!
Color expert Pantone have just released their 2018 colors for fashion and beauty and you'll be pleased to know that SenseCosmetics have already lined up matching cosmetics to ensure you stay on trend throughout the year!
These colors set the scene for fashion, beauty, furnishings, and design in 2018 and, with my help, you can get ahead with planning your wardrobe and beauty supplies.
Next Year's Cosmetic Colors For Fashion And Beauty…2018 looks colorful!
Cherry Tomato – The hint is in the name and this is all about pouty and totally kissable lips! Every girl should have the chance to have amazing lips! Below are three of our top lip colors: BluRed, Samon, and Pomegranate!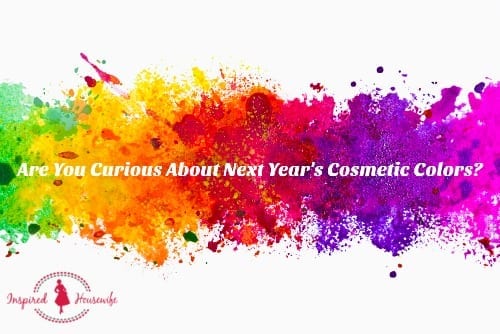 Meadowlark – Think ahead to spring and this uplifting color will look amazing blended on eyes.
Lime Punch – As fun and unique as it sounds, this zesty shade will make eyes pop!
Blooming Dahlia – A gorgeous peachy color that will work in various blends on eyes, lips and cheeks. This is set to become your new go-to shade! Below is my top picks for this color pallet: Lips – Luv It and Apple Cider; Eyes – Copper Rose Shimmer and Candle Light; Cheeks – Blush Terra Cotta.
Arcadia – A little bit of retro is always popular; this turquoise shade will be a new party night favourite.
Little Boy Blue – You could get lost in this dreamy, cool blue that will bring eye color out and be an amazing secret beauty weapon for red heads.
Ultra Violet – This fun and versatile color will take your makeup to a whole new level. No wonder Pantone named this shade the 2018 Color of the Year! Check out our TOP lip color Violet Volt!!! On eyes, create a sassy and fun look with Silver Shimmer, Amethyst, and Denim shadows.
Spring Crocus – A personal favorite of mine already, I can't wait to start blending this with Pink Forest ShadowSense on my eyes! Great for those wanting to experiment with pink. Next year's cosmetic colors might just get you experimenting too!
Pink Lavender – I'm foreseeing this to become a new go-to wedding day favorite for brides due to its versatility. Elegant, soft and feminine this will be a great eye accent shade (will look great on photos), and will combine well with Pink Champagne for totally kissable lips.
Chili Oil – This earthy brown shade will combine amazingly with Hazelnut and Nutmeg for beautiful Fall color options. On the eyes, you can create this stunning trio: Candle Light, Copper Rose Shimmer, and Garnet.
Emperador – Rich chocolate, this regal brown shade will be your new BFF when creating the smoky effect on eyes. I'm super excited to see how this color will look with Cocoa LipsSense on my brunette friends.
Almost Mauve – Girly and light blush pink this will become a staple in your 2018 eye palette and combined with Pouty Pink BlushSense will make you feel amazing any day of the week!
I don't know about you, but I am super excited to create next year's cosmetic colors and start experimenting!
Let's talk about how to incorporate the 2018 colors for fashion and beauty into your wardrobe and makeup bags!