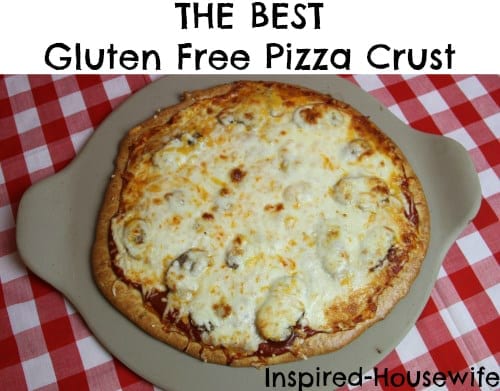 One of the things I felt devastated about when my family took the gluten free journey was the thought of never again having pizza.  Every Saturday night was pizza night with our kids, along with apple slices and a big glass of water.  It is one of my favorite comfort foods and was something I loved to serve my kids because of how easy it was to make.  Since then, I have tried all kinds of gluten free crusts from homemade to store bought, but was never really satisfied.  Then about a year ago my husband started to experiment in the kitchen (he is actually a WAY better cook than I), and after many attempts he came up with this amazing grain and gluten free pizza crust.  He is Italian, and if you look closely you can almost taste all those Italian spices mixed in with a hint of garlic flavor.
This crust can be made thick like a Chicago style pizza or as thin as a New York style pizza.  The crust can be made ahead of time with all the fixings, frozen, and then cooked at a later date.  It does not soak up the sauce and does not fall apart.  One bite into this pizza and you won't miss those wheat pizzas any more!  Seconds will soon be on their way!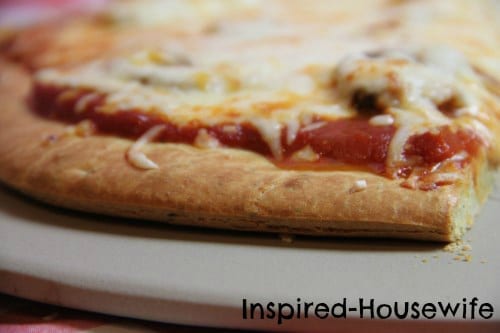 A few readers have asked me what kind of flour they could use as a substitute for almond flour and one of the substitutes I learned of today is sunflower seed flour.  You can read more about sunflower seed flower from a post written by Paleo Parents.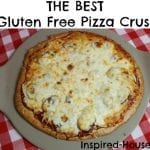 Print Recipe
The Best Gluten Free Pizza Crust
Ingredients
2 1/2

cups

of packed Almond Flour

I used Bob's Red Mill brand

1 1/4

cups

of Tapioca Starch

other gluten free starches can work too, but I find tapioca to be the best in this recipe

3

Large Eggs

2

tsp

of fresh minced garlic

2

tsp

of Italian Seasoning or use 1/2 tsp each for basil

oregano, marjoram, and thyme

2

Tbs

of Olive Oil

1

tsp

of Apple Cider Vinegar

helps with the flavor of the crust

1

Tbs

of Active Yeast or use one packet of Active Yeast

1/2

cup

of warm water
Instructions
Preheat over to 400 degrees.

In a measuring cup, fill to the half cup line with warm water, and put in your yeast. Let it sit for five minutes to activate it.

While your yeast activates, take a large mixing bowl and whisk together almond flour, tapioca starch, minced garlic, and Italian Seasoning.

Once that is mixed, add eggs, apple cider vinegar, olive oil, and warm water yeast mixture. Mix thoroughly. The batter will be much more runny than traditional pizza crust dough, but no worries!

I bake my gluten free pizza crusts on a round or rectangular stoneware and put parchment paper on top of the stone before pouring the batter onto the stone. (I do this for easier cleanup, but if your stone is oiled it is not necessary.)

Pour the gluten free pizza crust batter onto the bakeware of your choice.

Take a spatula and spread the batter around to get the desired thickness. This batter can be spread really thin or kept very thick. It will approximately double in height during baking.

Cook your gluten free pizza crust for 10-12 minutes or until your crust is just starting to slightly brown.

When your crust is cooked put whatever ingredients you would like on it. This crust is great because it does not get soggy at all so you can use as much or as little sauce as you want.

Once the pizza has the toppings you like (the pizza pictured is a cheese and mushroom pizza), then cook it for another 15 minutes or until your cheese becomes bubbly and slightly browned.

Take out and cool for 10 minutes and then enjoy!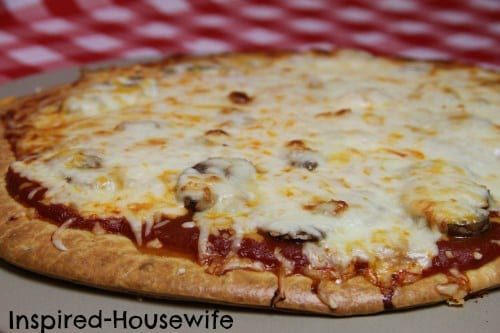 {Where I linky share}