Discovery of an Easy Car Upholstery Stain Remover
How did I discover the best stain remover for car upholstery? Well, oddly enough, it all began when I was in the market for a new camera in 2012.
At that time, my $60 point-and-shoot Canon was fairly adequate for both hobbies and my blog.
With technology constantly improving, I couldn't help but notice the drastic differences between my camera and the newer versions.
Unfortunately, just a casual session of window shopping proved that a new, fancier camera was not within my personal budget.
It seemed my only option was to save and wait.
Shortly after my initial disappointment, my family and I were preparing for a long-awaited vacation.
There was much to do before we could go, and one of my husband's biggest concerns was ensuring the truck's interior had a detailed cleaning by a professional upholstery cleaner.
I called several car upholstery cleaning services only to find myself slightly appalled at their prices. On average, I was quoted a minimum of $150!
I couldn't help but think of the new camera I wanted as I considered how much it would cost to have our truck cleaned professionally.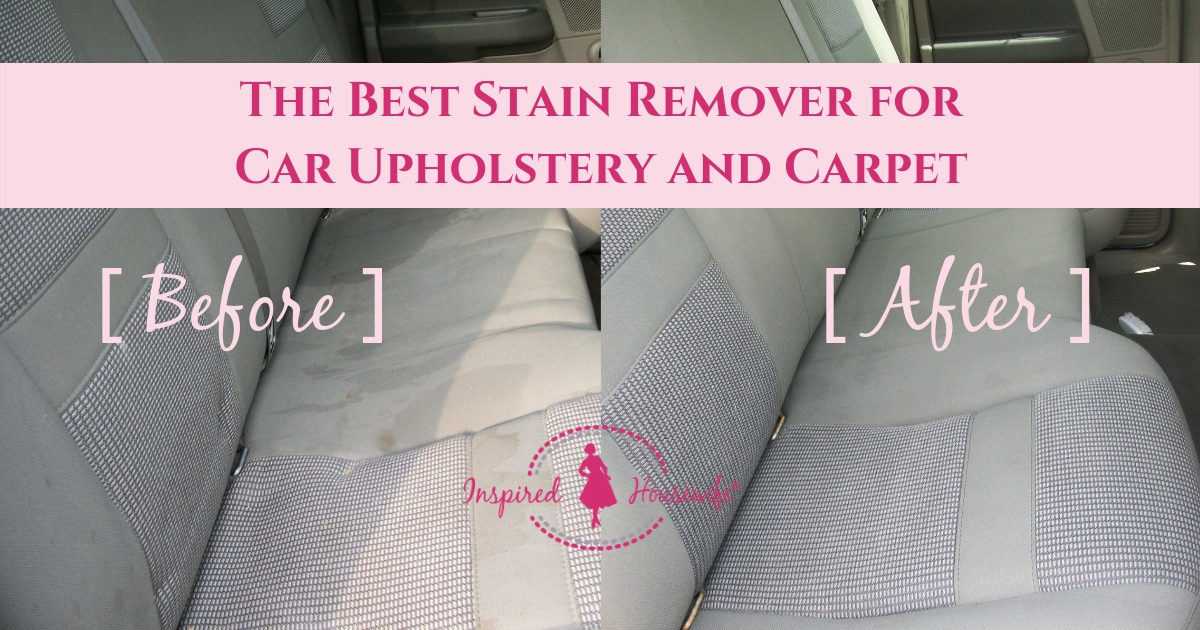 That's when inspiration struck!
I suggested to my husband that he hire me instead and put just a portion of that $150 toward my dream camera fund. He agreed!
As I set about preparing the truck's interior for a deep clean, I discovered that children truly have a knack for creating secret messes.
Those of you who have children of your own will understand the horrors that lie in wake beneath child car seats.
This is especially if you spend your days carting your kids around from one appointment to another like I do with mine.
From stickers on windows to petrified French fries, most parents see it all.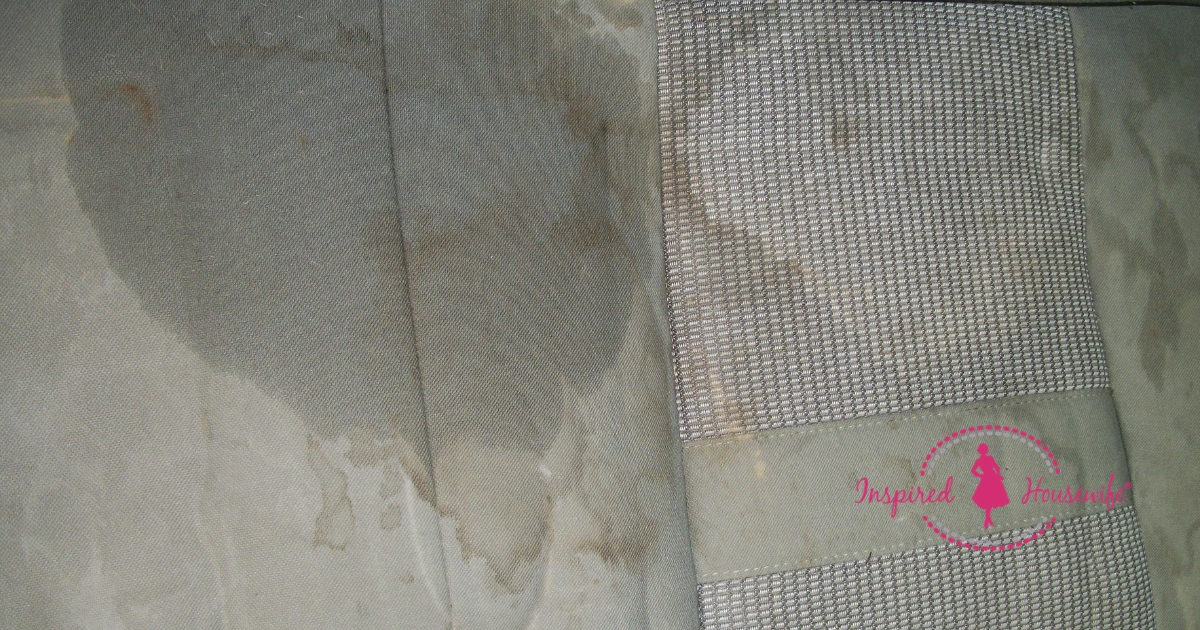 As I removed the car seats one by one, I had the exquisite privilege of encountering lost cheerios, forgotten hair bands, small toys, and the stains of what appeared to be a thousand juice boxes (as you can see in the picture above).
Our truck's seats were in, by far, the worst condition I had ever seen them.
I remember standing there, staring at those stains, wondering how in the world I was going to perform this miracle.
Suddenly, I remembered a new DIY cleaning solution I had used on my tubs, sinks, and showers just the day before!
The solution called for Dawn dish soap and white vinegar, but I knew that club soda is phenomenal at getting stains out of carpets and other fabrics, so I decided to toss that into the mix, as well, at an overall ratio of 1:1:1 (Tablespoon to Cup to Cup).
I felt pretty confident that this could very well be the best stain remover for car seats.
Thankfully, I was not disappointed!
Recipe for the Best Stain Remover for Car Upholstery
1 Tablespoon Dawn blue dish soap
1 cup white vinegar
1 cup club soda
A scrub brush
(Note: Several of my readers have had success with less ingredients. Please see their testimonies below for further information on which ratios worked best for them.)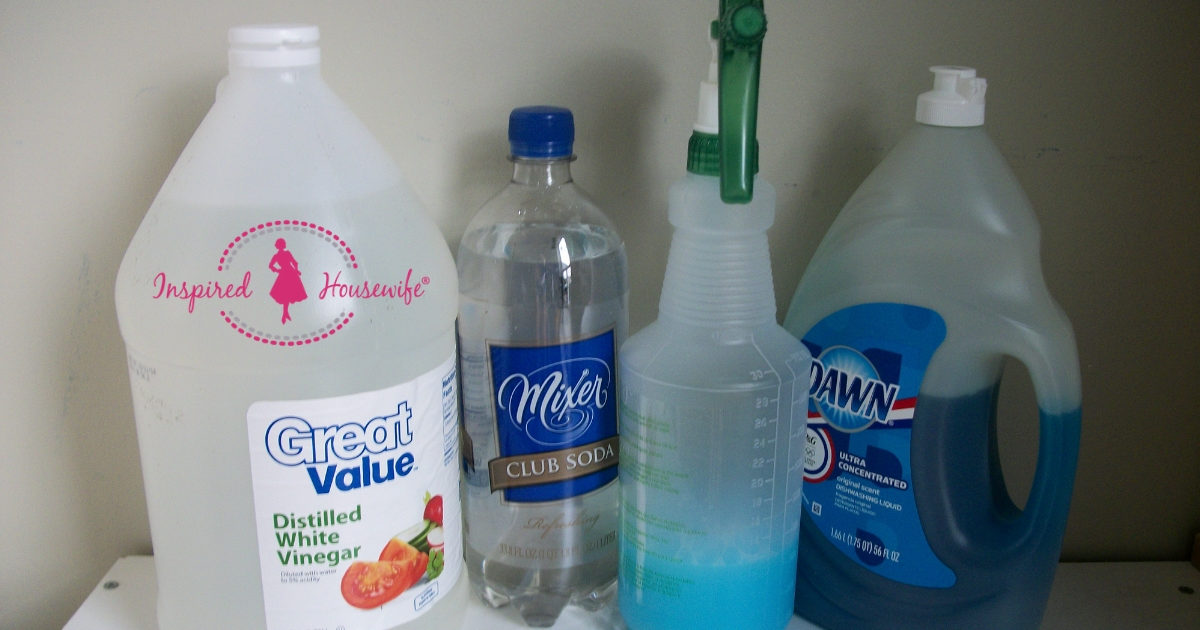 Easy Car Upholstery Stain Remover Directions
Mix the Dawn, vinegar, and club soda together in the heavy-duty spray bottle. Shake or swirl lightly before use.
After a thorough vacuuming, I made sure to scrape off any crusty or sticky substances from the upholstery surface.
I then sprayed liberally over the stained areas and let the solution sit for about 5–10 minutes.
I returned with my scrub brush and scrubbed over the stains in little circles.
To my amazement, most of the stains faded and disappeared right before my very eyes!
It was getting late, so I decided to finish the very worst of the stains the next morning.
Upon my return the following day, I noticed that the stains I saw disappear while scrubbing the night before had indeed vanished for good.
As I suspected, though, the darkest stains still remained.
In addition, there was a new issue. Water marks had appeared wherever I had sprayed the solution, but that was nothing my Hoover SteamVac and a little warm water couldn't fix.
To finish the work, I resprayed the worst stains and scrubbed them again.
I then used the SteamVac's handheld spinning attachment and water sprayer over each section, even beyond the borders of the stains themselves.
The SteamVac lapped up the excess liquid with ease and I was given a glimpse of just how astonishingly-good Dawn, vinegar, and club soda work as a team.
I didn't have any doubts that this would be an easy car upholstery stain remover, I just had no idea the transformation would be this incredible.
It almost looked as if the seats had never been introduced to my miniature demolition artists.
A milk stain that had evaded the professional car upholstery cleaning services we hired in the past was now completely gone.
The coffee stains in the driver's seat where my husband clearly excels at drinking his coffee, was nonexistent.
Some stains, however, were oil-based and many years old. While they weren't visible at a glance, I could still make them out due to my familiarity with them.
Regardless, I was one happy mama with the overall results!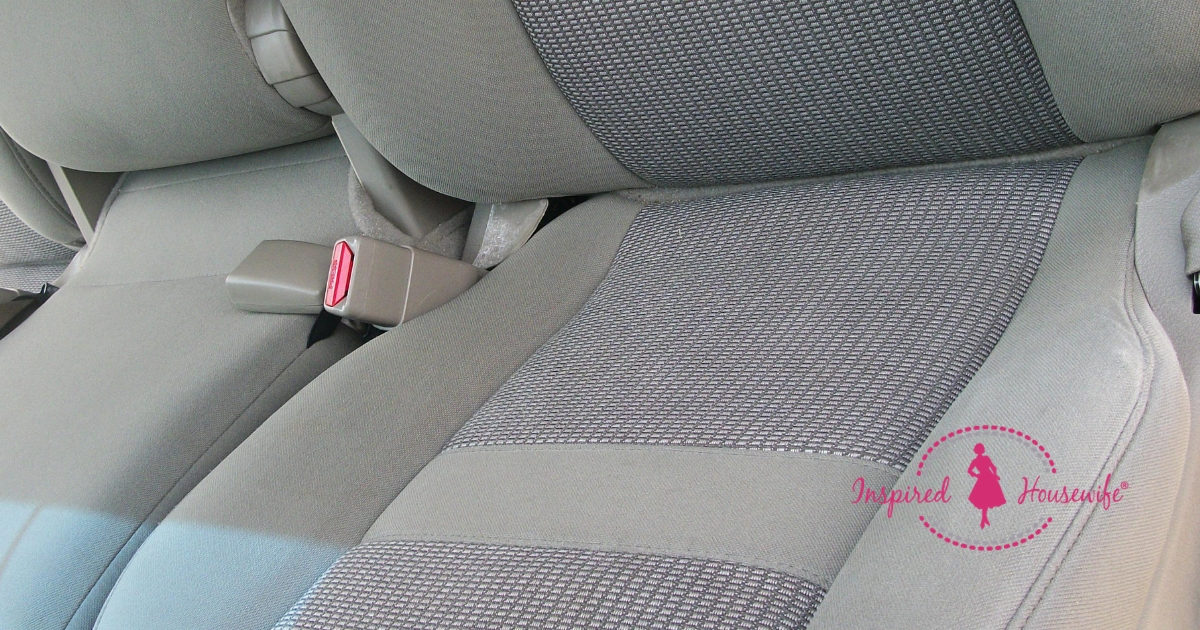 Conclusion
This best stain remover for car upholstery recipe is now a major component of my household cleaning arsenal.
I hope you'll be just as pleasantly surprised by your results as I was with mine.
When you've finally conquered those stains, consider using these car cleaning hacks on the rest of your car.
Once you've got your car looking like it just came off the lot, keep it that way by following these tips for keeping the car clean with messy eaters.
Let me know in the comments below how this car seat stain remover worked for you. And, as always, feel free to share this tutorial with family and friends.
If you have any questions, please continue scrolling and you'll find additional advice from me, as well as helpful comments and testimonials from readers in the past.
Happy scrubbing!
FAQs
Do I have to use only Dawn brand dish soap?
No, you may use other brands. That is just what I tend to have on hand.
Also, some readers suggest using a lemon or other citrus-scented dish soap to help reduce the vinegar smell.
What type of vinegar did you use?
Distilled white vinegar.
What if I don't have a SteamVac?
Please don't feel that you can't have the same success without a SteamVac (i.e. upholstery/carpet wet vacuum).
The only issue you risk is leaving blotchy water marks or a more prominent vinegar-y smell, but this can be avoided (see below).
You could use alcohol, as it will evaporate and not leave a watermark. (Test a small area first to be sure it doesn't interfere with the coloring of the upholstery.)
After use and when the upholstery dries, you may need to gently rub out the stiffness in the fabric left behind by the alcohol.
Or you can try the following method:
First spray the stains and allow the solution to sit for 5–10 minutes before spraying a layer over the non-stained areas.
Let the solution of both sit another 5 minutes.
Scrub in circular motions, giving the stains a bit more elbow grease, so to speak, before working out toward the non-stained areas.
Once you finish the scrub-down, use a towel you're not too fond of to rub vigorously over every section until it has absorbed much of the solution.
The next step is to spray the area again from a clean bottle filled with hot water and use a dry towel to rub vigorously all over the upholstery in straight lines.
Follow with another vigorous rubbing with a dry towel or two.
If you don't have another spray bottle to spare, simply wet a towel or wash cloth in hot water and follow the same steps. (The upholstery will still feel a bit damp to the touch when you are finished.)
This will help ensure your upholstery dries with a more uniformed look, as opposed to leaving blotchy water markings.
Won't this leave a vinegar smell? How can I minimize it?
A DIY car seat cleaner without vinegar that yields results as impressive as a solution with vinegar will be difficult to manage, but if the lingering vinegar smell is an absolute no-go for you, you have several options:
Don't use as much vinegar.
Schedule your cleaning session during a time when you can leave the doors of the car open outside or in the garage with a fan for several hours so that the smell can dissipate quicker.
It does not last long if allowed to air for a few days.
Use a strongly-scented Dawn, such as their "tropical," "green apple," or "lavender" options.
I have used lavender-scented Dawn before on carpet with my cleaning solution and it completely hides any vinegar smell.
Scent your vinegar beforehand. The next time you eat an orange, save the peel and pop it in a jam jar with white vinegar.
Let it sit for a few days. Drain the vinegar into your spray bottle and—voila!—no more stink.
If you can't wait a few days, do what some of my other readers have done. Warm orange peels in a small amount of water in the microwave before adding them to the heavy-duty spray bottle along with the other ingredients.
Use a few drops of essential oil of your preference in the mixture.
Will this work on dark colored fabric or suede leather?
My rule of thumb is to always test something new out on a small, less-noticeable area first.
When in doubt, test it out!
Helpful Reader Comments and Testimonials
On what types of stains will this work?
"I saw a recipe for this solution, minus the club soda. A few weeks ago, I got a flat tire. The flat was put in the back of my SUV.
After the tire shop guys got me up and running, I found a HUGE grease stain from where the tire was laying on the carpet.
To say I was irritated is an understatement!
So, a few weeks past and I finally had time to work on the grease stain with a similar recipe and it worked beautifully!
The carpeting in the back is a light brown/tan and, of course, the grease was black.
If you look at it now, there is not a single indication that a tire rested on that carpet!
I used a scrub brush and a washcloth to work the stain out. And, I really didn't have to work on it for long."
"Thank You! Thank You! Thank You! This was a miracle worker for my poor car!
It took out a huge grease stain that was over a year old that I couldn't get out and it lifted a melted candy cane right out of my back seat! My hubby was shocked!!!
I don't have a steam vacuum so I just patted dry with a towel and there weren't any water stains!!"
"I must repeat some of the others: this is nothing short of a miracle!!!
I have a 2-year old grandson who was given a normal plastic cup with a straw in it while in his car seat. He didn't want it anymore so he threw it across the seat and you can imagine what happened.
There was a huge grape juice stain that smelled like something died and I tried everything to remove it to no avail.
I came across your site last night and just tried it—the back seat looks brand new and smells wonderful!!
Now I'm getting ready to make a waterproof cover for the seat as we are getting our grandson for the weekend.
LOL Thank you, thank you, thank you!!!"
"I have been trying for a couple years to get the kid goo out of my car with no success.
I made this yesterday and used my Bissel green spot cleaner filled with water……. Holy freaking moly batman……. my car looks amazing!!!!!!
The ONLY thing it didn't completely remove was a little smidgen of a 6year old coffee stain on the driver seat!
I even tried this on the floorboard and it did a fantastic job as well!!
I'm so excited!!!!!!! Thank you so much!!!"
Again, what if I don't have a wet vacuum?
"This worked! THANK YOU for figuring out how to clean car upholstery. That has been my one complaint with our 2008 Escape…I could never get our seats clean.
They weren't wonderful when we purchased the vehicle (4 years ago) and one child later with lots of long road trips…well, your before pictures looked much nicer than our seats. But this solution really worked.
I did not have a steam cleaner thing to suck out the soap, so I used a wet rag with clean water and a dry towel to help remove the solution after scrubbing.
Worked great!
Again, thank you for experimenting and then sharing your knowledge with the world!"
"It's 3:15 am and I just finished my car. This is the first time something good has come from my insomnia. =D. It's amazing.
I did not have club soda on hand so I substituted with water.
Also, I don't have a steam vacuum so I used my Bissell Little Green with just hot water in it for the rinse. Without the club soda it did take a little elbow grease, but not much. It's not totally dry yet, but I don't think I'm gonna have an issue with water spots.
Thank you for being clever!!!"
"I am currently letting the seat dry, to see how it looks and if it dries at all. I'm not even worried about water marks because that would be a million times better than what it was.
For anyone wanting to know about not having a steam vacuum, I just "rinsed" it with a wet rag for a while by rubbing, dabbing, and "squeegee"-ing it until I found it acceptable, and then did the same thing with a dry towel and it seemed to work.
My solution was about 1-part dish soap (I used something other than Dawn), 2 parts vinegar, 2 parts water. Mainly because I was out of dish soap. This seemed to work fine, and there is no vinegar smell."
Satisfied Reader Comments
"You LITERALLY saved the day!
My car looks just like your truck used to. I looked up car detailers last night on google- I-kid-you-not- and I got the same prices 150-200 range…ridiculous!
So thank you for posting this and pinning it…definitely doing it!"
"WOW!!!! I saw this on Pinterest and thought I might as well give it a shot. Read through the comment threads and it sounded simple enough.
Let me give some background. I have had my car for roughly 6 months. Except my car is 18 years old.
You wouldn't believe what the inside looked like when I first got it. AWFUL. But it runs okay, it was cheap, and it has air/heat.
That's all I need lol. More background, I'm an 18-year-old, lazy, couch potato with the patience of a 2-year-old."
"I used it on HALF of the front passenger seat and I about died. This is magic in a bottle! Seriously, this stuff is magic!
Might have to do this in small doses, like, half a seat a day. But I'm doing this for my whole car."
"Thank you so much for posting and pinning!"
"Why didn't I try this earlier!?!?!? My carpet in my SUV looks pretty much brand new!!!!!
After my 2 toddlers had 2+ years at it, and I never thought all the gunk would disappear before my eyes!!!
I'm just sad I didn't take a before pic…but honestly, I didn't think it would work!!! Shame on me!!!
Thank you for your insightful and extremely helpful post!!! Xoxo"
"This is the best stain remover for car upholstery. We got a new van last year, and the kids are, well, kids, so there have been some spills on the back seat.
I used this in my van, and everything came out, even those pesky coffee stains. Thank you so much!
I get notices in my inbox from your blog, but this is the first time I've been able to comment. I look forward to more tips in the future."
"This solution rocks my car was disgusting but now it looks almost new. The stuff I bought previously from an auto store was worse than useless, this solution was just what the car needed."
Do you have any favorite cleaning tip or trick you would like to share?
I love to learn how you remove stains from upholstery, carpet, clothing, or any other surface.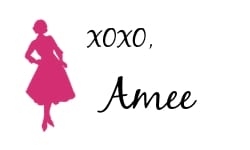 Save