Thanks for coming to check out the recipe for my "Healthy Crustless Pumpkin Pie!" One of the things I LOVE about this time of year is pumpkin EVERYTHING.
Yes, I am one of those stereotypical pumpkin everything and anything fans—I just can't help myself and I refuse to be ashamed!
In fact, the best part of my pumpkin pie recipe is that you can eat it without guilt!
This year, I am trying to keep our holiday and winter treats guilt-free and one way I do that is by switching to the crustless (and "healthier") version of America's favorite winter pie.
What Sparked My Crustless Pumpkin Pie Idea?
It all began when my son kept begging for pumpkin pie. I wanted to indulge him but because of his sensitivity to gluten, I knew I'd have to be a little strategic.
To complicate matters further, I suffer from Hashimoto's and have to avoid coconut, which I recently became allergic too. (Click here to learn more about food sensitivities and Hashimoto's.)
I figured I needed to create a healthier option not only for the two of us, but also for women like you.
You might have food sensitivities like my son and I, or maybe you're watching your sugar or carbohydrate intake, or you're just not feeling up to making a crust this holiday season.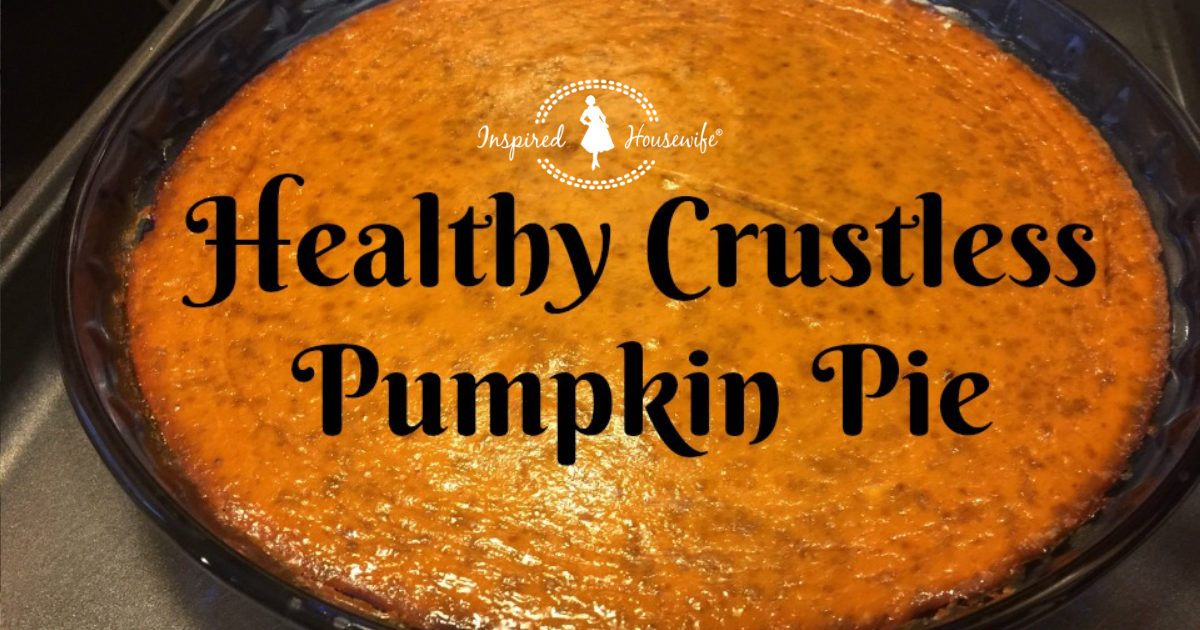 I could have easily made a coconut- and gluten-free crust, but, to be honest, I definitely wasn't feeling it either, but this crustless pumpkin dessert recipe is delicious.
So, for once, being lazy has proven to be productive!
My son Tristan, who many of my fans know has autism, loves to help in the kitchen. This was especially fun for him because his diet is gluten free.
Crustless Pumpkin Pie Recipe
To start, I went searching for "healthy" and "gluten-free" recipes on Pinterest, but everything either had coconut or a LOT of sugar.
While it can be truly scrumptious, sugar feeds illness and suppresses the immune system for a period of time following its consumption.
I don't know about you, but I'm not in the mood to play nursemaid to my family because I subjected them to a dessert that, albeit delicious, has the capacity to make them even more susceptible to the cold and flu season.
Also, I don't want my kids—or yours—to have their holiday ruined because they're strung out on sugar either.
Okay, let me rephrase that: I like my sanity—and value yours—more than I like sugar, which is yet another factor in the making of this low-sugar, crustless pumpkin pie.
Since Pinterest offered nothing plausible, I had to take matters into my own hands.
It took three tries before my husband gave me the thumbs up.
So, with great pride, I present to you a crustless pie that not only stands upright like regular crusted pie, but also makes your house smell divine!
Most importantly, though, it tastes just like Thanksgiving, Christmas, and every wintry, warm-fuzzy-inducing pumpkiny-something should—but without all the unhealthy gunk!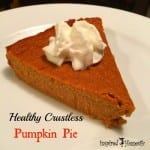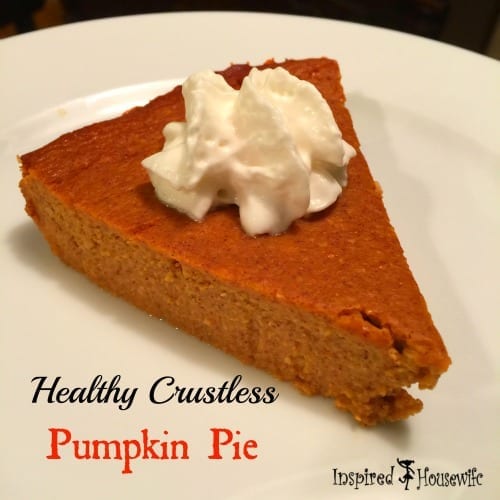 Print Recipe
Healthy Crustless Pumpkin Pie
Ingredients
3

large eggs

2

cups

Pumpkin Puree

1/2

cup

of raw honey

1

cup

milk

I used almond, but you can use whatever you like

1

T

vanilla extract

1

tsp

cinnamon

1/2

tsp

ground ginger

1/2

tsp

ground cloves
Instructions
Pre-heat oven to 350 degrees F. Grease a 9-inch glass pie plate with butter, coconut oil, whatever you choose.

In a large mixing bowl, use a hand whisk, add in your three eggs, pumpkin puree, honey, milk, vanilla extract, cinnamon, ground ginger and cloves until mixed well together.

Use a spatula to add pie filling to the pie plate. Bake until the center appears set and comes clean with a toothpick.

Twenty One Day Fix (21 Day Fix) 1 slice of pumpkin pie = 1 purple container (you are welcome)
This pie recipe is perfect for anyone who needs to stick to a something-free diet, such as gluten-free, grain-free, or coconut-free, but it's also perfect for a refined-sugar-free diet because it calls for raw honey!
You truly cannot get a healthier version of this pie with the same authentic pumpkin pie taste—trust me, I've tried!
Conclusion
I'd love to know what you think of my crustless pumpkin pie!
Have you discovered another healthy but equally-tasty recipe?
Feel free to share in the comments below!
I'm always up for something gluten-, coconut-, and refined-sugar-free!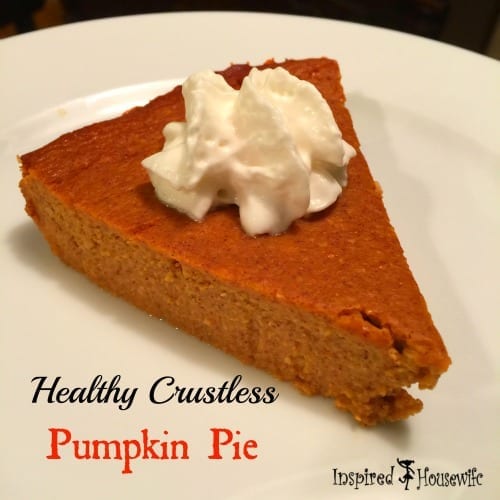 For more gluten-free, pumpkiny goodness, check out my other pumpkin- and holiday-inspired recipes:
Gluten-Free Pumpkin Chocolate Chip Cookies
Gluten-Free Pumpkin Pie With Streusel Topping
Gluten-Free Pumpkin Cheesecake Swirl Brownies
Gluten-Free Holiday Pumpkin Pancakes
What is your favorite way to eat pumpkin? Share by commenting below!