I love this time of year and this past week my kids and I took a field trip to a pumpkin farm.  We were with a local group of other homeschoolers and it was fun to see my children so excited about pumpkins.  They had a hay bale maze set up with ladders, and slides I thought I would never get my son out of the maze.  He loves mazes and slides it was the perfect combo.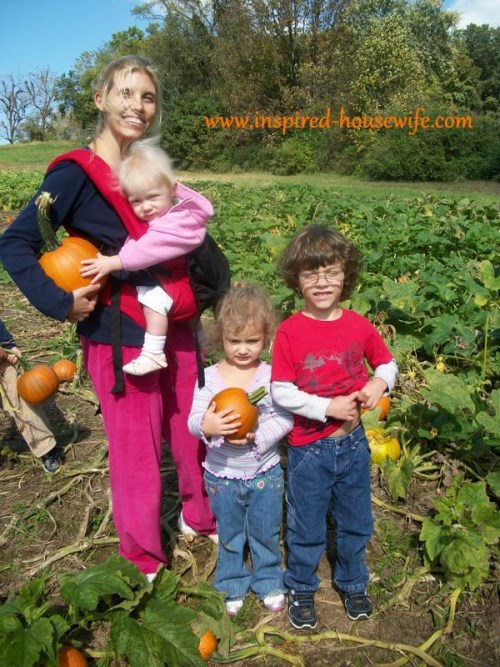 We rode a wagon filled with hay bails along a bumpy muddy road until we came to a hay bale amphitheater where we all sat and farmer Peggy taught us the life-cycle of a pumpkin. 
The best part for me was watching 20 kids run wild and free through a pumpkin patch screaming and laughing.
  We each got to pick our small 3 to 5 pound pumpkins to take home with us.  There were a few nose dives in the muddy pumpkin patch, but all came up with smiles painted on their faces.
One thing I love about this time of year is all the treats and smells.  I love pumpkin and the other day I perused my old cookbooks and on-line looking for inspiration on what to make for a friend's daughter's fourth birthday party.  I saw a recipe by Beantown Baker and adapted it to be gluten free.  The brownies are fantastic!  They are moist, rich in chocolatey, pumpkin, cheesecake flavor.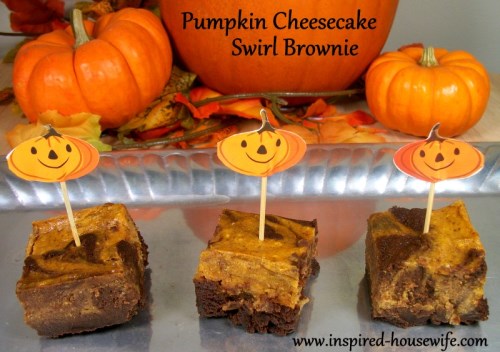 Gluten Free Pumpkin Cheesecake Swirl Brownies
Brownie Batter
3/4 cup melted butter
2 eggs
1 tbsp vanilla extract
1 cup sugar
1/2 cup Bob's Red Mill Sweet Sorghum Flour or Bob's Red Mill Gluten Free All Purpose Flour  (or use regular gluten flour)
1/2 cup cocoa powder
1/4 tsp salt
2 tsp cinnamon
Cheesecake Batter
8 0z Whipped Cream Cheese
1 egg
1/4 tsp vanilla extract
1/2 cup sugar
2/3 cup of pumpkin purée (you can use canned or fresh, but if you use fresh make sure you drain the excess water off if there is any)
2 tbsps Bob's Red Mill Sweet Sorghum Flour or Bob's Red Mill Gluten Free All Purpose Flour or  (or use regular gluten flour)
1 tsp cinnamon
1/4 tsp ground ginger
1/4 tsp ground cloves
Directions:
Preheat oven to 350 degrees Fahrenheit
Brownie Batter Instructions:
In a small mixing bowl, take your eggs, melted butter, sugar, and vanilla extract from your brownie batter and beat together.
In a medium mixing bowl, mix all your dry ingredients flour, salt, cinnamon, and cocoa powder until well mixed.
Take your wet ingredients and pour them into the dry ingredients and mix them, but do not over mix as you can make the brownie stiff.
Cheesecake Batter Instructions:
In a small mixing bowl, take your cream cheese, egg, vanilla extract, sugar, and pumpkin and mix together.
Add in the flour and spices and then thoroughly mix, until your batter is smooth creamy orange.
I used an 8 x 8 square baking pan I had and greased the sides and bottom so your brownies do not stick.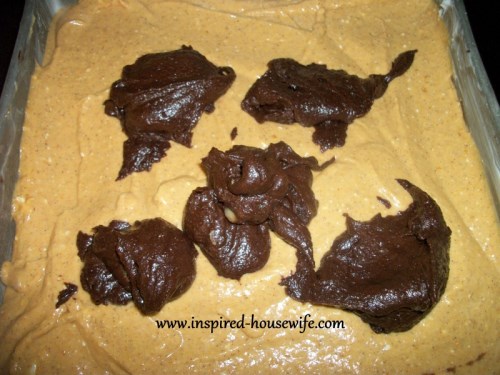 Take about 3/4 of your brownie mixture and layer the bottom of your baking pan.
Take your creamy orange cheesecake mixture and layer that over your chocolatey brownie mixture.
Next put dollops of the leftover brownie mixture in each section of your pan.
Take a butter knife and drag it through your brownie mixture running it up and down and side to side in your baking pan.  This drags the dollops of brownie mix through your cheesecake and creates the pretty swirls you see in my photos.  Keep doing this until you get your desired look.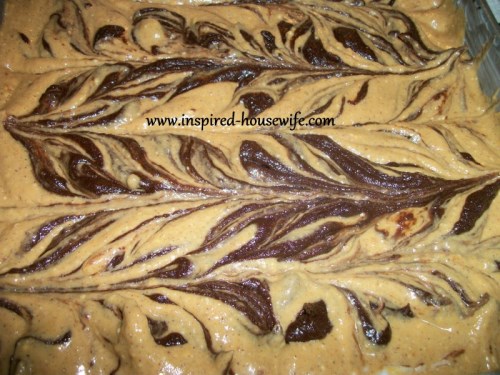 Cook for 40 minutes and let your brownies cool.  Serve chilled.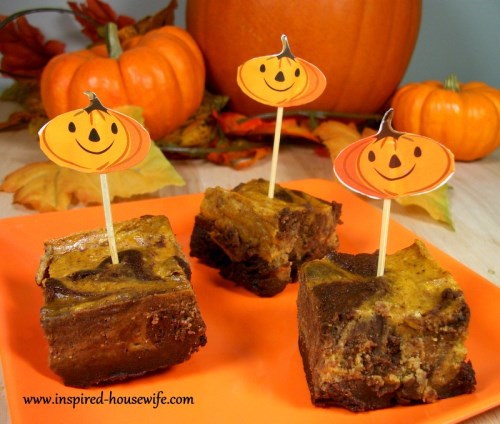 These delicious brownies are the perfect Halloween or Thanksgiving party treat.  They can be made with regular gluten flour, but for those of us who bake gluten free these are a MUST HAVE on the holiday menu.
What treats are a must have at your holiday parties?  Comment Below!
XOXO
Amee
Where I Party: