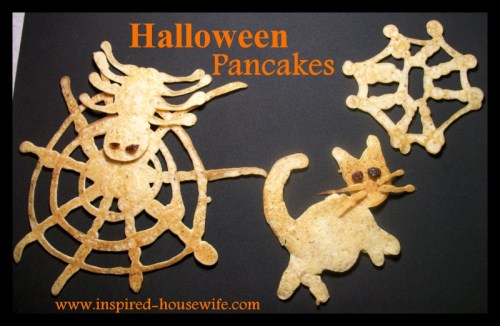 My father was the pancake cook in my house when I was a kid. 
He made the best pancakes ever, but his pancakes were the plain round pancakes.  I love
pancakes
and I adore
breakfast
food in general.  I love to make special
breakfasts
for my kids once in a while just because or to celebrate something really cool.  I had my kids start doing chores this past month.  I put their name on a dry erase board and the one chore they are to have done that day by bedtime.  This system is working so well that I might start to add in two chores and then maybe more as time goes on. 
I want my kids excited about doing chores and creating a good work ethic in them.
Boooliscous Fun!!!!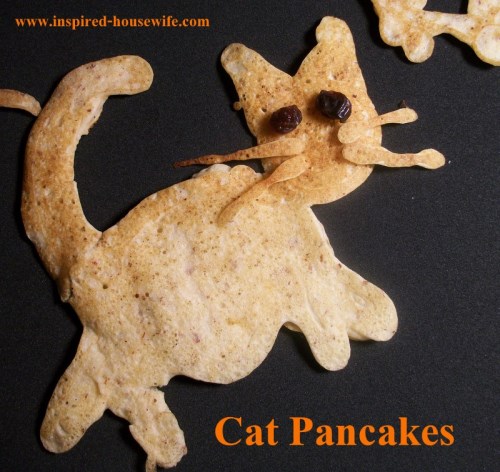 As a surprise for their hard earned work I made them a pancake breakfast, but not just any pancakes! 
I made spiders, letters for T and for K, I made cats, and spider webs. 
My kids were so excited they could hardly wait to eat them. 
The great thing about pancakes is you can do all sorts of special tricks with them by using cookie cutters or doing it free hand like I did this morning.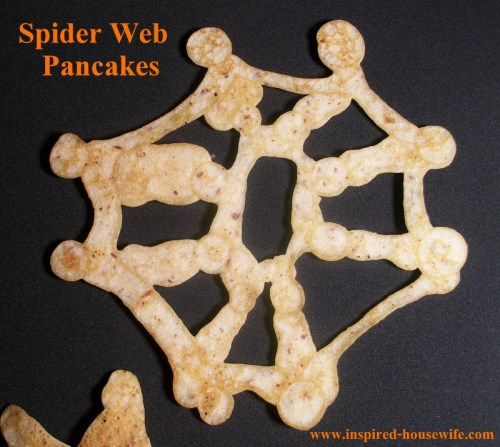 Spooktacular Halloween Breakfast Pancakes
Mix up your favorite pancake mix mine happens to be this one.
You will need a cake decorating squeeze bottle to put your pancake mix into like this.  Make sure your pancake batter does not have any lumps and is thin enough to squeeze through the hole.  You may need to snip the end off to make the opening bigger, but it is pretty straight forward.
The Spiders:  Make two circles and then put eight legs off the body. (Some of my first spiders looked more like octopuses, but my kids did not care they ate them anyways.)
The Octagon Spider Web:  I made eight dots of pancake batter and then I did sweeping swag lines between each of the eight dots.  I did a smaller octagon inside the larger octagon and repeated the same steps.  I made lines through each dot to connect the two octagons together to make one spider web.
The Large Circle Spider Web:  This web I made concentric circles and drew lines with pancake batter from the center out.
The Cat:  The cat pancake was my version of an arched black cat and I free handed him based on a drawing I saw on the Internet.  The whiskers were made last and place on his face.
I used raisins for the eyes of the spiders and the cat as well.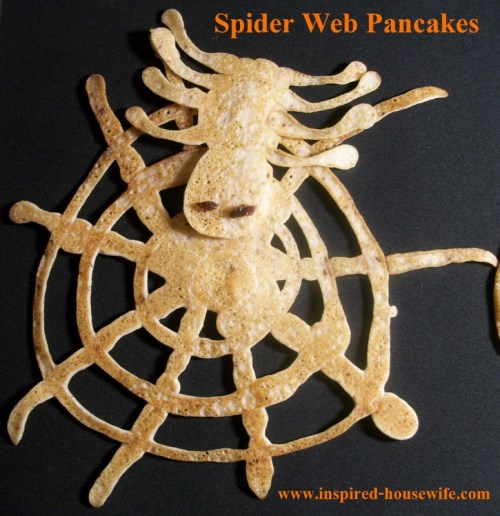 Breakfast does not always have to be the same, it can be fun and creative too.
  I made a pancake that was the shape of the country Germany back when my hubby was gone over there not long ago.  My kids had fun eating the country where their daddy was and it also was a great conversation starter about where Germany was, what the language was, and what kind of breakfast foods are served there.
I hope you enjoyed my Spooktacular Halloween Breakfast Pancakes.
What special foods to you get creative with for your kids? Comment Below!