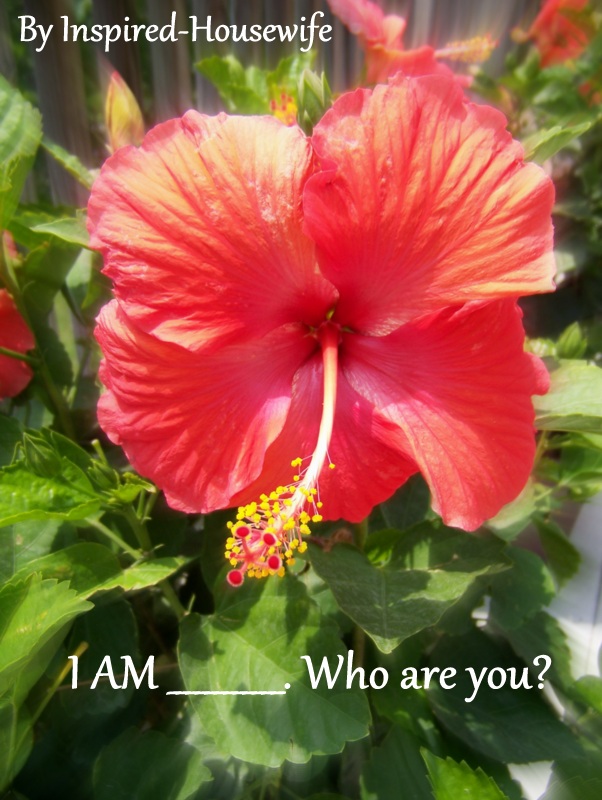 Yesterday I read a blog post from You Know It Happens at Your House Too she and According to Mags challenged bloggers and anyone to take 5 minutes and write unedited, with no stops who you are.  I read hers and then several she shared on her Facebook wall and it hit me that I needed to join the challenge.  Not to share it to the world, but to write it down on paper and then reexamine it today.  I love what I wrote, I love my honesty and so I decided to share it as it will help you all get to know me a bit better.  I also challenge you to take 5 precious minutes to write down I AM ___________ and see what pours out of your heart and soul.
You do not need to share it like I am, but if you do and want share with me please send it by e-mail.  I can also share it with others on my Inspired-Housewife wall too.  I will not use your name, but after reading some from other women I found myself laughing, cheering, and even a tear or two.
5 Minute Challenge:  I AM ___________?

I am an almost mid 30's woman who is finally getting comfortable in her own skin.
I am a woman who is tired, who feels pulled in every direction of her life.  Who feels she wishes there were more hours in the day or at least arms.
I am a woman who is madly in love with her husband and thinks he is so sexy!  My hubby makes my heart happy and brings a smile to my face when he walks into a room.
I am a woman who is blessed with three beautiful children and loves to play and cuddle with them.
I am a woman who has moments of wishing her son was not special because he is exhausting, but I LOVE HIM!
I am a perfectionist who needs to relax a little or maybe a lot!
I am too hard on myself, I am never good enough or I never do enough – either way I am a work in progress. :)
I have a huge heart, I love my family, I love my friends.
I am strong, I am passionate, I am loving, I am kind, I am fierce, I am sexy and I believe in living in truth and being honest and open with others about my struggles.
Sometimes I struggle to get out of bed, sometimes I wish I had a different life, but at least it is my life.
I love to sing and I use to be really good at it too.
I love to cook and I wish I knew how to sew.
I love art and I love to write and this blog is one of my outlets.
Now it is your turn to sit down and write in 5 minutes I am  ______________.
XOXO
Amee
Where I Party: