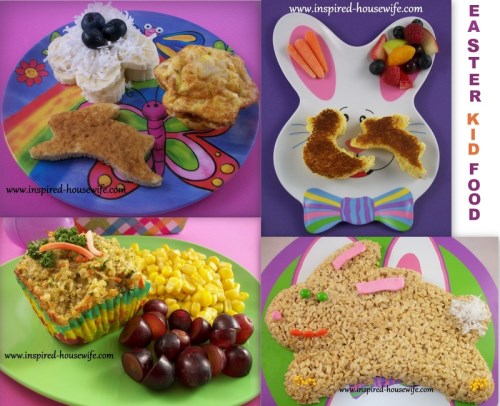 Easter is one of my favorite holidays of the year.  I love to color eggs, hide Easter eggs for my kids, and get my kids all dressed up and looking sharp.  One of the ways I love to celebrate the holidays is through food.  Holiday meals tend to be centered around adults, and the children are put at small tables in hope they will be quiet and act appropriately.   I love to be creative and make any meal fun, but at holidays especially meals and food ideas come alive like in my St. Patrick's Day and Valentines Day food ideas.  Easter is no exception when I make my kids' food extra special.  Below are a few ideas for every meal of Easter to include dessert!
Easter Breakfast or Brunch
Although I tested this out already, for Easter breakfast, my kids will get bananas topped with shredded coconut and blueberries to make a bird's nest.  I cooked pancakes and used Easter shaped cookie cutters to cut out Easter eggs and Easter bunnies.  I whipped up some eggs, threw in a little bit of cheese, and some of our favorite salsa, and then poured the liquid eggs into my Wilton's Spring Flower Cup Cake pan.  I cooked it at 350 degrees until they came out clean with a tooth pick.  It was simple, but my kids' eyes lit up with excitement.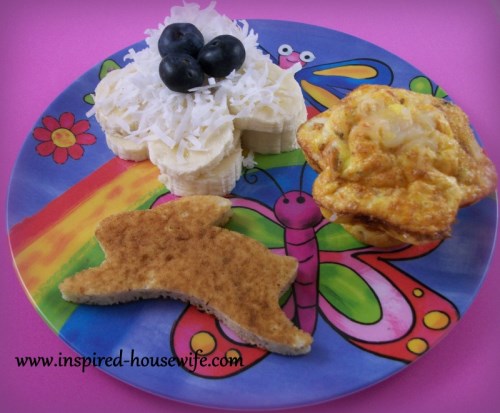 Easter Lunch
To me nothing says Easter more than a bunny, and of course carrots go hand in hand with bunnies.  Purchase a cute bunny plate and add in some baby carrots, a variety of your child's favorite fresh fruit, and then make them a simple sandwich in shapes of bunnies.  My sandwiches are grilled cheese, but you could do PB&J, turkey and cheese, butter in honey or whatever is your child's favorite sandwich.  Whatever you do make it fun and be creative!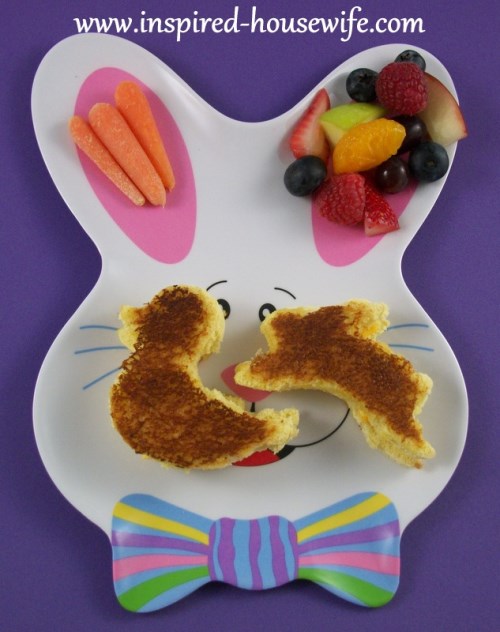 Easter Dinner
Dinner does not need to be boring for your kids, and while you whip up that wonderful casserole to serve at the adult table, take a little bit of the raw ingredient mixture and bake it in a cupcake baking pan with festive Easter paper cupcake liners.  I made my kids a quinoa burger recipe that normally is fried, but instead I decided to experiment and bake it.  It turned out delicious.  It was a basic main dish, but I put it in the cupcake  paper liner to make it special.  Just add your child's favorite fruit and vegetable, and you have a fun and festive dinner.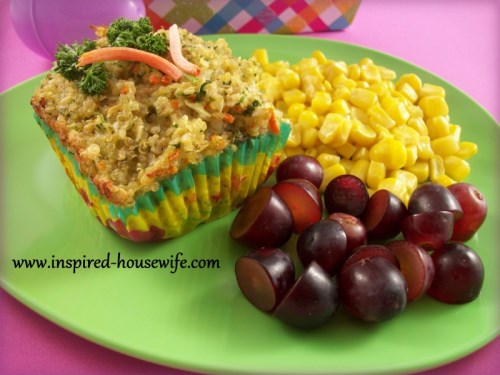 Breakfast, lunch and dinner are important, but do not forget about dessert, because this is where you can let your creativity really go wild and have some fun.
Easter Desserts
I made a post last week about how to make Easter Egg Rice Crispy Pops, and my kids LOVED them and devoured the few eggs I made.  You can also be creative in other ways with your desserts like I did with my left over rice crispys.  Purchase a bunny cake pan, and then lay your rice crispys in the pan as a mold.  Use an assortment of different candies to decorate your bunny, and you will have a fun Easter dessert I am sure your kids will rave about.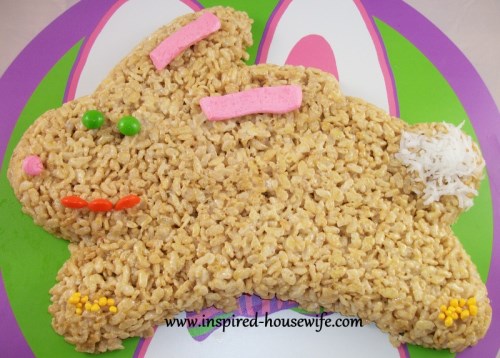 Make holiday meal times not only tasty, but fun.  Have a wonderful Easter and God Bless!
XOXO,
Amee
If you enjoyed this post please share it with your friends on Pinterest by clicking the "Pin it" button below or "share" it on Facebook.
One Project Link Party