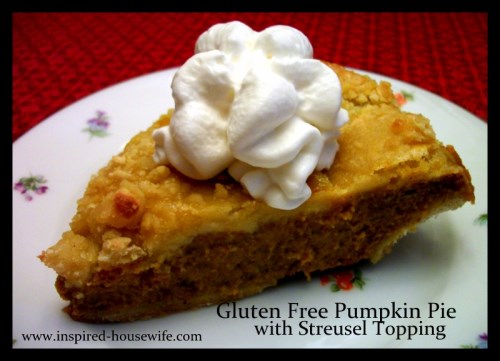 When my son Tristan was a baby we went over to my husband's professor's house for their Thanksgiving dinner.  Their home sat on several acres with a barn, a green house, and a couple of ponds.  It was beautiful at their home in the country in North Carolina.  The house was a quaint old two-story home with lots of detail and cracks running up the walls that silently told the story of those who once called this place home.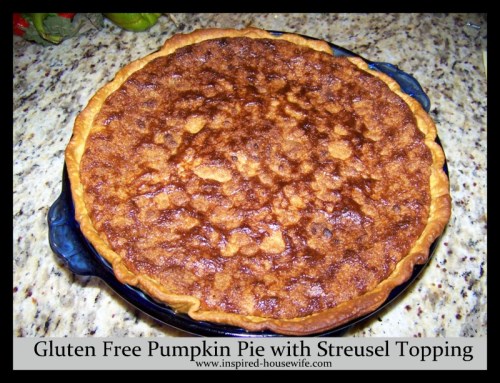 When the meal was almost over and our buttons bursting at the seams, a pumpkin pie was brought to the table.  It was not an ordinary pumpkin pie, because it had a crust on top like a fruit pie.  It looked delicious, but I thought pumpkin pie with a crust on top was odd.  I was skeptical as I took my first bite of the pie, but three pieces later I was in Heaven.  Pumpkin pie is my favorite pie and now pumpkin pie with a crusted topping is the only way I love to eat it now.  The crust adds a touch of beauty and a wonderful flavor.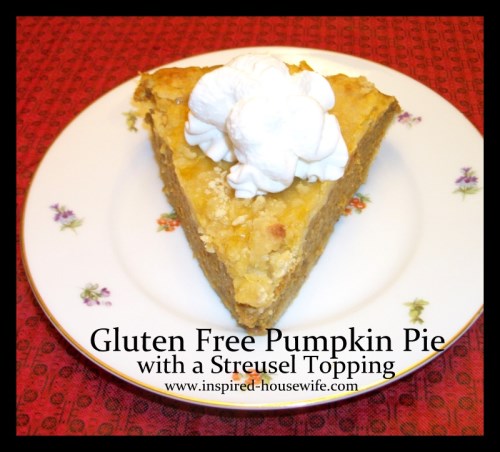 That Thanksgiving we were not gluten free as a family yet, but I made sure to figure out how to make this recipe safe for my son to eat too.  I hope you enjoy this pie recipe as much as my family does.  This pie is perfect for any time of the year, but especially for Thanksgiving and Christmas Holiday parties and dinners.
Gluten Free Pumpkin Pie with Streusel Topping
2 cups Pumpkin (canned or fresh – if using fresh make sure you  have drained any excess water off of it)
2/3 cup sugar
1/2 tsp cinnamon
1/4 tsp cloves
1/2 tsp sea salt
3 large eggs
1 cup milk of your choice (My family drinks Almond Milk)
1 T bourbon (optional)
1 9 inch unbaked gluten free pie shell of your choice
Directions:
Preheat oven to 400 degrees Fahrenheit – Bake 45 – 65 minutes or until the pie sets
Combine pumpkin, sugar, spices, salt and mix well.  In medium bowl,
combine eggs and milk; mix well.  Add to pumpkin mixture.  Pour into pie
shell.
Pumpkin Pie Topping
3/4 cup sugar
1/2 cup all purpose gluten free or regular all purpose flour
1/4 cup melted butter
Mix together until crumbly.  Sprinkle topping all over the pie and bake on a cookie sheet.
I know a crust topping on a pumpkin pie might sound odd to you, but I swear once you eat pumpkin pie this way you will never want it any other way.
Happy Thanksgiving and have a wonderful yummy food filled holiday season.
What is your favorite holiday dish you serve?  Comment Below!
XOXO
Amee
Where I Party: