One of the things I love about cooking is the ability to create yummy and creative foods for my kids. With Thanksgiving next week I have a yummy and healthy breakfast and lunch to make the holiday come to life.
My favorite breakfast food is pancakes and I love to have fun with pancakes like I did here and here. My pancake and fruit turkey is not hard to make if I can do it so can you! The creative possibilities are endless when using pancakes and fruit.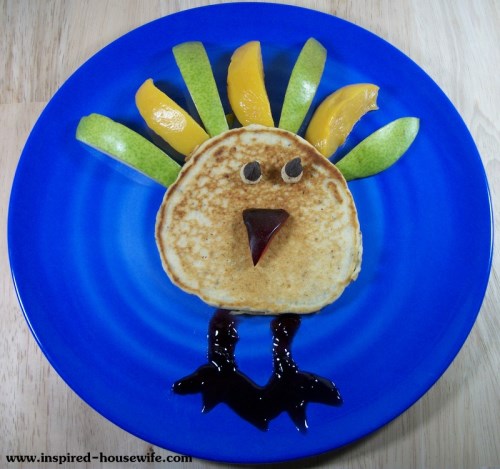 How To Create Your Turkey Pancake:
A small pancake so you can fit your turkey on your plate.
I used home canned peaches and freshly cut apples for the feathers.
I used homemade grape jelly for the turkey feet, which can then be used to spread all over the pancake or dip like syrup.
Chocolate chips with gluten free O's cereal were used for the eyes and a plum for the nose.  If you have raisins on hand you could use those for the eyes, but I was out at the time.
It was easily arranged and did not take much more time than throwing it all on the plate, but my kids thought breakfast was pretty cool.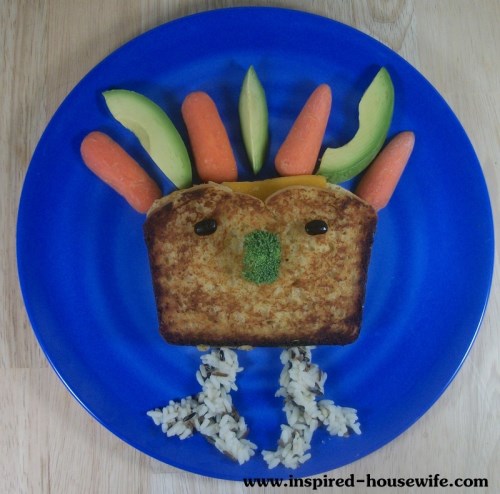 When breakfast is over and you need to tide your little one over while the turkey is still baking in the oven and the mashed potatoes cool. 
Make another go to favorite of mine grilled cheese and serve it along with my out of this world tomato soup.
How To Create Your Turkey Grilled Cheese Lunch Treat:
All you need is a sandwich I used grilled cheese as I mentioned above. Then look in your fridge and get creative.
I used avocado slices and baby carrots sliced in half to create my feathers of the turkey. You could use grapes in a row, apples, celery anything really you have on hand to make the feathers.
I used a tiny piece of broccoli for the nose and a pair of black beans for the eyes.
The turkey feet were wild rice I had leftover from the night before and I think it was pretty cute, yummy and my kids ate it right up.
Making your kids meals fun and creative is NOT hard and it only takes a couple more minutes, but the memories you make are priceless. Go ahead and try my kiddo turkey day breakfast and lunch inspired holiday meals.
What fun meals have you made your kids lately? Comment Below!
XOXO
Amee
Where I Party: