I  love tomatoes they are one of my favorite foods.  I love to eat tomatoes in salads, with a little salt right off the plant, in sauces, but my favorite way to eat tomatoes is in soup.  Growing up my mom made grilled cheese sandwiches and out of a can tomato soup.  I thought it was the best soup ever until I was visiting my sister's house in the Carolina's.  My sister made a homemade roasted tomato soup and it was amazing.  I got her recipe and of course I can never leave anything alone and tweaked it to make it my own.
A perfect soup for a garden tomato!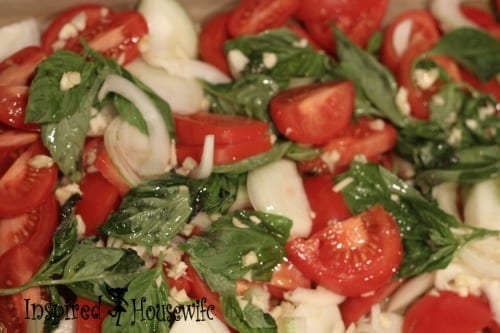 If you love freshly cut up tomatoes, yellow onions, garlic, and fresh basil then this tomato soup will kick your taste buds into high gear.  
This soup is easy to make and you can make extra to freeze for later on too.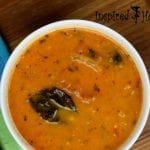 Print Recipe
Roasted Tomato Soup
Ingredients
Enough fresh tomatoes cut in half or pieces to fill up a cookie tray.

The tomatoes I used were mainly Romas and Big Boys.

6-8

garlic cloves

peeled

1

large yellow onion

sliced

3/4

cup

fresh basil leaves

washed or one grocery store I buy from only has basil in a tube that is minced into a paste you can also use that too, but I tend to love my basil so I use the entire tube.)

3/4

cup

extra virgin olive oil

4

cups

chicken or vegetable stock

Salt or pepper to taste

I tend to not use much of either because the stock already has some sodium in it.

1

cup

heavy whipping cream

optional
Instructions
Preheat oven to 400 degrees Fahrenheit

Wash your tomatoes and cut them in half if on the small side or into pieces if you have very large tomatoes.

Arrange your tomatoes, sliced onions, peeled garlic, and fresh basil onto a cookie sheet. Drizzle with olive oil and salt and pepper to taste.

Place cookie sheet into the oven for about 20-25 minutes or until the tomatoes, garlic , and onions are caramelized.

Once everything is caramelized remove from the cookie sheet to a large pot at least 5 qts.

Add in the 4 cups of chicken or vegetable stock and bring to a boil, then simmer for no more than fifteen minutes to reduce liquids.

Use an immersion blender or potato masher to make your tomato soup as smooth as you like it. I love my soup to still be a bit chunky so I do not totally blend it smooth.

Add the 1 cup of cream and stir in, but again this is totally optional.

Serve this yummy roasted tomato soup with grilled cheese, corn bread, or as a stand alone. Whatever you serve this soup with, it delicious and I hope your family loves it as much as mine.
What ways do you like eat your tomatoes?  Comment below!
{Where I linky share}