Can summer really be officially over?  I feel like I should have done more with my kids or gone more places, but then again I am so excited for Fall.  I love this time of year with the cooler temperatures, the color changes in the leaves and all those glorious yummy food to eat and smell.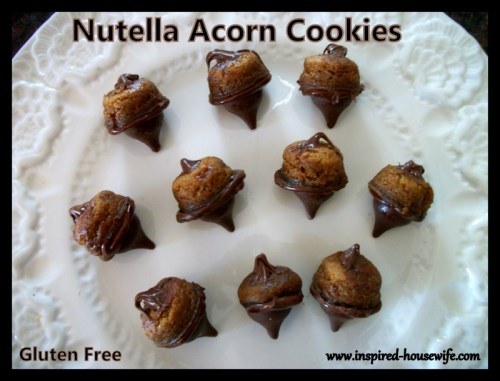 This past week I took my kids to the park for a picnic lunch.  My kids ran around chasing squirrels and little birds.  My daughter Keira loves to bring me surprises.  
Today was no different as she proudly opened her hands to show me some small, but beautiful acorns.
 She asked if she could eat them and I told her that they were not edible, but she could bring them home.  She seemed sad, but I promised her we could make some acorn cookies that she could eat.  
She ran off all excited screaming t0 her brother about how I was going to make them acorn cookies.
I now had to figure out a way to make acorn cookies, because every acorn cookie I have seen is not gluten free.  I decided to use Nutella as my frosting, bought some kisses, and had a box of Enjoy Life  gluten and nut free snickerdoodle cookies in my pantry.  I love the snickerdoodles because they are soft and chewy with a perfect flavor to go with Nutella and chocolate kisses.
Nutella Chocolate Kiss Acorn Cookies (Gluten Free)
Ingredients
Nutella
Hersey's Kisses
Enjoy Life gluten and nut free Snickerdoodle cookies or if not gluten free use another cookie of your choice.
Directions
Take the cookies and lat them out in rows.  The snickerdoodles were too large for the kisses.  I used a small round playdoh ice cream holder to make them the perfect size.  You can even cut them out with a knife if you want to too.
Take your kisses and unwrap however many you need, but a tip I learned is make sure you put them in the refrigerator before doing this so they do not melt all over your hands.
Then with the Nutella take a spoon or knife and lightly cover the bottom of your cookie and then add a kisses.  The Nutella is your glue and you can also use frosting as well to help the kisses stick.
Last put a little dollop of Nutella on top for the stem and you are done.  If you plan to eat them right away place on a plate and serve otherwise keep in your refrigerator so they do not melt on you.
My kids are excited to try them, but I told them they have to wait and share them with their daddy who gets home today from a month long trip.
Happy First Day of Fall!  What is your favorite Fall cookie or treat?  Comment below!
XOXO
Amee
Where I Party: