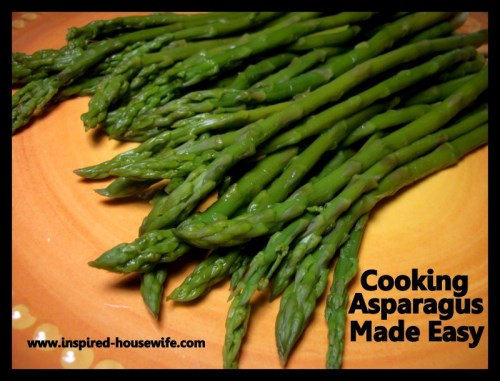 Growing up in parts of Western Nevada I remember taking long walks with my parents along the drainage canals that fed water to the local farmers crops.  Along side these canals grew wild asparagus.  It was fun picking and foraging the asparagus that grew like weeds near the water's edge. 
My mom made many meals with our picked asparagus and it is one of my favorite vegetables.
Unfortunately, asparagus gets a bad rap because many people do not know how to cook it and if you get it in the can it is mushy and gross.  Cooking asparagus is easy and today I share with you a no fail method on how to make the perfect asparagus.
Cooking Asparagus Made Easy
Directions
Rinse your asparagus and cut off the ends
Grab a large pot and fill it with water or you can use vegetable or chicken stock instead of water.   The amount will depend on how much asparagus you have to cook.
Bring stock or water to a rolling boil and then put your asparagus in the pot making sure the vegetable is covered.
Put a lid on the pot and turn off the burner.
Start a timer and set it for 10 minutes, when timer goes off your asparagus should be done.  If it is not cooked enough give it another two minutes, but no longer or you may over cook your asparagus.
Take your asparagus out of the pot and drain, then season with sea salt, seasonings, or butter to your liking.  I tend to eat my asparagus plain, but it is that simple and I never over cook my asparagus and get mush at the end.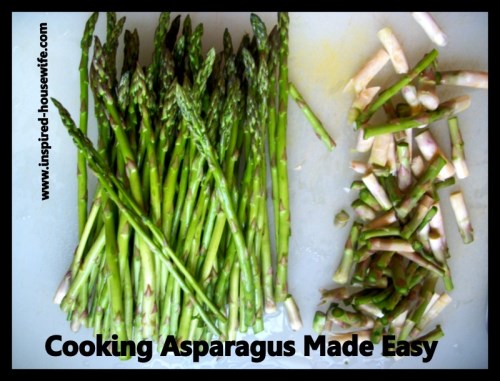 How do you like to eat your asparagus? Comment below!
XOXO
Amee