Last summer I was a mother ready to pull my long blonde hair out.  My two and a half year old daughter Keira was unruly, disrespectful, and down right mean.  I knew some of this behavior was due to the fact she could not verbalize her every want or desire clearly, but the tantrums, kicking, biting and screaming were enough to make me wonder what kind of mother I was.  I was at a loss on what to do because time outs, spankings, or my simply ignoring her behavior did not work.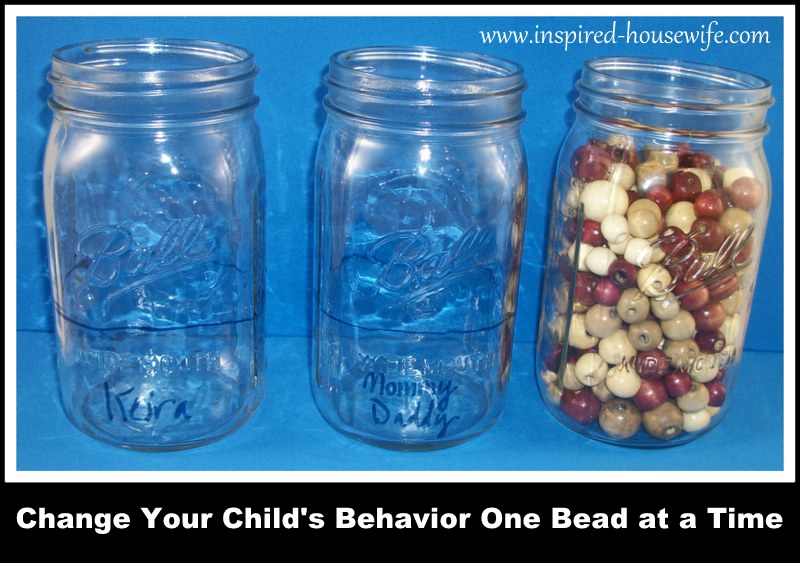 One day right after an all out screaming fit my phone rang and it happened to be one of my good girlfriends.  This girlfriend  knows me well and asked me what was wrong.  I explained my frustration over Keira and feeling like I must be doing something wrong as a mother.  My girlfriend laughed and assured me Keira was very normal and testing me.  My girlfriend had a daughter about a year older than Keira and she had gone through the same behavior, until her behavioral therapist suggested she use a reinforcement behavior modification system using beads and mason jars.  After only a couple of days using this simple concept her daughter's attitude and behavior changed almost over night.  The system was simple enough, but we were both not sure if Keira would be old enough to quite understand the concept.  I was willing to try anything to get my precious daughter to quit acting like a spoiled brat.
What you need to begin the bead and jar reinforcement behavior modification system:
Have a mason jar for each kid, one for you the parent, and another jar to hold your beads.  Write or put a label with your names on each of the jars.   You will only need one parent mason jar, I have mommy and daddy written on my jar.   At the one and a half cup measuring mark draw a line around the jar, this line represents the visual goal line for your child in earning their prize.  Next you will need another mason jar filled with beads, large dried beans, or even marbles of some kind.  You want the item to not be too small, because the key with this behavior modification reinforcement system is to reward your child quickly to ensure behavior modification happens quickly.
How to use this bead and jar reinforcement behavior modification system:
Put your jars in a place where your children cannot get to them easily, but can be seen by your child.  Show your child the jars and explain to them that if they fill their jar to the one and a half cup line with beads they get to go to the dollar store or whatever your prize is to get their reward.  They have to earn their beads with good behavior and choices to get a prize.  Explain to the child that the parent jar is only filled when they chose to behave badly and not listen to you as the parent.  If the parent's jar fills up first to the goal line, then you the parent get to go shopping for a prize before the child does.   Never take beads out of your child's jar for bad behavior always put beads in your jar as the parent.  To begin put a couple of beads at a time in your child's jar.  You want your child to get to their goal line quickly to ensure they will see the value in changing their behavior, by using this reinforcement behavior modification system.  Make a big deal about the beads going into the jar good or bad so your child will understand how serious you are about this.
The key to any reinforcement behavior modification system is to be consistent, without consistency you are going to waste your time and not get the outcome behaviorally you want.  It only took a couple of weeks for major changes to happen with my daughter Keira.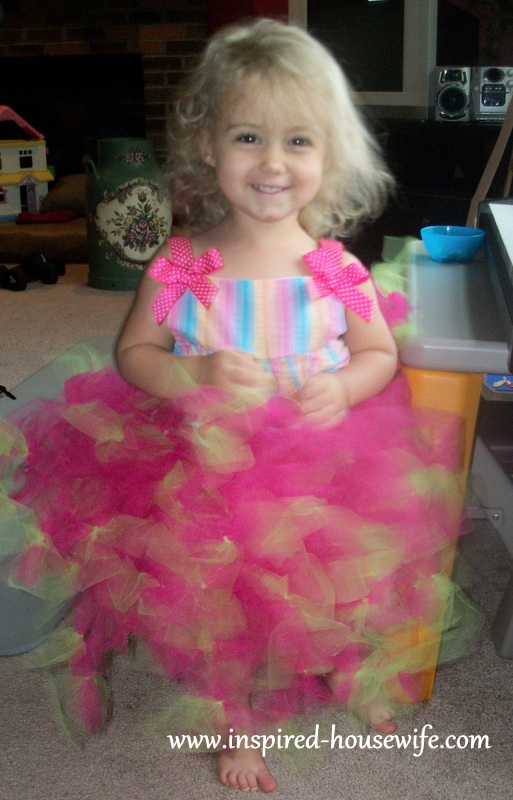 I also incorporated this system with my son Tristan and they both were excited to earn beads.  It is hard to be consistent, but it was so worth it.  My daughter went from having seven or eight major meltdowns a day to maybe one or two a day.  Anytime she did what she was told right away or listened and talked nicely to me or my husband she got a couple of beads and we clapped and cheered.  My children both earned their first prize within the first couple of weeks of doing this bead and jar system.   When your child's behavior is negative you tell them "Oh mommy has to add  a bead to her jar because you are not listening!"  If your child continues on with the negative behavior, slowly keep adding beads to your jar until your child stops their behavior.  Once your child stops their negative behavior and is acting appropriately make a huge deal and put a bead in their jar for being good to reinforce their positive behavior.  This is a fairly simple system and it can change your childs behavior for the better, but only if you are consistent.
Great resources for reinforcement behavior modification systems:
Six Principals of Behavior Management
Kid's Making Change.com
Need more advice on helping your child use their utensils at the dinner table or the use of social stories click on links below.
Get Your Kids to Use Their Utensils
Autism Awareness and The Use of Social Stories
XOXO,
Amee
If you enjoyed this post please share it with your friends on Pinterest by clicking the "Pin it" button below or "share" it on Facebook.