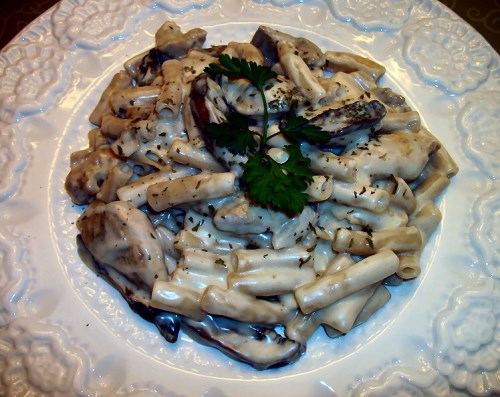 As a dad, this recipe for chicken portabella Alfredo is outstanding and is something I commonly make for the kids. For you husbands out there who want something relatively easy to make for your wife for an at-home Valentine's Day dinner after the kids are in bed, this is an excellent choice to demonstrate your cooking ability.  I will warn you, this recipe does require a bit of multitasking, but I think that is fairly normal for many Italian food recipes.  This recipe is gluten-free if you use gluten-free pasta.
Ingredients
12 – 16 ounces of your favorite gluten-free pasta
1 pound of chicken cut into strips or chunks
3 medium portabella mushrooms cut into strips
1 tablespoon of olive oil
4 tablespoons margarine or butter (1/2 stick)
1 1/2 cup of heavy cream
1 1/2 cup of grated Parmesan cheese
seasoned salt (I use Old Bay® Seasoning)
chopped fresh or dry parsley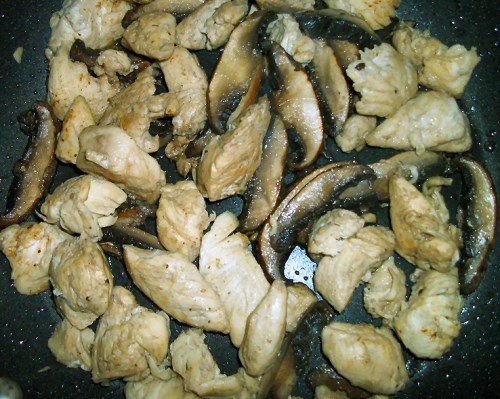 Instructions
1.  In large saucepan, boil water and start to cook the noodles.  Cook pasta only until al dente.
2. Preheat skillet containing olive oil to medium heat.
3. Sauté chicken and mushrooms until chicken is cooked and lightly browned (about 10-15 minutes).  Usually, I place the mushrooms in the skillet about 5 minutes after the chicken.  While cooking, lightly shake over the seasoned salt (Old Bay®).  When chicken and mushrooms are done set to the side in a bowl.
4. In skillet, heat margarine/butter until melted under medium heat.  Add cream and mix with a whisk while it heats.
5. Once cream bubbles consistently, add shredded Parmesan cheese and mix continually until cheese is melted.  Reduce heat to low and mix frequently with the whisk until the Alfredo sauce mixture thickens.
6. Drain pasta and place back into saucepan.  Pour Alfredo sauce over pasta and mix.  Then mix in the chicken and mushrooms.
7. Garnish with the parsley and serve.
8. Serves 4-6.