Here is a recipe for how to make roasted red pepper hummus.  My husband is really the one who makes this, and it is something he has modified and experimented with throughout the years.  It only has the basic ingredients, but it is a really healthy appetizer or snack.  It is gluten-free.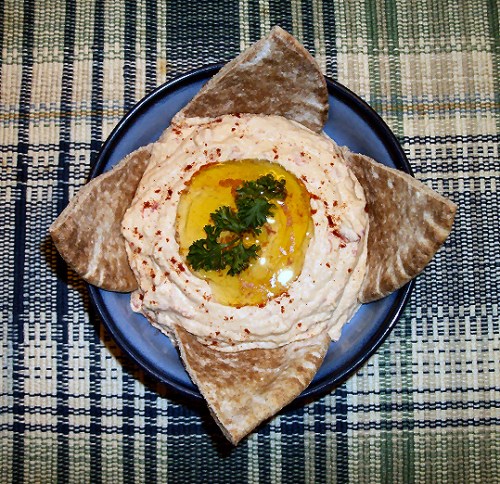 Ingredients
4 cups of cooked unsalted garbanzo beans
3/4 cup of lemon juice
3 teaspoons of minced garlic or garlic paste
1/2 cup of tahini (sesame seed paste, often found in international foods section of grocery store)
7 ounce jar of roasted red peppers
Salt to taste (usually I add about 1/2 teaspoon)
Garnish with a tablespoon or two of olive oil and paprika.
Instructions
1. Place garbanzo beans, lemon juice, garlic and tahini into food processor or blender.
2. Chop to a creamy consistency (generally 3-4 minutes).  If the consistency is too thick, taste a bit for sourness.  If it is too sour to you, then add a little water to make it thinner.  If you like hummus more sour, then add a bit more lemon juice to thin out.  Thickness will partially depend on the amount of moisture in the beans used.
3. Once blended, stop the processor or blender.  Add roasted red peppers (if desired), and use the pulse function to chop into smaller pieces.  I like my hummus to be a little chunkier with pieces of red pepper.
4. Place hummus into bowl and make an indention with a spoon.  Pour olive oil into indention.  Garnish with paprika.
5. Serve fresh with pita bread (gluten-free or otherwise).
6. It will store for awhile in the refrigerator, and my husband has even frozen it with decent results when he makes large batches.