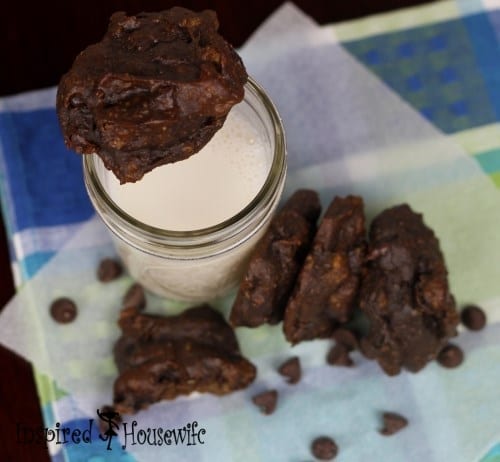 My youngest, Ayla, turned two in December and with that came a personality change with her taste buds.  I thought I had done it all right because my older two children will eat anything you put in front of them.  I made all her baby food, fed her organic produce, breast fed her until she was nearly two, but when she decides the food you gave her is yucky I cannot get her to even try it.  It does not matter how much I threaten, how much I make her sit there, she is two and that is that.  It is very frustrating to me as her mother because I know what nutrients she is missing and needs.
The Secret is Hidden within the Cookie
Thankfully Ayla has a mother who can be resourceful and sneak in some of the good stuff.  One of the foods we love to eat in this house is avocados.  There is nothing better than a perfectly ripe avocado.  I love to use a spoon and scoop out the flesh and eat it plain.  The other day I was experimenting with using over ripe avocados in smoothies because Ayla will drink down a smoothie like nobodies business.  My other daughter Keira had been begging me to make cookies all week and I had two medium very ripe avocados that I needed to use up.  I decided to experiment and use the two avocados to create a wonderful cookie.   When the dark chocolate avocado cookies were cooled I was pleasantly surprised by how good they were.  They were pretty close to being a second runner up to my chickpea cookies I created this past fall.
There was no hint of avocado, only the rich dark chocolatey flavor, with a little texture because of the chocolate chips and chopped up walnuts.  The big test was when I gave one to my pickiest eater Ayla.  She looked the cookie over and sniffed it a little bit.  She proceeded to take a little tiny bite and then her big blue eyes lit up as she took a bigger bite.  "Mama this is good cookie," she exclaimed, as dark chocolatey cookie crumbs fell from the corners of her mouth to the floor below.  Three cookies later she was satisfied and I was happy I had tricked her into eating something she detests avocados, even if covered in chocolatey goodness.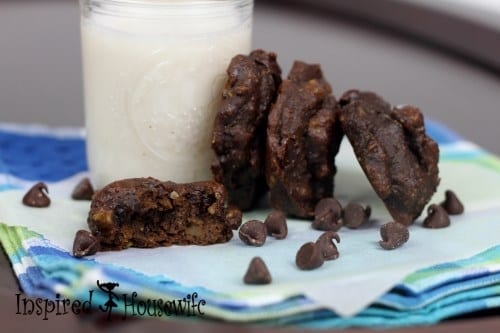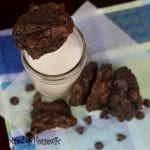 Print Recipe
Dark Chocolate Avocado Cookies
Ingredients
2

medium ripe avocados

2

eggs

1

tsp

vanilla extract

1/2

cup

honey or maple syrup

2

Tbs

olive or avocado oil

1

cup

almond flour

1

cup

coco powder or I have also made them with Chocolate Shakeology. *

check below recipe to know more about what Skakeology is.

1/4

tsp

sea salt

1

tsp

baking powder

1

cup

dark chocolate chips

1

cup

chopped walnuts

optional

Butter to grease your cookie sheets or use parchment paper.
Instructions
Pre-heat oven at 350/177 degrees.

In a stand mixing bowl take two medium sized ripe avocados and mash the flesh with a fork leaving no clumps.

Take your eggs, vanilla extract, maple syrup or honey, and oil and whip those in with the mashed avocados. Mix these ingredients all together until they are smooth.

Add in the coco powder or Chocolate Shakeology, sea salt, and baking powder mixing until all combined.

Fold in your chocolate chips and chopped walnuts.

I used about a tablespoon amount of cookie dough to make the dark chocolate avocado cookies.

Bake for 10-12 minutes or until a tooth pick comes clean. Let cool on a wire rack and eat.

These cookies do freeze well and the flavor is better the next day.
Want to try a nutrient dense drink that is called Shakeology?
{Where I linky share}