I love sitting on my couch, in front of the fire place, with a cup of hot coco and my family snuggled all around me watching a favorite Christmas movie.
Here is Day 4 of my blog series the 12 Days of Christmas and I am so happy to have you here.  I love this time of year because we get to be thankful, eat lots of good food, spend more time than usual with family and watch movies.
Inspired Housewife Fan Favorites
One of my favorite memories watching a Christmas movie was when we watched the Polar Express for the first time as a family.
My oldest who has Autism loved the movie because at the time trains were his everything.
All three of my kids hardly sat the entire movie and jumped up and down screaming and laughing at the TV.
A couple weeks ago I asked my fans over on my Facebook Page Inspired Housewife what were their favorite movies.
I listed most of what my fans mentioned and then added in a few of my own.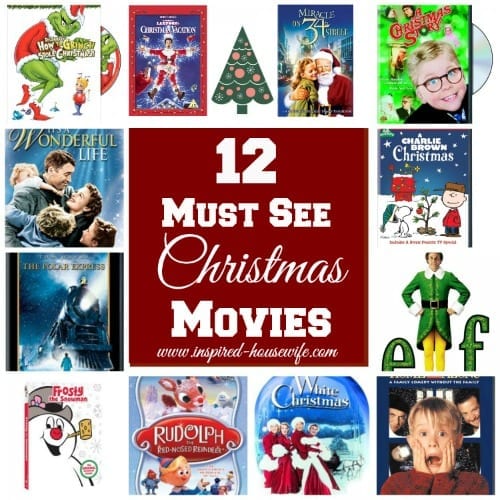 Here are 12 must see Christmas movies to watch with your kids and help bring about some holiday cheer.
A Christmas Story
The Polar Express
The Grinch Who Stole Christmas
Elf
Christmas Vacation
Miracle on 34th St
Home Alone
Frosty the Snowman
Rudolph the Red Nosed Reindeer
A Charlie Brown Christmas
White Christmas
It's A Wonderful Life