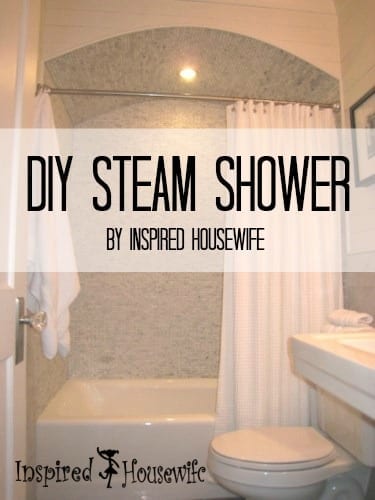 This winter has been brutal on my family when it comes to sickness. Everyone I know has had the flu or some kind of cold. My kids caught this nasty upper respiratory bug the end of January and there were days and nights where they needed to sit in some steam. We rent a small town home and we do not own a steam shower, but today I am going to teach you how you can turn a regular tub and shower combo set up into your very own DIY steam shower.
The DIY Steam Shower
Creating your DIY steam shower is actually quite easy all you need is something to block the opening between your shower curtain or glass shower doors to trap in the steam. I have used everything from large black plastic trash bags cut and taped together with duct tape, to dollar store plastic or vinyl table cloths, but I now keep on hand an extra plastic shower curtain liner.
When someone in your home is sick and needs some good old steam all you do is secure your table cloth or shower liner to the top of your ceiling about an inch inside your shower curtain or glass sliding doors with push tacks. You put the liner on the inside of your shower curtain and this traps in any steam your shower creates. It is also necessary to keep your bathroom door shut while you have the shower going and do not run your exhaust fan. I also plug the tub while the shower water is going to help add more steam.
Another great tip is to add a couple of drops of peppermint essential oil to the tub water because it helps open up the airways and it was a big help to me and my kids when we did the steam shower treatments.
Comment below on your experiences with steam showers. I'd love to hear them!