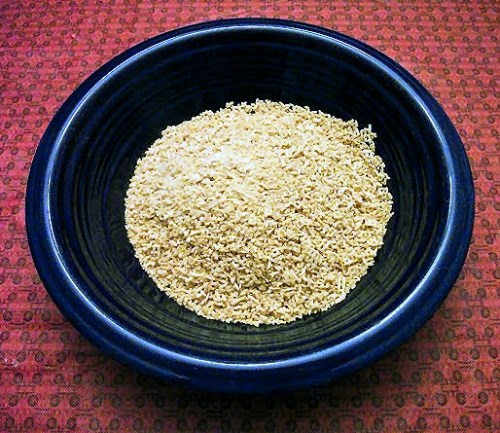 This is a simple method for how to make gluten free breading:
When I decided to take gluten out of my son's diet I was overwhelmed by the cost of gluten free products and felt a bit lost lost.  While I searched for substitutes, a girlfriend of mine whose daughter has Celiac disease suggested I use Chex® cereals for my breading because many of them are gluten-free.  Compared to gluten-free bread crumbs the cost was much cheaper.  I was skeptical at first to use cereal, but after one try I became a believer.
All you need is either a box of Rice or Corn Chex®, a rolling pin, and an air-tight plastic storage container to keep the breading from becoming stale.  I tend to use Rice Chex® more often, because it takes on the flavor of whatever you cook.  I found Corn Chex® are great for fish, chicken, meatballs, lentil roasts, egg plant Parmesan, and many more recipes.  I also use them in cookies to add some flavor.
Instructions
1.  Open your box of Rice or Corn Chex®, remove the bag, and cut a small slit in the corner of the bag to let the air out when you roll.
2.  Lay the cereal in the bag on a hard surface, and use your rolling pin, sauce pan or whatever else you have available to crush the Chex® cereal.  I find the rolling pin works the best, because you can roll it up and down and then side to side until you get the cereal to the consistency you like, whether it be finely or coarsely ground.
3.  Once you have the cereal crushed, pour it into an air-tight plastic storage container, and put the lid on tightly.  When you need breading you have it ready to use.  It is a system that works well for me.