My pregnancy cravings have been off the charts lately anything from donuts to Indian food to tacos. Unfortunately, every time I drive to my house I have to go past a fast food taco restaurant. I finally decided to create my own healthy taco recipe.
As a kid I used to eat at a fast food taco place weekly because it was my mom's favorite fast food restaurant and I always got their crispy tacos.
Now as an adult and someone who has a gluten-free sensitivity and not a fan of fast food when my taco cravings hit it was hard for me not to pull into the drive thru.
Fix Approved Healthy Tacos
A couple Tuesdays ago I decided we were going to finally knock that craving out and have some really yummy tacos.
I bought some non-GMO organic taco shells, some ground turkey meat and of course I load everything with veggies and my favorite healthy fat avocados.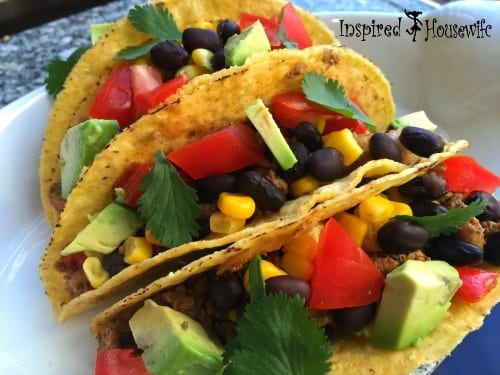 Of course I did not do this alone I got all of my kids involved chopping vegetables and adding spices. They even helped me take photos of my yummy tacos to share with all of you.
Print Recipe
Easy and Healthy Tacos
Ingredients
1.5

pounds

lean ground turkey or you could use beef

1

medium onion

diced

3-4

minced

garlic cloves

1

T

olive oil

1

Tbsp

chilli powder

2

tsp

ground cumin

1

tsp

coriander

½

tsp

garlic power

½

tsp

onion powder

½

tsp

dried oregano

½

tsp

smoked paprika

1

tsp

sea salt

1

can black beans rinsed

2

cups

cooked frozen corn

2-3

diced tomatoes

1-2

avocados diced

cilantro as garnish

optional

1

GMO free corn taco shell

you can find these at your local health food store
Instructions
Take a large skillet and on medium heat brown your turkey until it is cooked.

Set your ground turkey aside and saute your onions in the olive oil until they are translucent in color and only add your minced garlic for the last minute or so of cooking your onions.

Mix in your saute onions and garlic to your ground turkey and also mix in all the spices above until it is thoroughly mixed.

Warm your beans and corn separately to use as filling for your tacos.

Diced up tomatoes and avocado and set aside to use as toppings.

Mince up cilantro to use as a garnish – optional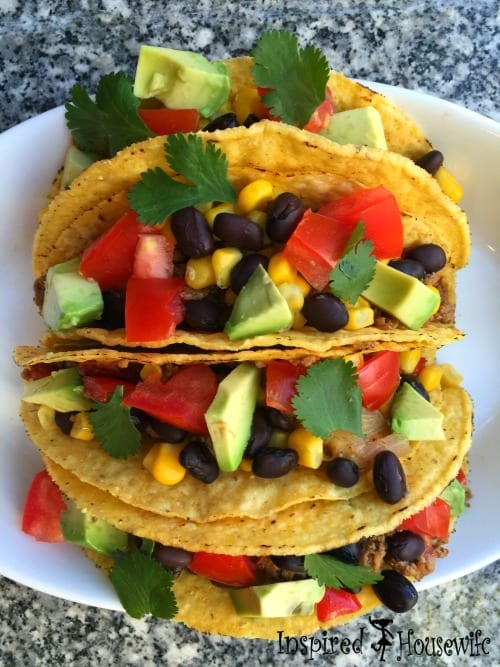 The tacos did not last long every last one of them was eaten up and there were hardly any leftovers.
These healthy tacos are a perfect meal plan addition to your Taco Tuesday, because you can eat them and walk away not feeling guilty.
What is your favorite taco recipe? Comment below.