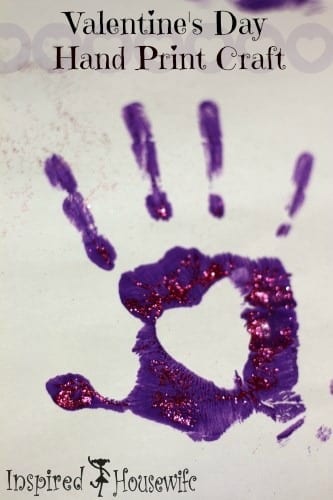 Valentine's is a great time of year to craft with your kids. There are so many fun crafting ideas out there you can do and especially if you like the colors red, purple, and pink. My girls and I have been busy crafting away making all kinds of fun things from the tree craft to free form painting, to this fun and cute heart hand print craft. This project is a little messy, but that is what makes it so much fun to do too.

Materials Needed:
One paper plate or other cleanable flat surface upon which you place paint.
A couple different sponge paint brushes.
Paint colors of your choice we used the Valentine's Day themed colors for our hand print craft.
A printer label or some kind of sticker printable sheet. Or better yet if you have heart stickers you can use that too.
A pair of scissors
Paper of your choice we used white crafting paper
Some glitter if you want to add a little bling to your craft.
Instructions:
Take your scissors and cut out the shape of a heart with the sticky printer label or sticker sheet label. If you have a heart sticker you can use this as well.
Once you have the heart cut out take your child's hand and stick the heart sticker to the palm of their hand.
Next take the paint color of choice and with your sponge paint brush paint your child's palm, covering it with paint. You will also cover over the heart as well.
Before you stamp your child's hand on the crafting paper take your finger tips and carefully lift the heart sticker from the palm of your child's hand. You should see a clean image of a heart left behind.
Take your child's hand and press it down to the paper to create a Valentine's Day heart hand print craft. You can add glitter here if you want or leave it as is.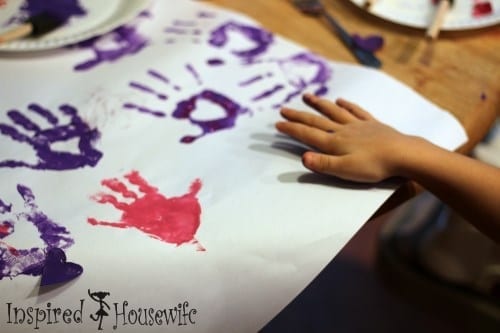 My daughter Keira loved doing this so much that we made a couple different hearts and she kept painting her hand herself and then making hand prints over and over again. My son Tristan happen to be home that day too so I decided to go ahead and get all three hand prints on one sheet to then keep for my memory box.
If you want a fun and easy craft that is a keeper then this Valentine's Day heart hand print craft is for you.