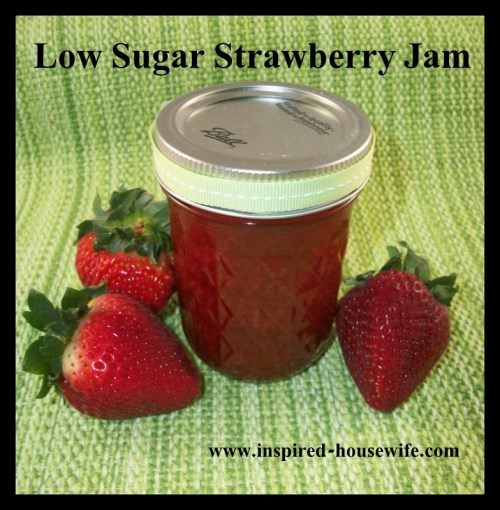 Growing up In Montana and Nevada I never had the experience of U-Pick farms where you can go with your family to pick the fruit yourself.   My husband grew up in Southwest Michigan among the fruit orchards, and picking fruit with his dad and brothers are some of his fondest memories.
When we moved to Maryland we found lots of U-Pick farms within a half hour of our home.  It is strawberry season here where we live and we took our three kids to a U-Pick farm.  The kids had tons of fun picking berries for almost an hour and as a mother I am happy I can give them these memories and experiences.  I want my kids to understand where their food comes from and not assume it miraculously appears in plastic containers at the local grocery store.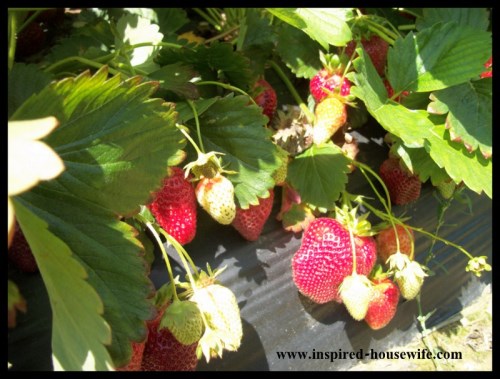 Besides freezing fruit I love to can and make jam.  When I married my husband I had no canning experience at all.  I remember as a small child my parents making homemade apple sauce through a grinder connected to our counter top, but have no recollection of anything further than that.  My husband on the other hand grew up canning with his grandmother and mother and thankfully now is teaching me how to can.  One of my favorite things to make is jam and strawberry jam is my favorite with blackberry jam being a close second.  We picked several pounds of strawberries and after we ate the strawberries with our shortcake and made the homemade fruit roll-ups for our children we canned the rest into strawberry jam.
How to make your very own low-sugar strawberry jam:
Ingredients:
8 tablespoons of Ball® Low or No Sugar Needed Pectin (if not available then use another brand, but double-check recipe conversions)
6 2/3 cups of crushed strawberries
1 2/3 cups of no sugar apple or white grape juice
2 cups of white sugar
Instructions:
1. Submerge and boil about 15 half pint jars in a canning pot with water for at least ten minutes to sterilize.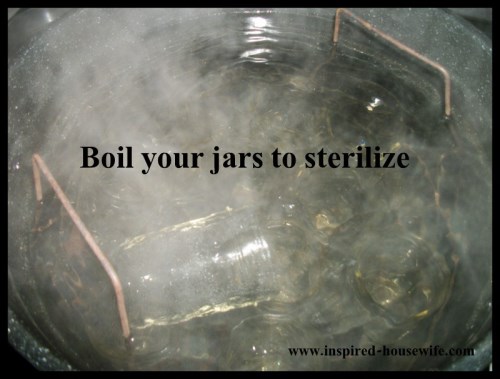 2. Boil about 15 flats in small saucepan with water.  Turn off heat until ready to use, but make sure they remain somewhat hot.
3. Place ingredients into large sauce pan or pot and heat to a low boil.  Stir frequently to prevent sticking and burning.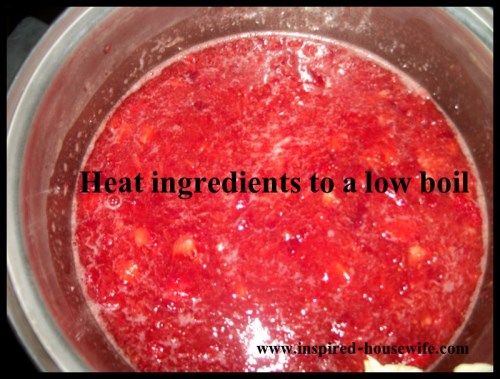 4. You can add half a teaspoon of margarine or butter to help prevent foaming.  Skim of any foam off with spoon that does develop, but total removal is not necessary.
5. Boil strawberry mixture for about ten minutes, then remove from heat.
6. Spread out towel on counter.  Remove one hot jar at a time with salad tongs or some other utensil, and set upright onto towel.  Be careful to not have any drafts from windows or fans nearby.  Hot jars are very sensitive to temperature changes.
7. With a soup ladle, fill the half pint jars with hot berry mixture until about one-quarter inch (one centimeter) from top.
8. Repeat previous step to fill all jars.
9. Wipe rim of jars with clean damp cloth.
10. Place hot flats on top of each jar.
11. Place rings on jars and tighten to finger tightness.
12. Invert jars upside down for about ten minutes.  This will help to kill any bacteria or other microorganisms that could have come into contact with the underside of the flat while placing it on the jar or from the cloth used to clean spillage on the rim.  After this inversion time, return jars upright and allow to fully cool.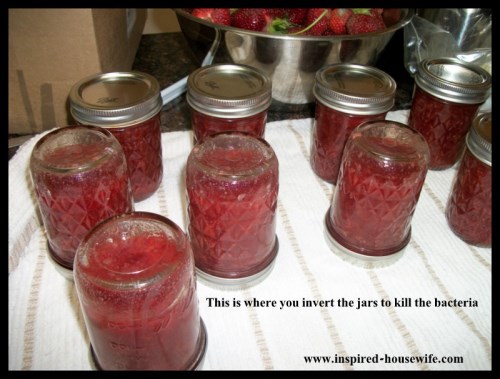 13. Over the next hour, you will hear jars make a popping sound as the flats seal.  After all jars reach room temperature, tap each jar with a butter knife or spoon.  A nice metallic ringing sound indicates a good seal.  A dull thumping metallic sound indicates lack of seal.  Also, you can sometimes see raised flats on jars that are not sealed.  If any jars do not seal (this is relatively infrequent), then simply refrigerate and use the jam over the next few days to couple of weeks.
14. This recipe makes about 10-12 half-pint jars of strawberry jam.  The extra jars are in case the recipe makes more than expected.
This jam will be a staple at your breakfast table to put on your toast, pancakes, or waffles.  Hope you enjoy this recipe and make your own jam soon.  If you want to U-Pick with your family here are some helpful resources and links to get you canning in your kitchen too.
About.com (For farms in New England area)
FieldTrip.com (For Farms PA, NJ, NY)
Hope you can go strawberry picking soon in a U-Pick farm near you!
XOXO,
Amee
If you enjoyed this post please share it with your friends on Pinterest by clicking the "Pin it" button below or "share" it on Facebook.
Shared on these wonderful linking parties: