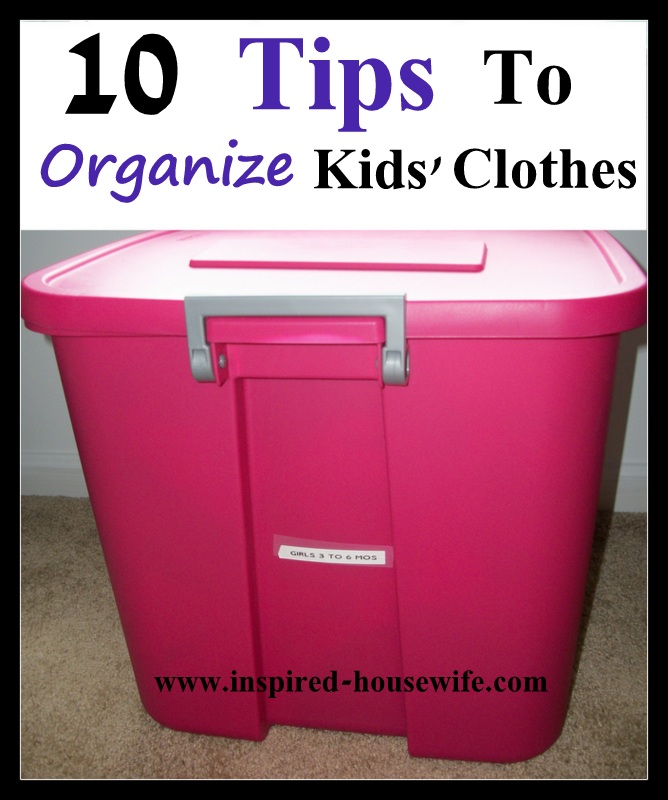 When I became pregnant with my son I read every book out there on how to get your baby to sleep, what to feed your baby, what items were the "must haves" for your new baby and nursery.  All those books had great information, but none of them ever gave any advice on how to organize your children's clothing.  If you are a mom like me, then you understand the time it takes to go through your child's dresser and closet purging the too small clothing items and adding in the newer pieces.   No one ever gives you a manual on how to keep on top of it all without their wardrobe taking over your life and storage spaces.
Now as a mom of three, I have a LOT of kids clothes, coats, and shoes.  When you are a new mom you think or maybe it was only me that thought my son had to have this huge wardrobe with lots of cute outfits.  My son had more clothes than I knew what to do with.  I stored baby clothes in black plastic trash bags, in moving boxes, and those plastic bags you can suck the air out of, but none of that worked well at all.  The trash bags got holes and finding the next size up was time consuming to figure out.  The boxes worked, but I would put my clothes in a garbage bag first and then put them in a box so they would not get dirty.  Those plastic suck yourself air bags do suck, but not in a good way.  I bought several of them on clearance and after a while the bags lost their suction and tore easily, leaving you with a much bigger mess of clothes bulging out the seams.
This past summer we found out we were expecting another girl (our third child) and the discussion came up about going through all the kids clothes.  We were purging and downsizing our belongings and organizing along the way.  Kids clothes took up a lot of our storage space.  After many failures, here are my tried and true secrets of organizing your children's outgrown or waiting to grow into clothes, outer wear, and shoes.
Clean every piece of clothing so it is ready for storage and ready for use the next time you need that particular size.
Keep only the clothes your child wore during the given time period.  Anything they did not wear either sell or donate.  I went completely through all of my kids clothes and donated bags full of items this past summer.
Organize your kids clothing by size 0-3 to Newborn, 4T, 6, 8/10 etc.  I made piles on the floor and once I had several piles I bought a plastic tote for each pile.  (the best time to buy totes is right after the holidays and back to school when they sell colored totes at deep discount.)
Label your tote with the size of the clothing and gender if you have boys and girls.
Have all your children's shoes in one tote rather than with the clothing, because kids feet grow at different rates.
Separate your children's shoes also by gender.  I have all my girl shoes in one tote and all the boys in another tote.  As my children get older I do not plan to hand down shoes as much, but for now it works for me.
Have separate totes for your children's outer wear because the jackets and coats are bulkier and take up more room.  I have two outer wear totes one tote is full of the ski and snow play stuff with the hats and mittens included.  The other is the winter coats and rain jackets.  I put the dressier church type coats with the clothing and separated by gender.
I am a deal shopper and I buy all my children's wardrobes ahead of time.  Each of my older children have a tote carrying all bigger sized clothing.  I do not have these pieces separated by sizes yet because I do not have enough to need more than one tub.
The nice thing about using plastic tubs is it organizes the clothing better.  When it comes time to change out your children's clothing you grab the next tote and put the outgrown clothes in their designated tote to put back into your storage area.
Have an empty tote or two in your child's closet and as they out grow a piece of clothing fold it up and put it in the designated tote.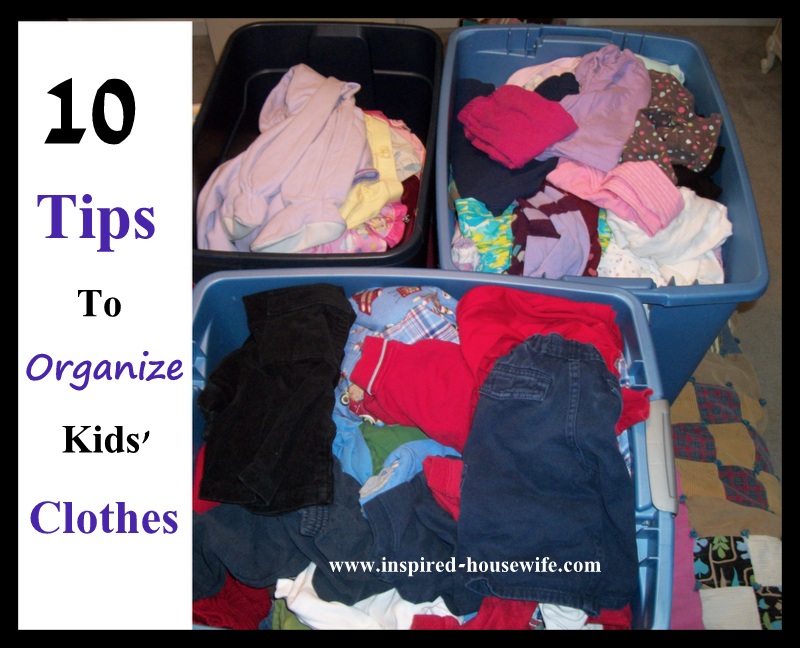 This type of organizing saves me time, and it keeps my kids' clothes clean and organized.  I love the fact I do not have bags stacked high to the ceiling anymore with holes and clothes falling out.
These are my ten ideas to organize your child's clothes, shoes, and outer wear are simple.  They work for me.  Organizing your children's closets and dressers can be a headache, but at least you can do it in an organized fashion.
XOXO,
Amee
If you enjoyed this post please share it with your friends on Pinterest by clicking the "Pin it" button below or "share" it on Facebook.
Shared on these wonderful linking parties: