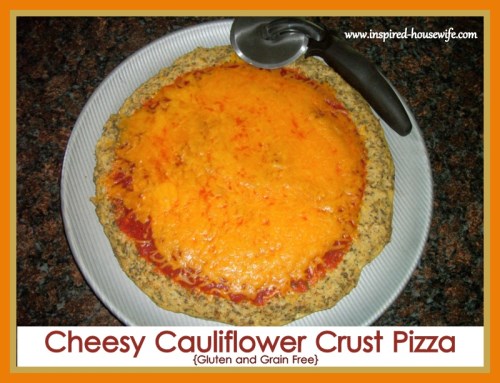 It is no secret that I love to eat and one of my favorite comfort foods is pizza.  I love everything about pizza the texture, the sauce, the cheese, the smells and if my kids are not around the veggies I can pile on top too.  The other week a friend of mine told me how she had made her family a pizza for dinner, but the kicker is the crust is made from the vegetable cauliflower.  I was skeptical, but she assured me it was tasty, healthier, and a great alternative to people who are gluten free or are trying to lose weight.  I love vegetables, but cauliflower as the crust of a pizza seemed a bit far-fetched.  I am not one to thumb my nose up at food though so when I saw cauliflower on sale at the store last week I bought myself a couple of heads.  The recipe she gave from Your Lighter Side  seemed easy enough and I have to say with a few tweaks of my own.  I totally LOVE IT!  Anyone who loves pizza like me will not be disappointed because the texture is similar and the taste is outstanding.  The cauliflower is not over-powering in taste, it is a cheaper and a healthier alternative than the gluten free pre-packaged pizzas out there.  I loved the cauliflower crust pizza so much I made another one because my kids and husband devoured the first one quickly.  I am glad I tried it because cauliflower crust pizza will be a staple in our monthly dinner plans and I do not have to feel guilty eating it at all.
Ingredients:
3 Cups cooked cauliflower (Riced in your food processor or blender)
3 Eggs, whipped
3 Teaspoons Dried Oregano
1 Teaspoons Basil
3 Teaspoons Crushed Garlic
2 Cups Shredded Cheese (I only had Sharp Cheddar on hand, but you can use whatever cheese you would like)
1  24 oz  Jar of spaghetti sauce
Any topping you might like to add, however your toppings need to be pre-cooked as the pizza is only put back into the oven to melt the cheese.
Directions:
Pre-heat Oven to 450 degrees
If you have a pizza pan like me I laid parchment or cooking paper on the pan to lay the crust on or cookie sheet, but first use a non-stick spray.
Take your head of cauliflower and cut off the stems and leaves, then cut into sections and place in your food processor or blender to be riced.  The cauliflower should look like grain when you are done pulsing it.  If you do not have a food processor or blender then use your cheese grater to rice your cauliflower.  Take the riced cauliflower and place it in a microwavable safe bowl and cook in your microwave for six minutes. **The time may vary depending on how powerful your microwave is, if by chance you do not have a microwave steam your cauliflower it will be a bit more mushy, but will still turn out the same once cooked.**
In a large bowl mix together the cooked cauliflower, eggs, oregano, basil and garlic.  Once these ingredients are thoroughly mixed take your parchment paper covered pizza pan or spray coated cookie sheet and scoop out the mixture onto it.  Use your hands to press the mixture about a quarter to half inch thick in the shape of a circle.   If you make your crust too thin the pizza crust will not hold together and will fall apart.
Place pan in the oven for 15 minutes or until crust is lightly browned.
Remove crust from oven and cover with sauce and your choice of cheese and other already cooked toppings.
Place the pizza back into the oven and cook until the cheese is melted.
This pizza is yummy and I hope you enjoy it as much as I did.  Let me know if you try it I love to hear other people's success stories in trying new foods.
XOXO,
Amee
If you enjoyed this post please share it with your friends on Pinterest by clicking the "Pin it" button below or "share" it on Facebook.
Shared on these wonderful linking parties: