This morning after a doctor's appointment I sat four cars back from a red stop light. It was pouring rain and there standing at the curb was this mom and a little girl. They were holding hands, as the little girl shivered while crying. She was soaked head to toe like a little drowned rat. The light went green and I had appointments to get to, but as I passed them the little girl's gaze met mine I knew I needed to go back. My own girls in my car were acting out as I drove down the road to find a safe way to turn around. By the time I got back the mom and little girl were already walking down the sidewalk. I flipped a u-turn in the road and pulled up right besides them. As I rolled down the window big rain drops splashed in.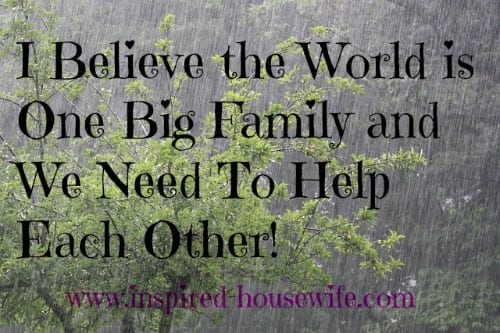 I yelled at the mom, "Do you need a ride?" The soaking wet woman, startled looked at me and smiled back. "No, thank you we have a ride coming." I said, "Are you sure? It is pouring rain." She was adamant that she did not need my help. I slowly pulled away and minutes later sitting at the very same red stop light my gaze had met the little girls I saw an elderly man walking on the side-walk with his cain in hand. As I watched him slowly walk all of a sudden he slipped and fell hitting the sidewalk below and then rolled into the soft wet grass. I sat there at the light feeling helpless watching the man lay there and not move. Just as the light turned green I saw a large man dressed in an Army uniform come running from around the corner of the building nearby. As he bent down I saw the elderly man lift his head slightly. They said a few things back to each other and I watched as the soldier helped the man to his feet. I pulled my car into the nearest parking lot and watched as the soldier took the man in his arms and helped him into the medical office building.
I sat there in my van with the Frozen cd blazing in the background and felt blessed to have seen such a wonderful and touching moment. I would have gladly gotten out to help the elderly man myself, but to watch another complete stranger be a good Samaritan was beautiful. I believe the world is one big family and we need to help each other.
I believe the world is one big family and we need to help each other.
Go out today and be aware of what is happening around you. Know that even you can make a difference in someone's life. Whether it be helping them load their groceries, moving their empty trash can from the road to their porch, or even helping the get up from a fall.
{Where I linky share}