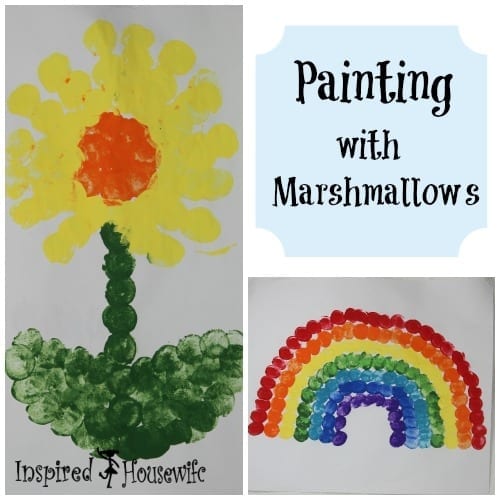 Camping season is just around the corner and our kids love camping. This winter after a huge snow storm that left around two feet of snow our kids were begging to drag out the tent and go for it. We told them we loved camping, but we were not ready or prepared to take three small kids snow camping just yet. One of the things I love about camping is the camp fire. There is nothing better than being covered head to toe in that smokey smell. I also love roasting hot dogs, corn on the cob, potatoes and our favorite marshmallows.
The other day as I was getting all the camping stuff out and ready I found a half used bag of marshmallows. Of course the marshmallow were not spongy or soft, instead they more like rocks. Rather than throw them away I decided to let my girls have some fun painting with marshmallows. The marshmallows were perfect size for their little hands to manipulate and they had a ball.
Fine Motor Fun
Painting with marshmallows is super easy take them out of the bag and let your kids use them like stamps. I used several paper plates and water based crafting paint and let my kids go to town. I got into the action too because big kids can have fun and crafting is something I can do and share with my children.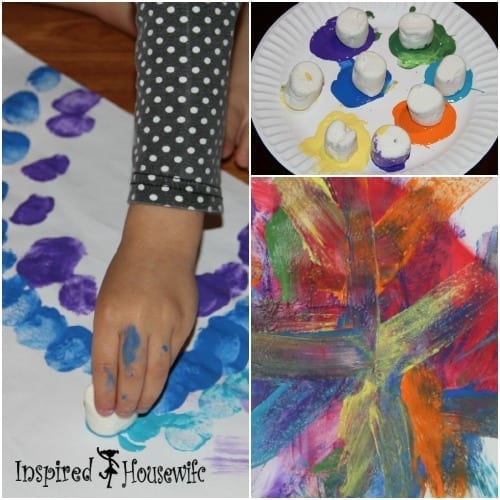 Supplies Needed:
Marshmallows
Paper plate
Paint
Paper
Creativity!
That is it and painting with marshmallows is not only a lot of fun, but super messy too. My littlest one thought they tasted funny with the paint on them, but hey gotta love being a kid.

{Where I linky share}