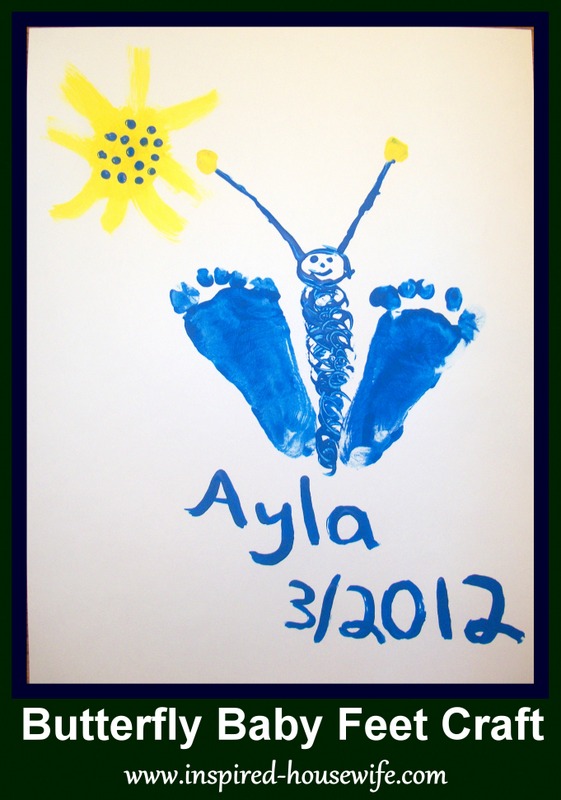 I love to craft with my kids and the messier the better.  My baby girl Ayla was not born in a hospital, but at home.  I wanted her little feet stamped like the rest of my kids for her baby book.  Instead of stamping her feet I came up with this cute spring craft using each of my children's feet and paint.  This is super easy to do and is something you could potentially frame as art in your home.
Craft supplies you will need:
Paper or canvas
Kiddos feet
Paint Brush
Glue Stick
Poof Balls
Paper towels to wipe off your kiddos feet and hands
Container to put your paint in for kid to step in
Drop Cloth or better yet do this outside and then use your hose to wash off the sidewalk
How to make this cute butterfly painted feet craft:
Take the paint color of your choice and squirt some into your container.  Let your child take one of their feet and step into the paint.  Before you press your child's foot down on the paper  use your finger to make sure all the sole is covered in paint.  Carefully press your child's foot on the paper making sure the inside of the foot is facing outward to create the curve of the butterfly wing and body.  Do this same step to the other foot and then let your child take their finger to dip in the paint to draw the butterflies antennas. My bigger children used their glue sticks and poof balls to make the body of their butterfly.  The baby's painted feet craft I used the end of a paint brush drawing the body and antennas of her butterfly.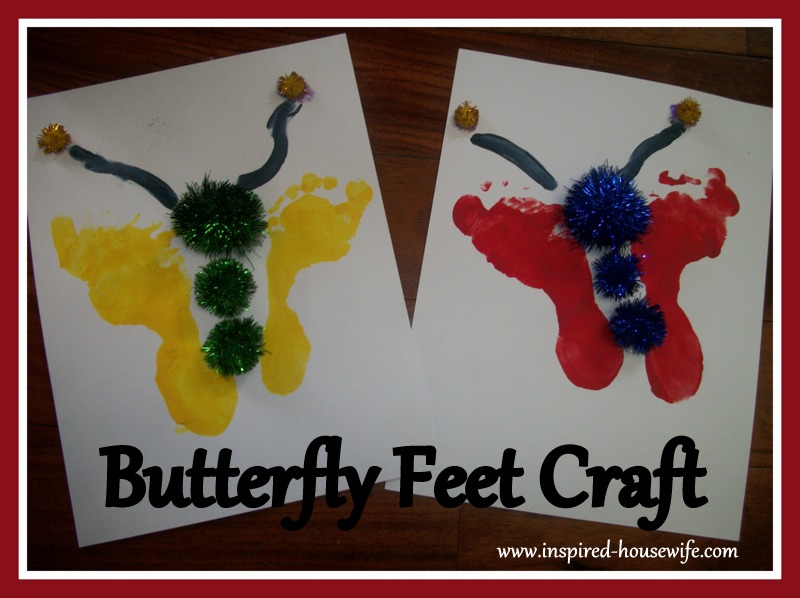 I loved both of the crafts, but especially Ayla's because I now have her feet stamped to put into her baby book.  When Ayla is older she can look at it and I can tell her the story of how we painted her little feet to make art come alive.  This craft is very simple and your kids will have fun being messy too.
XOXO
Amee
If you enjoyed this post please share it with your friends on Pinterest by clicking the "Pin it" button below or "share" it on Facebook.
Shared on these parties: