The makeup and fashion world were eagerly awaiting to hear the results of Pantone's choice of the color of the year for 2019. As you might know, last year's selected color of choice was Ultra Violet, which honestly was a favorite of mine. I love bright purple colors! This year, however, the color is far from purple. Pantone's color of the year 2019 is called Living Coral. This hue makes a perfect makeup and fashion accent color, adding bold and interesting statements to everyday life. So, let's find out a little bit more about this fascinating color.
Living Coral is Officially the Color of the Year
Pantone provides a global standard for the expression of colors, and is used by more than 10 million professional designers and manufacturers around the world. The Pantone Color Institute forecasts seasonal runway colors and global color influences to find each year's color of the year. Pantone's 2019 color of the year, PANTONE 16-1546 Living Coral, welcomes joyful and playful expression through a tremendous array of makeup and fashion, from lip colors to dresses, skirts, blouses, and various accessories. Here are some in-style lip colors, outfits, and accessories I LOVE! Living Coral will make your makeup and fashion come to life.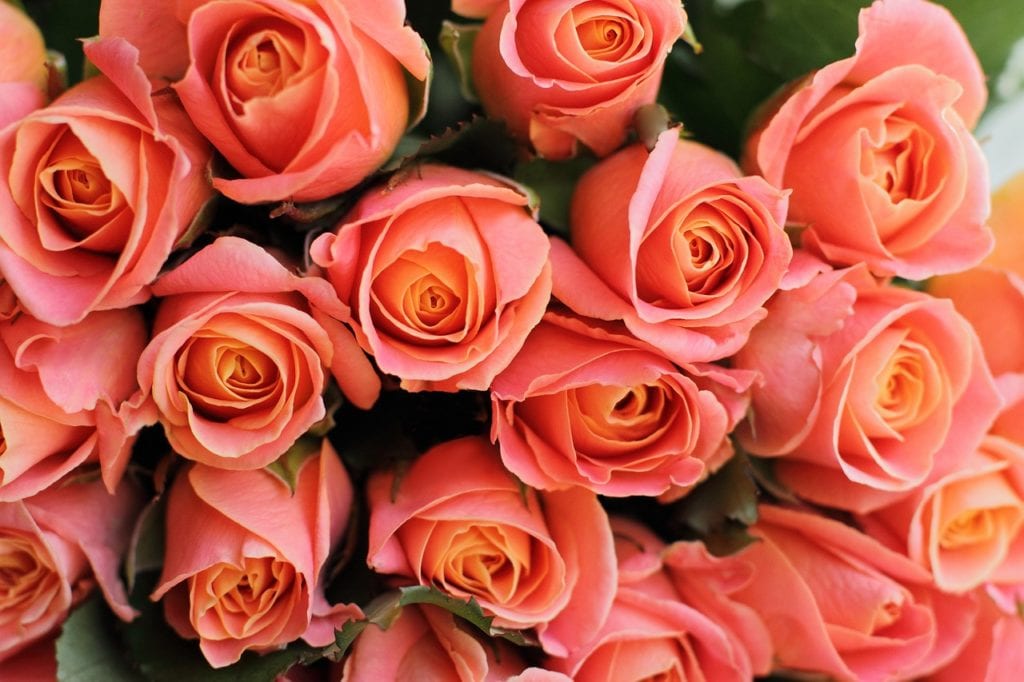 As a stunning accent, Honey Rose lip color provides a beautiful sheer rose gold with an amber frost. You could easily pair this with a fun blue dress or top.
Color of the Year – Perfect for 1950s fashion
If you know me! I absolutely love fashion from the 1950s, and this coral, white polka-dot swing dress is so much fun! Go on a perfect date night or to church in this outfit. If you are at all like me, it could serve as everyday wear.
If you need a pink-orange long-lasting lip color with living coral undertones, then Summer Sunset is the color to add to our lip collection. This color looks great on most skin tones and is fun accent to add to your look.
Living Coral – Perfect for Modern Fashion
This blouse is so gorgeous. I own this in several different colors, and love that I can dress up a pair of skinny jeans or wear it with a skirt or slacks. If this isn't the color for you, it comes in over 30 different colors. Nonetheless, to be fashionably "in" take this coral blouse for a spin!
Luv It is one of my favorite warm light frosty bright peachy-pink colors. This long lasting lip color has been a staple in my collection of long lasting lip colors. It's been a favorite of my customers as well as an everyday color to brighten your day.
Baby it's Cold Outside…
Yet, honestly, with this fabulous tassel tartan soft plaid scarf you cannot go wrong in cold weather. Wear this over your coat or even with an outfit in less cold weather. It's perfect for Fall, Winter and Spring. If you are not a fan of this color you can get it in many other colors too. There's no reason why you cannot be fashionable when it's cold!
Samon is a beautiful color that screams I am gorgeous. This bright coral red with matte finish is the perfect. It's a color that takes notice and makes your entire look complete.
Oh! Did I Ever Tell You I Love 1950s Fashion?
Hey girl! Yes, another 1950s-inspired gingham swing skirt with hidden pockets. Yes, pockets are a girl's best friend all too uncommon, and this A-line silhouette is the PERFECT dress for any girl who wants to add sassy and fun to her wardrobe. Pair it with a set of perfect high heels, and you have a lovely outfit.

A shimmering rosy-pink color with a touch of coral is the perfect go-to lip color. If you love sparkle then this Heartbreaker lip color will be a nice addition to your makeup collection. Wear this with the perfect t-shirt and jeans or even with a cute fashionable dress to add a pop of color to your look.
A Chic and Strappy Color of the Year
Check out this cold shoulder t-shirt so easy to match with jeans, necklace and heels. Suitable for summer, casual, or everyday life, it's a soft, lightweight fabric with scoop neck, strappy details within the cold shoulder and chic high-low cut. I love this unique and stylish design made perfect in this year's color.
So, when it comes to makeup and fashion, the color of the year, Living Coral is definitely a bright and happy color. I hope this next year you will find ways to invoke this color's playfulness into your everyday routine.
How you plan to incorporate Living Coral into your everyday life this year?