This month is National Caregiver Month and you can find me guest posting over at Blessed (but stressed) Caregiver Connections where I talk about what it is like to take care of a child with a rare metabolic disorder.
I absolutely love this time of year with the colors of the leaves, the fall decor, and how everyone around me seems more aware of what they are thankful for. Thanksgiving in particular is one of my most favorite holidays of the year. Every Thanksgiving my family would make the four hour hike over the Sierra Nevada Mountain range to end up in the San Joaquin Valley of California where my dad's parents lived and many of his brother's and their families.
Creating Your Own Family Tradition
Thanksgiving at Grandma and Grandpa Hamilton's house was always the high light of my year. They lived on a big cattle ranch with a huge old barn, lots of grass lands, apple orchards, and ponds. Family and friends came from all over, you could say it was a family reunion of sorts.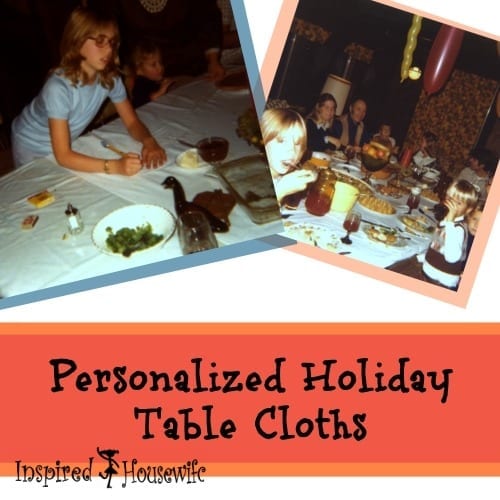 My grandmother always made wonderful casseroles, side dishes, and of course her famous chocolate pudding pie she made especially for my grandfather. The memories made were ones I still smile often about. One of the holiday traditions my grandmother created that I loved to be a part of as a kid was her personalized holiday table cloths. They were simple, ordinary white linen bed sheets, but when put on her table at Thanksgiving they became a lovey masterpiece of family memories. We would take pencils and trace our hands if we were little or draw pictures and put our names or initials along with the year. After Thanksgiving was over my grandmother would use colored thread and go over each masterpiece by hand bringing our creations to life. It was a highlight of everyone's Thanksgiving to come to her house and look at what everyone had drawn the year before and as a kid it was neat to see that my hand print had grown smaller.
This made such an impression on me that this year I plan to start my own holiday personalize tablecloth. It gives me immense pride that I will now carry on her tradition and while I will not sew mine like she did I will enjoy watching my children do something I did up into my teens until my grandparents no longer lived.
What special traditions does your family do?