I saw a photo floating around Facebook last week where people write down the positives in their lives and put them away in a mason canning jar.  These notes are then read at the end of the year.  I loved the idea, but I decided I wanted to do a "kid friendly" version.
Teaching my children to be positive is hard when everything in society screams negative.  If you watch the news, read your local paper, or even listen to many of the conversations in public there is a lot of negativity around this world.  My children are all still young, but I saw this as an opportunity to teach my children a visual and hands on way to be more aware of the positives in their lives.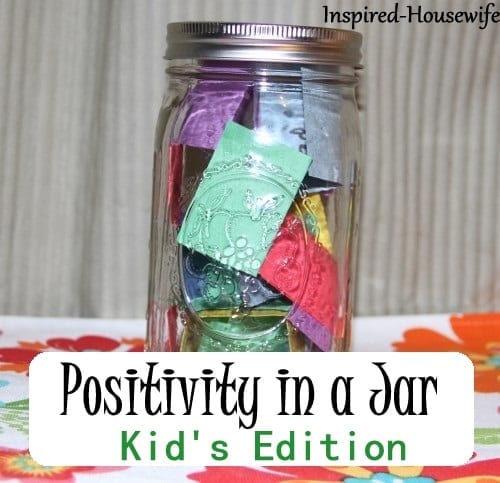 Rather than wait until the end of the year to open the jar, I will open and release the positivity in a jar at the end of every month.  At the end of each week I plan to have my children write down something really good that made their hearts happy and put it in their positivity jar.  I cannot wait to hear their answers!
Once we read what everyone's positives were at the end of each month I plan to scrap book them for safekeeping.  I know it will become a treasure and at the end of the year it will also be a great way to teach my children about positive thinking simply by writing it down and putting it in a jar.  This is a simple way to bring about positive awareness in my children's lives, develop resilience to the stress of everyday negativity, and is a great way to remember the good stuff throughout the year.