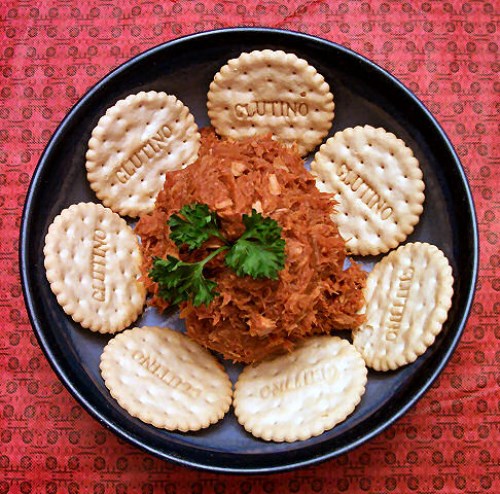 This recipe for spicy tuna dip is actually my own creation.  Yes, dads can cook too!  It is gluten-free and tastes great with crackers as a dip or in sandwiches as a spread.  My wife does not even like tuna much, but she can't stop eating this one.
Ingredients
2 – 12 ounce cans of chunk light tuna in water
1 – 6 ounce can of tomato paste
3 – 4 tablespoons of olive oil
1  large chopped onion
1 tablespoon minced garlic
3 1/2 tablespoons of brown sugar
2 teaspoons of chili powder
3 teaspoons of paprika
Cayenne pepper, salt and black pepper to taste (I like mine spicy, so I add more cayenne pepper and no salt).
Instructions
1. Preheat oil in skillet on medium-high.
2. Sauté onion and garlic until golden brown and soft.
3. Add sugar to onions during last couple minutes of cooking until sugar is melted.
4. Combine Sautéed onion, garlic and sugar with the remainder of the ingredients.
5. Mix everything together well, and season with cayenne, salt and black pepper if desired.
6. Serve freshly-made dip, but it will refrigerate fine for several days.