If you are a parent of a little one, then pee and poo can rule your life and your checkbook.  From the moment a child is born we spend many hours changing diapers to keep little bottoms clean.  As your baby grows older, potty training commences to eliminate the hassle of diapers.  Even after your child is potty trained some children still wet the bed at naps or during the night.  Your child graduates from diapers to night trainers, but these big kid diapers are costly.  My older two kids are daytime potty trained.  I never limit the amount of liquids they drink before bedtime, so they still need protection at night.  My son is five years old and he will probably need a nighttime trainer for a few more years.  This could add up to big money spent.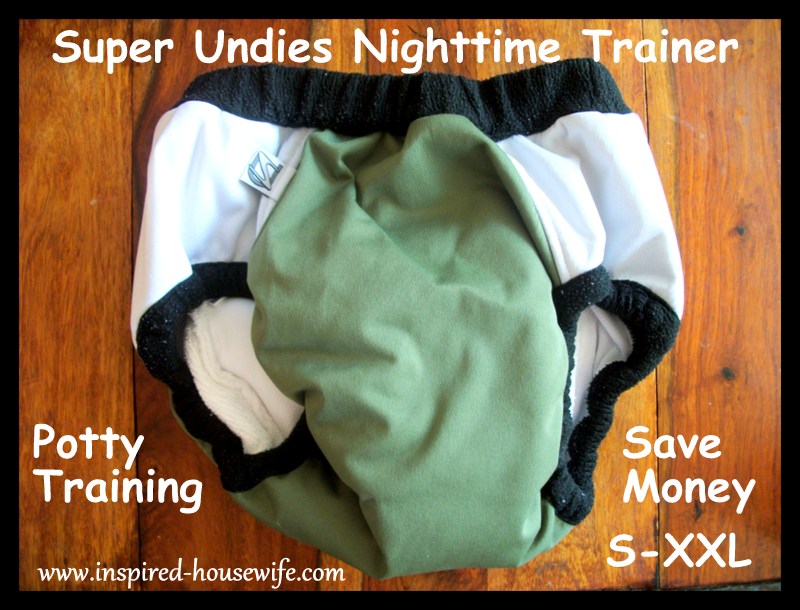 Last fall I discovered a product called
Super Undies.
They are a nighttime trainer you can pull up like underwear
.  They have nine layers of microfiber absorbency and fleece lined elastic legs and waist.  Super Undies are not only for potty training, but they are great for older children with special needs like my son or other children who have bed wetting tendencies. 
The sizes start at small and go up to XXL for a 100 pound kid.
 My daughter Keira who is three currently wears the large night time Super Undies trainers and my son wears an XL.  Daytime trainers are also available, but the ones I purchased are the
nighttime Super Undies.  
The initial cost of the Super Undies is comparable to other cloth nighttime trainers, and in the long run they will save you lots of money compared to disposable night time diapers or trainers.  My older two love their Super Undies because they are comfortable, and they consider them "big kid" nighttime underwear as opposed to "baby" diapers.  Leaks occur on occasion as is normal for nearly all diapers, but overall I totally recommend this product.  The customer service is outstanding, their webpage videos explain what to buy, and their size chart is extremely accurate.  Super Undies can be washed with your regular clothes, but they should be turned inside out to ensure they get clean.  No special detergent is needed to wash them, and they can be thrown into your dryer.
Super Undies to the Rescue!  Are you ready to enter to win a durable night time trainer that is Earth and pocketbook friendly? Please enter the Rafflecopter below – all entrants will be verified.  Super Undies has a webpage and also a Facebook page.
Disclaimer:  Super Undies did provide me with an XL Nighttime Trainer, however, I owned five other Super Undies Nighttime Trainers before they contacted me.  This post is my own opinion and a product my two older children use for naps and nighttime accidents daily.
XOXO
Amee