This past summer, I wrote an inspiration I had about Tristan.  I received much positive feedback from it, and so I re-post it here in my blog in edited form to share with those who have not read it.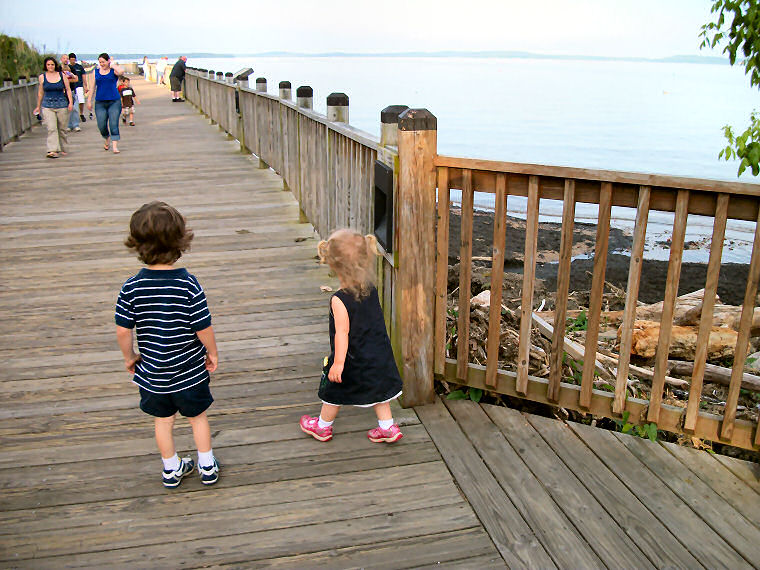 June 5, 2011 – Friday night as I walked with my family on the boardwalk, I was in Heaven as I watched my beautiful children run and laugh.  This boardwalk ran along the water in Havre de Grace, Maryland where the Susquehanna River meets the Upper Chesapeake Bay.  There are many beautiful water birds and other wildlife along the way.  It runs for quite a distance from the park to closer to downtown.
As we came around a curve, we came across two lovely older ladies who had many laugh lines from their years of life.  One was in a wheelchair, and the other was her friend who helped her.  Tristan was very enamored with the woman's wheelchair, and watched every move the wheels did as they turned in perfect circles.  He loves circles.  The one lady who walked smiled and said "Well, hi there!" to Tristan.  He blushed when he realized someone had watched him, and I told him to say hi back, which he did.
After several minutes of them carrying on a little conversation with Tristan, the one lady in the wheelchair asked Tristan if he wanted to race her.  She told him she knew he must be a really fast runner.  Tristan said "Yes" in a sweet little voice, and off they went.  Tristan stayed right with her.  It was just a precious moment.  The ladies both thanked him for being a gentleman, and wished him well and goodbye.  The lady in the wheelchair told me as we left "Your boy has such a beautiful light about him."
When I got home I started to think about what she said, and realized God has a plan so much bigger than me and my purpose as Tristan's mother.  When Tristan was born he came out all purple and misshapen.  At first his father and I were horrified to see him to be honest.  We even apologized to everyone for the way he looked, and I warned even my mother before she saw him.  Tristan came out with a need to fight, and of course within a day or two he became normal in color and shape.  Tristan has always been "special", but when I say that I do not mean his needs.  I speak about his spirit, the very essence of who he is.  I believe we are each born with some special gift, and somehow even though he maybe limited in some areas of his life, he is still with his inner being able to change and affect so many people on an immeasurable level.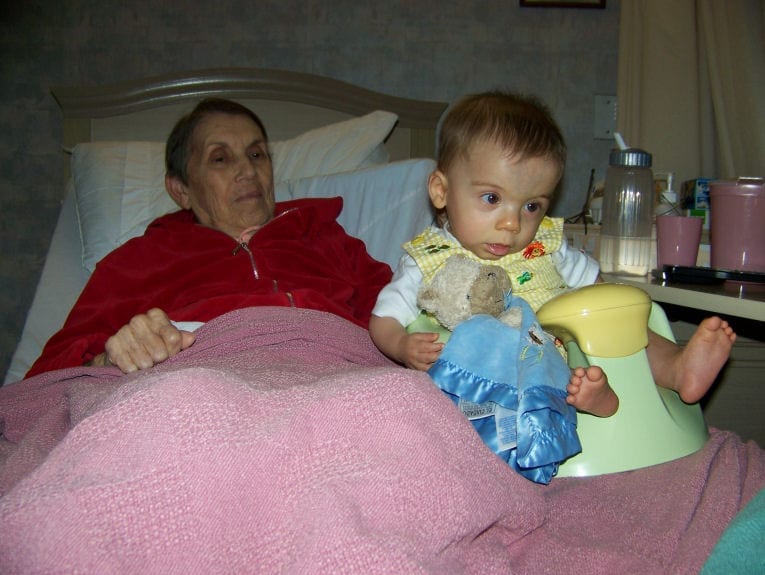 This is not the first time someone mentioned the "light" that emanates from within my son.  Several mothers on the playgrounds we often go to tell me how beautiful he is, and how he emits a positive and gentle energy about him.  Everyone who meets Tristan falls deeply in love with him and his sweet personality.  I am truly in awe as his mother to observe it.  One person who I miss so much is Michael's grandmother Katherine whom we called G2 for Granny Goose.  On the final pages of her book of life, Tristan was born.  They shared only a couple short years together.  She was so excited to meet Michael's son, and to watch her with him was like a sliver of Heaven.  When Tristan started to show signs of his condition and we feared for his life, I recall one deeply meaningful and honest conversation with Michael's grandmother about Tristan and his struggles.  This one time in particular she told me I needed to get over my loss of Tristan that has not even happened and live for my son now, because God was not finished with him.  I remember it was like a light bulb in my head, and I realized I needed to make his life as normal as possible.  I needed to be the mother who painted a smile on her face for him.  Even though I had no clue why my son was sick or if he would live a long life or not I needed to show him that he was a gift from God.  I cannot thank her enough for that talk, because it changed my life and attitude.  We saw G2 several times before she finally passed, and every time she and Tristan were together they had a connection not even words can describe.  They passed a light between them, a light which still shines from Tristan.  He loved her even though he had no words to express it.  Before she passed she said Tristan would be just fine, because God had such big plans for him, and he was born to be "special".  We were unable to be with her when she passed.  When she passed, and the family gathered with her, it was Tristan's photo that was right there on her side table.  My heart misses G2 so much, not only because she was a wonderful woman, but because of the gift she gave me, and for the stories I can now tell Tristan about how much his great-grandmother loved him.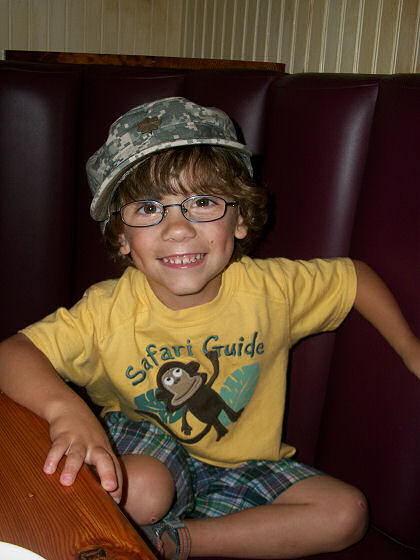 As Tristan's mother I feel so honored and overwhelmed with the duty bestowed upon me to raise him to become a young man.  He has a quiet and calm spirit about him, a gentle nature to make any bad day better.  He has fought to be where he is now, but you never see him complain, he simply is happy.  He has his moments like every child, but what I talk about here is his general spirit, his kindness and his gentleness.
I wrote this because sometimes in life we feel our gifts must be big to make a difference in other people's lives, but sometimes I think it is the little things we do, the unspoken actions as simple human beings, which have an even more profound effect.  Tristan does indeed possess a light that shines from him, and I know without a doubt God is not finished with my boy.  He is only four, and yet already he changes so many lives for the better.  I cannot thank you all enough for the love and prayers you have sent our family for Tristan.  He is more than "special", he is in a word my light.