A Quick On The Go Snack!
It has been a rough winter here in Maryland and lots of sickness all around. I try to keep sugar to a minimum in our house during the winter months. The other day my kids were wanting me to make cookies so instead my girls and I made some Valentine's Day inspired energy ball treats
We decided to make two flavors one a chocolate and the other a vanilla. My five-year-old, Keira is the one who made the balls with both flavors. She was pretty pleased with herself I might add.
These energy balls are made with organic, super whole food, ingredients and are considered gluten and dairy free.
I love them because you can make cut out cookies with them if you flatten them out between sheets of cooking paper or roll them in balls like we did.
The idea is to make fun and healthy recipes for your family.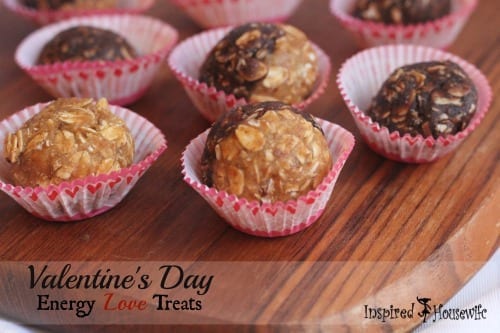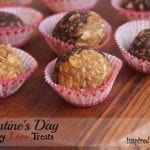 Print Recipe
Valentine's Day Energy Ball Treats
Ingredients
1

cup

oats

I used gluten free from Bob's Redmill

1/2

cup

organic peanut butter

1/2

cup

apple sauce

1

cup

PB2

1

cup

vanilla or chocolate protein powder

I used chocolate Shakeology and vanilla Shakeology

1

tsp

of raw honey

If too dry add more applesauce or if too wet add more oats.

Repeat process twice once with the chocolate and once with the vanilla Shakeology.
Instructions
In a mixing bowl add all ingredients above.

I use my hands because it is easier. I wash my hands, take off any rings and mix thoroughly until everything is mixed.

Next I take an amount the size of a tablespoon or little larger and roll it into a ball.

I place my rolled energy balls in a plastic container and put them into the refrigerator to help harden and keep for several days.

You can also make cut out cookies with this recipe too just put the mixture between two sheets of cooking paper and roll them out. Take desired cookie cutter and cut them out. Place them in a storage container of choice as well.

Twenty One 21 Day Fix: 2 Energy Balls equal a Yellow Container