Stay at home date night ideas solve challenges many parents face. As a mom of four kids, it can be expensive to go out on dates with my husband. Add up the cost of a baby sitter, parking garage fees, dinner, and possibly a movie, its not always financially feasible.
Yet, dating my spouse is something I feel is a must do. If you don't date your partner, you risk falling out of love, and into what I call simply existing in a marriage. No one wants to simply exist.
My prayer for your marriage is these 15 stay at home date night ideas help you rekindle or keep the spark going.
First a Love Letter!
It seems like only yesterday my eyes met your gaze on that Colorado mountaintop. Your dark curly hair blew in the wind and those beautiful dark brown eyes stared deep into mine.

I remember standing in 3 feet of snow with no coat shivering while you read me the most beautiful letter ever. It was only you and I surrounded by the big open Montana sky.

You swept me off my feet and carried me into a new life full of adventure, romance, and the most wonderful friendship I could ever ask. I never thought when I married you it could get better than it was the day I said "I do".

Thank you for the five beautiful children we created. Our son in Heaven, and son and daughters here on Earth. I know our marriage was anything but easy.

We endured long time periods apart. We said things we wish we could reel back, but I am blessed to know what started so long ago is still there. Although older, the love I have for you matured in a way I know, without a doubt, you are my forever.

Loving you isn't always easy. It takes effort sometimes, but I do miss you the moment you step out the door. I love your texts, and when you come home I love to watch you love on our kids.

Each day I am thankful for your hard work, love and tenacity to create a life for your family. You are a beautiful soul, a man with a heart so big it gives and gives and gives even when it should take.

Thank you for being anything, but ordinary, and supporting me when I decide to fly. I love you and I am honored to call you mine. Blessings my love."

Amee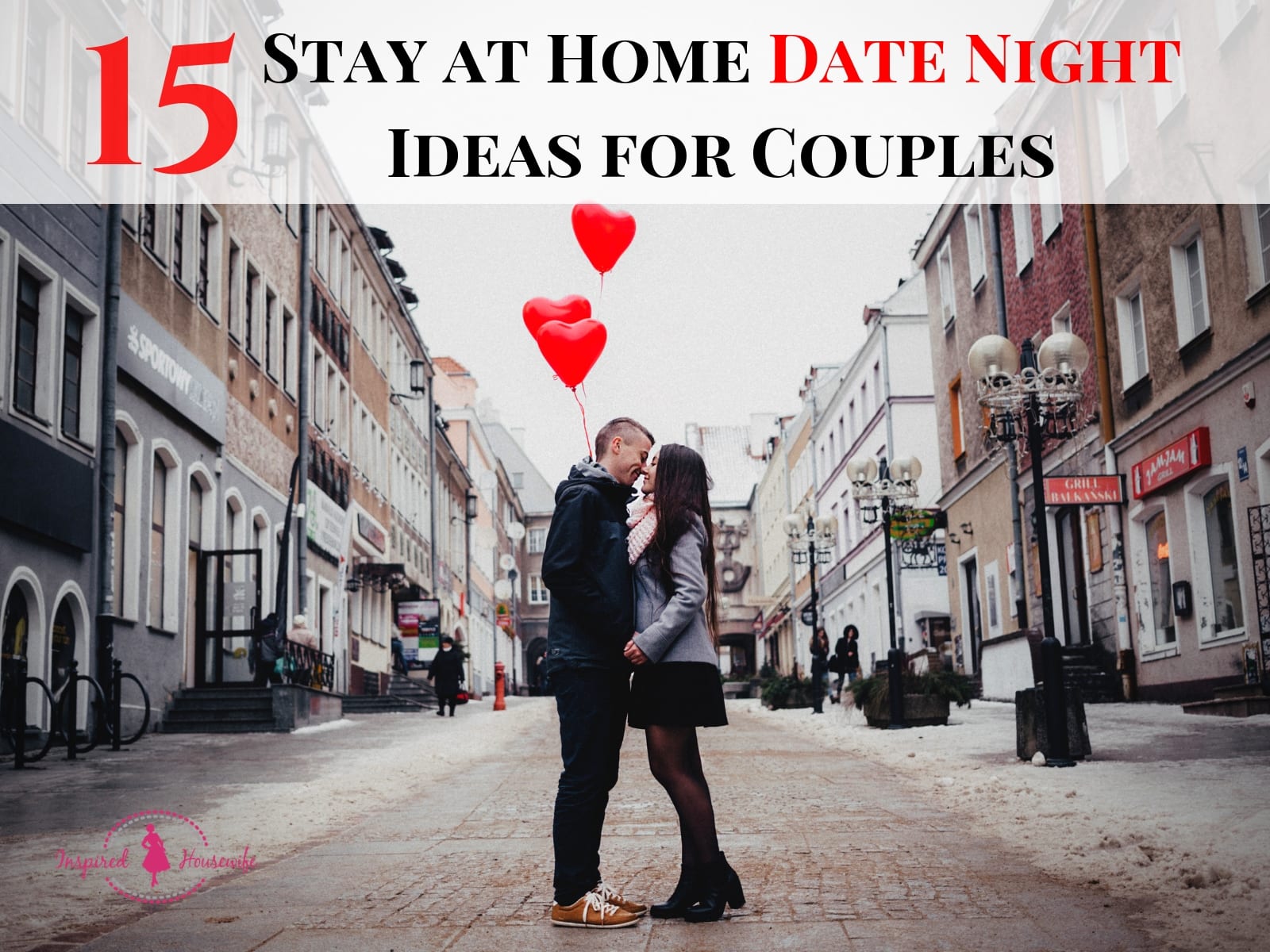 Yes, I know, sappy as all get out, but we just endured the hardest year of our marriage. It nearly broke us and caused our precious family to fracture.
When I share these thoughts and ideas, I don't do it haphazardly. I do it because I was at the "live to exist" phase of our marriage and it's not fun. I promise you, however, if you both want to date again it can be done.
15 Stay at Home Date Night Ideas
Cook Together – After the kids have gone to bed make a special dinner for just the two of you. My husband and I really enjoy cooking, but more importantly, we love spending quality time together over good food. If not cook, then order food from your favorite restaurant and enjoy it at home.
Movie Night – When our kids were really little, my husband and I loved movie nights. We both love old war movies or fantasy movies. The great thing about movies is you can snuggle in bed or on the couch. When you get the munchies or need to pee, just press pause.
Give Massages – Who doesn't love a massage? I would have one each week if I could afford it. Massaging your spouse or partner is a perfect to let them relax and unstress from their long week. Usually massages end up getting you lucky too if you do it long enough. :)
Go Camping – Or pretend to go camping! We love camping, but sometimes it is not possible due to time of year to go. Open up that two person sleeping bag in front of your fireplace and pretend you are under the stars.
Play Dress Up – This may not be everyone's cup of tea. I love playing dress up and sometimes it is fun to pretend to be someone you are not. If your favorite super hero is Superman like mine, get your hubs a Superman costume and have some fun with it. Maybe make him naughty with some red kryptonite.
Game Night – If your family loves games choose your favorite card or table game. Maybe even spice things up with a sexy sort of game, but whatever you do, have fun with it.
Scavenger Hunts – You can create fun clues that will lead your spouse on a full-filled night of adventure.
Do a Themed Night – Make everything you plan around a theme like Italian night where you cook Italian, drink Italian wine, and enjoy Italian desserts. Then, watch movies related to Italian themes, listen to music, and the ideas become endless.
Create a DIY Photo Shoot – My husband LOVES to photograph me, and what girl doesn't love being photographed by her lover? Some, I guess, but try something outside your comfort zone. Get all gussied up and let the flash go off.
Dance the Night Away – My husband has two left feet and I am not much better. Nonetheless, sometimes putting on some fun tunes and dancing is great exercise and releases good endorphins.
Dream Date – Do you and your spouse dream or plan big for your future? Order in some pizza and sit down and map out your goals for your future. This is so much fun, because when you write it down and agree on it – it usually comes to fruition.
Strip Trivia – Make up questions to ask each other. Better yet, have a fun game to get the flirting going. The idea is have some fun!
Take a Candlelight Bath – My husband and I do this nearly every night to spend time talking about our day. We try not to miss it, because we sleep so much better when we spend that time together.
Netflix Binge – I know we are not alone. We love to watch our favorite shows and stay up late. We usually do it in bed to keep warm. cuddle or hold hands.
Home Improvement Night – Have a project you both wanted to tackle and get done. Nothing like a little accidental paint on a cheek gets the fun started.
In Closing
The key to any relationship is to make time for it. A marriage is much like a plant. If you don't continually feed and water it, then it might hold out for a while, but it will eventually wilt and die.
I know not every season in marriage is perfect, but take from me it, is so worth it!
What home date night ideas will you plan with your partner?
Comment Below!