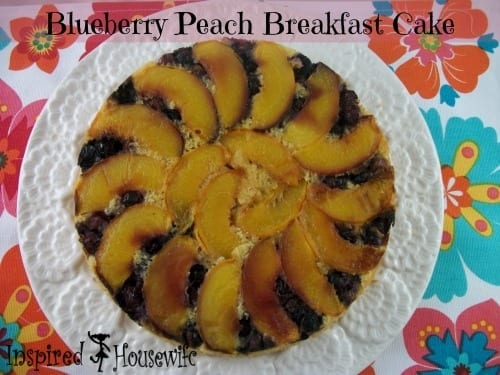 I love summer because of all the fresh fruit available around where I live. We have picked fruit at farms or at my hubby's place of work for the past four weekends. I have about 20 pounds of blueberries already frozen, 25 quarts of peaches canned, 24 half-pints of plum jam and 21 quarts of canned plums, and 26 half-pints of strawberry jam made as well. Blackberries are coming on and my kitchen looks like a tornado passed through, but good food is happening.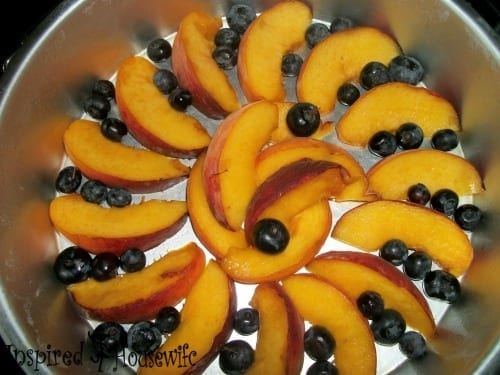 This week I am busy with my life as a taxi driver to therapies I have not had the time to can and freeze all the fruit so I whipped up a yummy breakfast cake for my family to eat in the morning. I tried a piece last night and OH MY was it delicious!
Blueberry and Peach Upside Down Breakfast Cake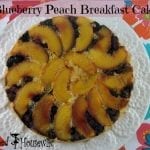 Print Recipe
Blueberry and Peach Upside Down Breakfast Cake
Ingredients
2

Peaches cut in slices

1/2

Cup

Blueberries

rinsed and clean of stems

1

Cup

Gluten Free All-Purpose Flour or regular flour if not gluten free.

I also made this with Almond flour and it was really good with this grain free flour as well

1/4

Teaspoon

Salt

2

Teaspoons

Baking Powder

if you want a GAPS or grain free cake leave this out and use Almond flour

1/2

Cup

of Sugar

1

Stick of butter or 8 Tablespoons if you use real butter

mashed with a fork or sliced

2

Eggs

1

Teaspoon

Vanilla Extract
Instructions
Preheat oven 350 degrees Fahrenheit and grease your 9" round cake pan.

Cut up your peaches and arrange them however you want and then throw in your blueberries. You will invert your cake so the fruit will be seen once the baking process is finished.

Take your dry ingredients flour, salt, and baking powder whisk them together in a medium bowl and set to the side.

In another bowl with a hand mixer or in your stand mixer add your sugar and your butter. If you have a stand mixer put the whisk attachment on and whip the sugar and sliced or mashed with a fork butter until it is creamy. Add in the eggs and vanilla until the mixture is smooth and then add your flour. Do not over beat only whip until all the lumps are noticeably gone from the batter. Carefully take your batter and smooth it out over the peaches and the blueberries. It may appear you do not have enough batter to cover everything, but trust me it will be enough.

Place 9" round cake pan on a cookie sheet and put in the oven to bake for 40-45 minutes or until the top is a golden brown. Allow to cool and then flip out of pan onto a serving dish of your choice.