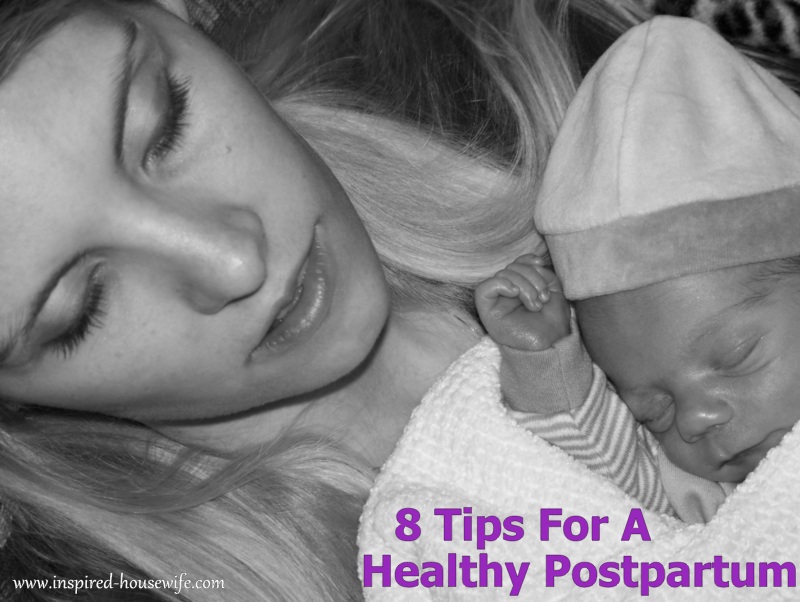 Postpartum recovery is an important topic to me, especially after having three babies and my last as a home birth.  I love Emily a natural and frugally green blogger over at Liverenewed and when she asked for posts during her postpartum recovery I happily wrote 8 Tips for a Healthy Postpartum Recovery.
Here are Three of the Eight Tips from the post:

Raw honey
Raw Honey is a must have on my postpartum care list. The raw honey has antimicrobial properties, and is perfect to put on your pads while you are still bleeding. I know it sounds sticky and gross, but the relief it provides feels amazing, especially after pushing out a baby.

Freeze Meals
Before the baby comes it is important to make meals that freeze easily. My husband and I cooked up a storm and filled our standup freezer to capacity. This will not only save you money from buying take out food from restaurants, but the meals will be healthier and mealtimes will be less stressful.

Olive oil
Olive Oil is great to use to massage your baby. The olive oil also works great to use on the baby's bum, especially when the baby has those first sticky meconium poops.
Read the rest of the post and get more great tips to a healthy postpartum recovery and while you are there check out Emily's Home Birth story, as well as, her weekly link-up party Your Green Resource.  Thanks again Emily for the opportunity to guest post and keep enjoying your "baby moon" with your sweet precious baby Blair.
(If you want to know more tips on postpartum recovery or need to talk about postpartum depression please feel free to contact me.)
XOXO,
Amee
If you enjoyed this post please share it with your friends on Pinterest by clicking the "Pin it" button below or "share" it on Facebook.