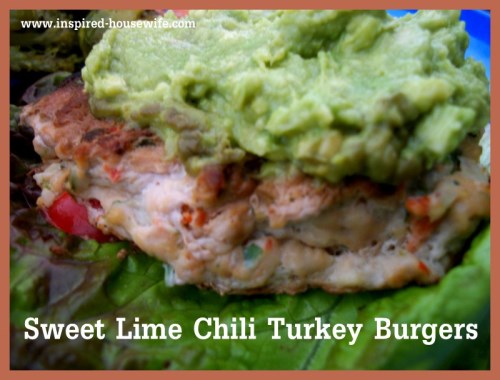 I love summer, but what I love more is my husband loves to grill.  The other night he said he could grill some chicken and I told him I had some ground turkey I was needing to use.  The previous night I had made this wonderful Ginger Mango Salsa on Seared Tilapia with Cilantro Dressing and I had some of those same ingredients leftover.  I threw in some juice from a lime, the ground sweet chili pepper mix, a shallot, garlic, a red pepper and the rest of my cilantro – OH MY did the burgers turn out yummy.  Many of you asked me to share what I did and before I forgot I wrote down what I put in and how much.  This homemade burger recipe could be used with any ground meat I suppose, but I have only done it with turkey.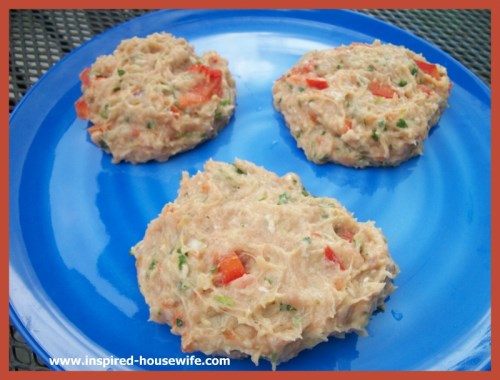 Sweet Chili Lime Turkey Burgers
Ingredients:
3 Pounds Ground Turkey (makes 8-12 burgers depending on size and thickness)
1 Red Bell Pepper, chopped
1 Shallot minced
1/2 Cup Cilantro minced
3 Tablespoons minced garlic
1 Teaspoon Sea Salt
2 Teaspoons Son of Italy Ground Hot Chili Peppers (add more if you like your burgers more spicy I have small children so my food cannot be too spicy or they will not eat it)
Juice from a couple of small limes or about 4 Tablespoons from a bottle (the lime added a wonderful kick to the burger)
2 Ripe avocados (this is to make the guacamole to add to the top of the burger and it used my over ripe avocados)
1 Head Romaine Lettuce washed and each leaf laid out to dry on a paper towel or rack (using lettuce as the bun instead of bread)
Directions:
In a large mixing bowl combine the ground turkey, red bell pepper, shallot, cilantro, garlic, sea salt, ground hot chili peppers, and juice from the limes.  Using clean hands mix all ingredients until thoroughly combined then form into patties and place on a plate to be grilled.
Heat your grill to no more than about 325 degrees and spray grill with cooking spray or else the burgers will stick and you will have a mess on your hands.  Cook each burger on the grill for 4 to 6 minutes on each side or until center is no longer pink and meat is done.
Take your two avocados and mash them up in a separate bowl and place to the side.  Make sure to add the pit back in as it helps keep the avocado from turning brown right away.
Wash however many romaine lettuce leaves you need and pat dry or lay out on a paper towel
Place burger on a romaine lettuce leaf, cover with the mashed avocado and wrap the burger and avocado in the leaf.  I did not have any gluten free burger buns on hand, but by not using burger buns we cut calories and saved some money.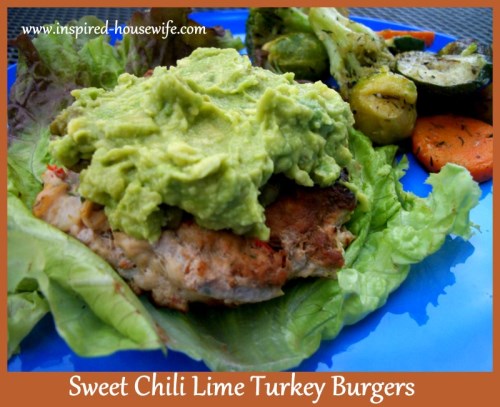 I will make this burger again and glad I could share with you my tasty creation from ingredients hanging out in my kitchen.
XOXO,
Amee
If you enjoyed this post please share it with your friends on Pinterest by clicking the "Pin it" button below or "share" it on Facebook.
Shared on these fine blog linking parties: